By:
Doreen Gosmire, director of communications, Dakotas UMC
"It's exciting that I get to be a deacon in service when I'm pastoring a church. The people in this congregation are always thinking of ways we will serve in the community and be that bridge between the community and the church," said Rev. Amber Laffey, commissioned as a deacon and serving at the United Methodist Church in Alexandria, South Dakota.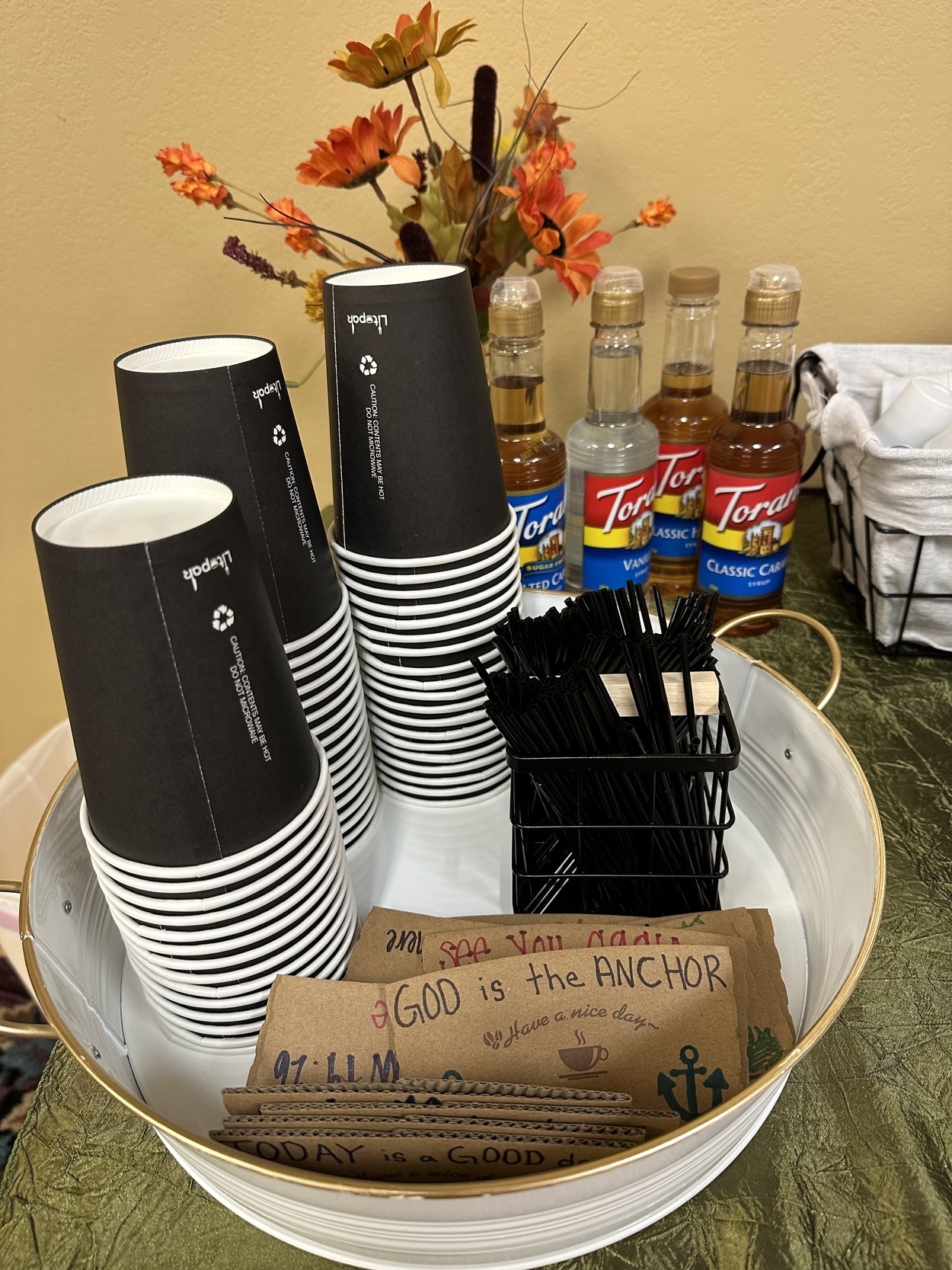 Morning Brew
One of the members of the United Methodist Church in Alexandria, South Dakota, Kendra Mudder, drives to work in Salem, South Dakota, each day. She learned that Unite Church in Salem hosted a monthly coffee shop for students at the high school. She shared the idea with others at Alexandria UMC and launched Morning Brew.
"She said, 'Why can't we do it too?' Our church is right across the street from the school, and we're always trying to think of ways to bless the school staff and the kids," said Rev. Amber Laffey, Alexandria UMC. "We decided we would do it the first Wednesday of the month. We are trying to keep it at the same day and time so people can remember that it is time for Morning Brew."
A lot of people in the community commute out of town for work. There is only one place in town, the local convenience store and gas station, that serves coffee in the morning.
"We are hoping that school staff and school kids show up. We also want to catch people who might be on their way to Sioux Falls, Mitchell, or another town for work. They won't have to stop at the gas station on that morning. At Morning Brew, we can bless them with breakfast and coffee," said Pastor Amber.
There is no charge for breakfast and beverages—coffee, juice, and hot chocolate. A lot of the students like to drink hot chocolate instead of coffee. Seed money to start Morning Brew came from a Breakthrough Ministry Grant.
"Our first Morning Brew, we used funds from the grant to buy paper products and food to start things. Now, congregation members provide all the food, decorate, and serve," said Pastor Amber. "We have a passionate group of young adult women who are super excited about doing things in the community."
The school is receptive to Morning Brew. During announcements, on the screens, and over the PA system, the time, 7-8:30 a.m., and the date for Morning Brew are made known to all the students and staff.
"We have seen families come and have breakfast together in the morning. We also have had groups of high school students come and sit down for breakfast," Pastor Amber said. "Everyone is so thankful. It's been fun. It is such a neat way to connect to the community."
Blessing the community
The generosity and passion of the group of young adult women goes beyond Morning Brew. They provide special treats for different sports teams at the school. They are always praying for and supporting students and community members.
The congregation is thinking about Fresh Expressions—fresh ways to reach the community. They started a Mommy and Me group and a community Bible study.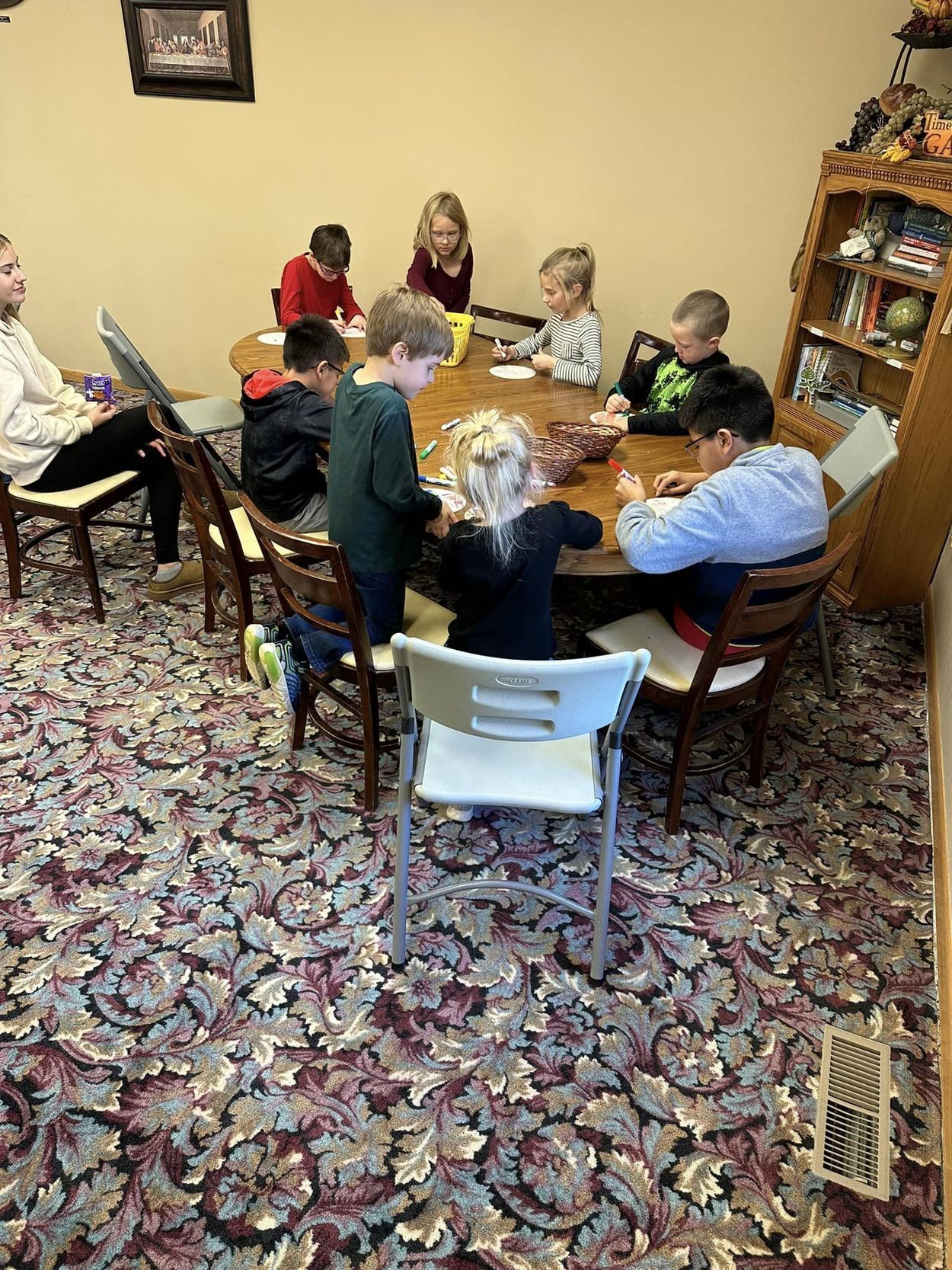 An afterschool program called Sonshine Club has expanded. Last year, 18 children walked over to the church, once a month after school for the Sonshine Club. This year, 27 elementary children attend. There are middle and high school students that help.
"Since last February, when we held Dreams and Dishes—a potluck where we gathered to dream big, we have been asking, 'What are some ways we can reach the community?' It's a community of believers brainstorming and dreaming together," said Pastor Amber.
At Dreams and Dishes, the group brainstormed and answered questions like, Who do we want to reach in the community? How can we serve? Where do we see a need in our community? Where are things going on in the community that we can join with people and bless them?
"Last February, we didn't know about Fresh Expressions. When we learned more about it, it just affirmed where things were headed," said Pastor Amber. "It really has been exciting to do things like have a Mommy and Me group after work. We did something at Halloween with the community Trunk or Treat. On All Saints Sunday, we are having a potluck where you bring a dish that reminds you of someone that you lost. Anyone can come."
At the beginning of the school year, the congregation set up a table, gave out juice boxes and Rice Krispie bars, and did a blessing of the backpacks. "We had games on the lawn and gave them a fidget with a blessing on it for their backpacks," shares Pastor Amber.
For Laffey, being in the community, serving the needs of the people around you, and making disciples is how God calls her and the congregation she serves to live out that call.
"It just feels like such an opportunity to share the love of Jesus. Not everyone is coming for worship, but we are reaching them with the love of Christ in these unique ways. We are out in the community, outside the church walls, sharing Jesus' love," said Pastor Amber.
It's not too late to join the Fresh Expressions movement! Join Activate Day on December 2, at 9 a.m. to 3 p.m. CST, 8 a.m. to 2 p.m. MST.
Didn't make it to Imagine Day? That's okay. Assemble a group of at least three people from your church, watch the Imagine Day recording (which is available in segments or as one long video), review the handouts from that event, and then you'll be ready to join us for Activate Day. It's not too late to join the Fresh Expressions movement!