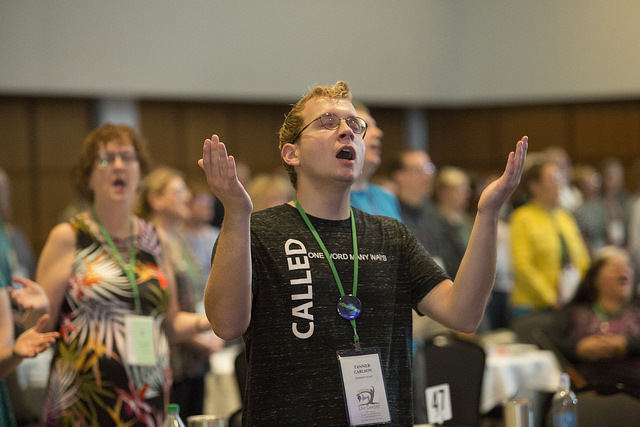 A little over five years ago, Rev. Sue Nilson Kibbey stood on the stage of the 2013 Annual Conference in Bismarck, ND, and invited the members of the Dakotas Annual Conference to begin praying for the Holy Spirit to break through in their lives, churches and communities. She shared stories of seeing the Holy Spirit unleashed through the power of Breakthrough Prayer in the history of the Methodist Movement from a faith community in Hurrnhut, Germany, all the way to churches of all sizes across the U.S.
What began as a teaching at Annual Conference and continued to be shared through the Missional Church Consultation Initiative (MCCI) has spread through the Conference with over 75 churches and 10,000 United Methodists across the Dakotas being involved with the Breakthrough Prayer Initiative over the past five years. Training was first delivered by Sue in person and then via video conference. However, after being inspired by a brief workshop on breakthrough prayer, Jane Hincks, conference co-lay leader, felt called to be trained to utilizing Sue's teaching on video to facilitate trainings across the conference, inspiring churches.
Churches who have taken the training are given the assignment to implement a Breakthrough Prayer Initiative in their churches. This is more than a prayer group or prayer focus. It is a church-wide effort that asks each member, each committee, each program to implement practices of breakthrough prayer into their meetings and gatherings. Pastors and laity have led their churches to: prayer walk through their neighborhoods and communities, asking God to show them who God is calling them to reach; lay on hands and pray over different spaces in their church building, asking the Spirit to breakthrough, to remove an obstacle, to re-ignite passion, or to give them a new vision; give members sticky notes during worship and ask them to place them around the church with their specific prayers for that area or ministry; unite as a church to pray at the same time every day for God to do more than they can ask or imagine in and through their churches.
Interested in learning more about Breakthrough Prayer or getting a taste of what it's like? Join Rev. Rebecca Trefz and Jane Hincks on Friday, Oct. 5 at 10:30 a.m. at Embrace Church as they prayer walk the facility in preparation for the Reach! event. You can also register to attend the Breakthrough Prayer training that Jane will be leading at Fargo Faith UMC on Saturday, November 3.