By:
Doreen Gosmire, director of communications, Dakotas UMC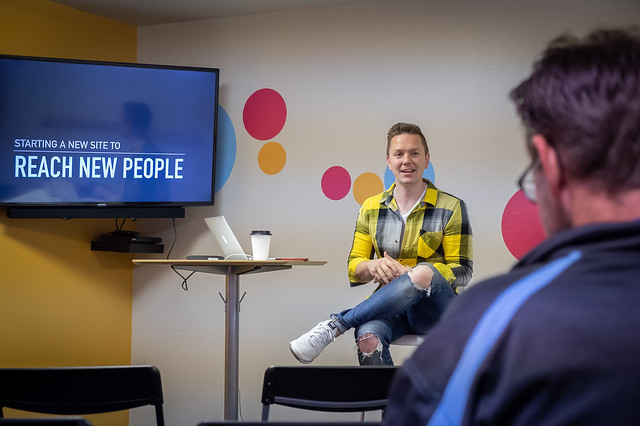 Chris Hagen, a leader at Embrace Church, shares some ideas about reaching new people at the REACH event held at Embrace Church. Photos by Dave Stucke, Dakotas Conference.
"Finding and preparing the next generation of passionate, effective leaders, who are spiritually mature and theologically grounded, and better equipped for church leadership, involves intentionality and long-term investment by the Dakotas Conference." —Bishop Bruce R. Ough, resident bishop, Dakotas-Minnesota Area of The United Methodist Church.
The Dakotas Conference is partnering with Embrace Church to launch a nine-month residency program, starting this August, to provide a unique opportunity to learn and lead. For 25 hours each week, six selected residents will work alongside Embrace Church pastors and leaders to shape and execute a vision, build teams, and develop the skills needed to reach people and make disciples of Jesus Christ who transform the world.
Rick Post is the recently selected residency coordinator for Embrace Church. He outlines four competencies—culture, coaching, experience, and growth—that are critical areas of pastoral ministry that each resident will develop and demonstrate. "These competencies are the key areas of pastoral ministry that are often best learned by real-world experience. They are the skills most often used and demonstrated by successful pastoral staff," Post says.
The need for new, younger clergy is strong throughout the Dakotas. More than 50 percent of the clergy, who currently serve in the conference, will retire in the next five years. Providing intensive, real-world training opportunities, is crucial according to Rev. Rebecca Trefz, who serves as the Executive Director of Ministries for the Dakotas Conference. "The residency program at Embrace Church is the next level of leadership development," says Trefz. "As fewer churches have associate pastor positions that often served as 'residencies' in many ways, and as new skills are needed for ministry effectiveness, we've been seeking ways to give newer clergy hands-on, high-level leadership development experiences."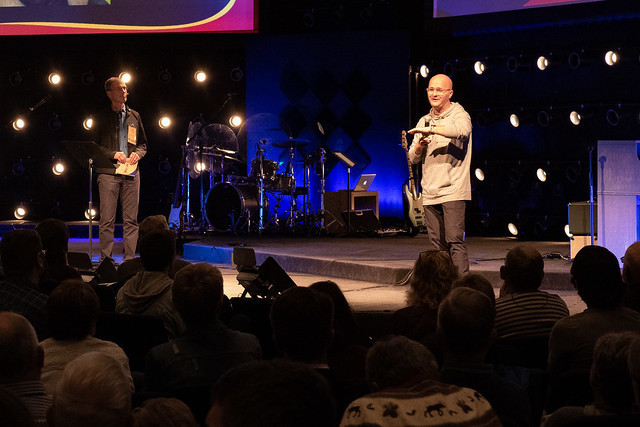 Ben Ingebretson (left), introduces Adam Weber at the REACH event held at Embrace Church.
Applications are being accepted for the first six residents through July 10, 2019. Deb Kjerstad, who serves as the Director of Leadership Development for the Dakotas Conference, invites persons who are ready to launch into an intensive training opportunity. Candidates that are encouraged to apply are those persons finishing an undergraduate degree, or are involved with a seminary program. "We are looking for individuals who are called into church ministry but are not sure if they have the skills needed to be effective," says Kjerstad. "This is an immersive program to train and develop the candidates, building confidence and skills at doing ministry-related activities. Candidates should be self-starters, motivated to connect with others to share their faith, and have a passion for reaching people and making disciples for Jesus."
Rev. Ben Ingebretson, who serves as the Director of New Church Development for the Dakotas-Minnesota Area of The United Methodist Church, sees the residency program as a significant contributor in developing leaders that will take bold risks to start new worshipping communities. "We have a goal to multiply at three percent—starting seven new worshiping communities each year," Ingebretson says. "To reach that goal, we need leaders that are mission-driven, who can do things like raise funds to build new worshipping communities, and invite the next person to Jesus."
Fundraising is a vital element of the program. Residents will be paid $10,000 over the course of the nine months. The Dakotas United Methodist Foundation will provide $5,000 for each resident, through funds gathered from the Thrive capital campaign and other sources. Each resident must raise $5,000 at the start of their residency.
The residency program will help to develop future spiritual leaders for the Dakotas Conference and for Embrace Church. "The lack of training for leaders often limits growth," says Post. "We hope to develop a pool of future leaders for Embrace or other churches that need pastoral staff."
Adam Weber serves as the lead pastor at Embrace. He sees the program as an opportunity to equip the Dakotas Conference and Embrace Church with awesome leaders. "For this first session, our goals are to find six talented individuals we can coach, mentor and develop to become more confident in their abilities to become church leaders," Weber says. "We want to develop the program so that it is repeatable and could potentially handle more candidates in the future. This is an opportunity to assess an individual's abilities before you choose to hire them. We learn if they have the skills, they learn if this is a calling that they are excited to do."
Apply here.
If you have questions, contact Rick Post by e-mail.
Watch a video about the Embrace Residency Program here.