By:
Dave Stucke, communications associate, Dakotas Conference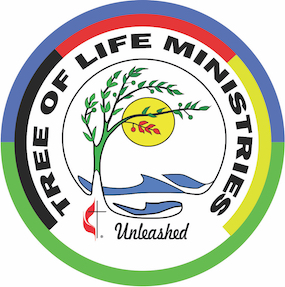 Tree of Life Ministries in Mission, South Dakota, is a Dakotas Conference mission serving several of the poorest counties in the United States. Although the pandemic has caused them to halt some of their basic services, it has given many folks the invitation to share the love of Jesus with their neighbors.
The Rosebud Reservation has an 80% unemployment rate. The winters are cold, the summers are hot, and the economy is unforgiving, but the love of Jesus is moving throughout the neighborhood. The ministries of Tree of Life include: The Warm Welcome, a free hot meal program, Ur Boutique, a thrift store offering clothing and other household items, a food pantry, and a construction ministry for residential repairs.
Especially during the pandemic and the increased needs it has brought, Tree of Life staff and volunteers continue to work hard to care for everyone they can. In a typical season, 1,200-1,500 individuals, come from all over the U.S., in the form of United Methodist Volunteers in Mission (UMVIM) Teams, to work at Tree of Life. These volunteers work with staff to provide needed services to guests who come for meals, foodstuffs, clothing, and personal care items. They also assist with home repair projects to provide safe shelter for many families.
COVID Creates Volunteer Vacuum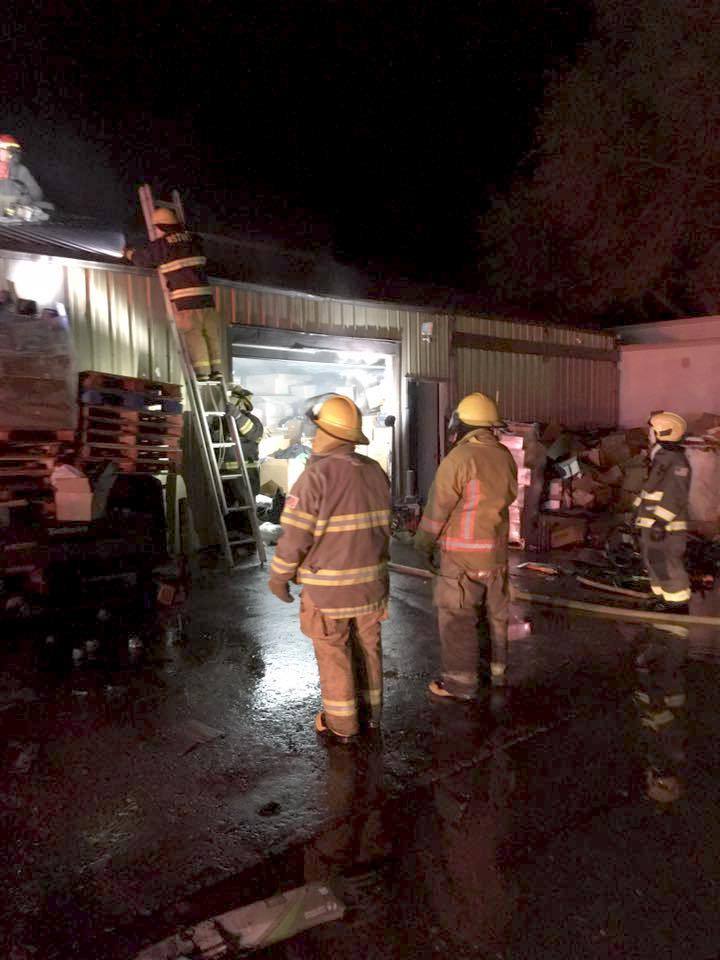 In this summer of the COVID pandemic, only one VIM mission team was able to come. According to Garriott, over $150,000 in donations and income for the ministry was lost by their absence. In March, the pandemic forced the Thrift Store and Warm Welcome to close. Then, in May, 2020, a devastating fire demolished the kitchen where so many meals were prepared for guests several days per week. From the outside, the situation appeared to go from bad to worse.
But in a test of resolve and sharing their love of neighbor, the local volunteers and staff came together, identified the new needs, and planned new ways to fill them. Garriott said, "Staff, volunteers, and guests all took their safety responsibilities seriously, and everyone maintained their social-distance, masks, and other protocols."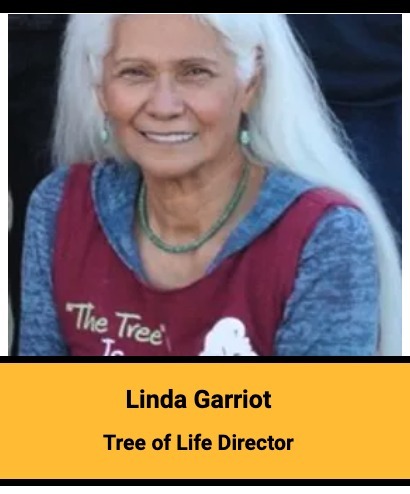 Tree of Life executive director Linda Garriott said, "Knowing we rely on volunteers in a normal year, folks knew they would have to stand strong together to provide the vital services many guests rely upon. God definitely showed up and helped folks to take ownership of their ministry. The staff and volunteers have been amazing, and the response of local people has been huge."
One of the important tasks undertaken by Tree of Life is to show Native Americans what Christians are like. Over the years, Volunteers in Mission (VIM) teams came to Tree of Life throughout the year to work in the various components of the ministry. This was the year for local people to share God's love with each other, without the possibility of interaction with the visiting volunteers.
Partnering with Feeding South Dakota, as well as the Native American Heritage Association (NAHA), trucks continued to roll, volunteers and staff did the heavy lifting to unload each truck, when they were allowed onto the reservation, and set up distribution lines outdoors. Volunteers, masked and following social distancing protocols, organized the produce and household items for families who could drive by and receive the needed commodities. Using their ingenuity, they were able to serve over 300 families in two hours.
The success of the adjusted services has continued into the fall, and as the cold weather of winter approaches, they are working on plans to continue serving the needs of their neighbors, feeding and clothing the needy, as Christ compels us to do every day.
Linda Garriott said, "God is at work here in us, and through us, in ways we never expected. Our ministry is now out of debt, we have new volunteers to help work the stations, and our abilities have grown and kept pace with the increased and changing needs."
How you can help in this new chapter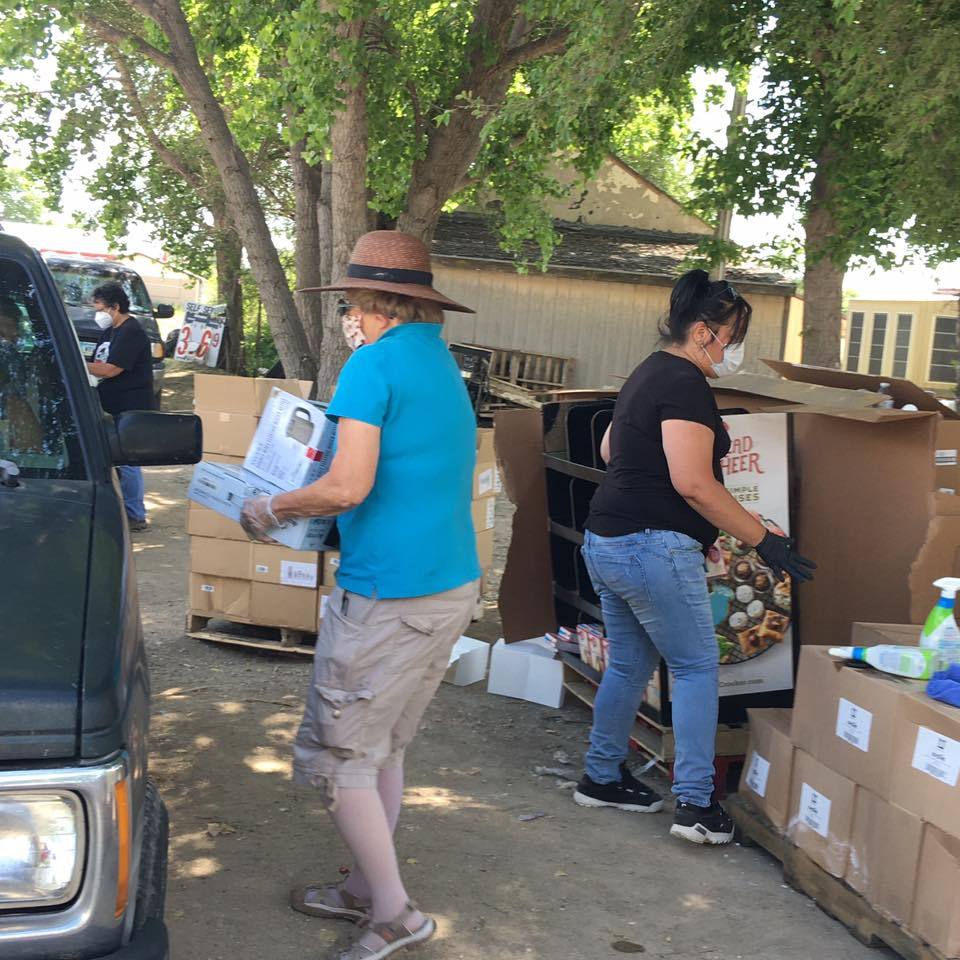 When hot meals were served in the Warm Welcome, we served them on paper dinnerware. Now that meals are being made to go from our temporary kitchen, we have an ongoing need for disposable cups and bowls with lids, and clamshell dinner containers, so folks can receive their meals outside. Garriott said one way to provide these items, for example, is to order them from an online retailer and have them shipped for free to Tree of Life. Eventually, a brand-new kitchen will be ready, next door to the construction ministry and thrift store, to offer curbside pick-up of hot meals until it's safe to return to indoor seating.
Tree of Life is also working on maintaining their orchard, herb and indigenous gardens, as well as an underground greenhouse to provide better produce in the next growing season.
In addition to monetary gifts, and packaging for meals-to-go, your prayers are always needed, for God's love to continue to grow on the Rosebud Reservation, through Tree of Life Ministries. is one of the mission ministries that will be supported by your gifts to the 2020 Miracle Offering. Begin to prepare your hearts and minds for how you can live out God's call to generosity.