By:
Doreen Gosmire, director of communication, Dakotas UMC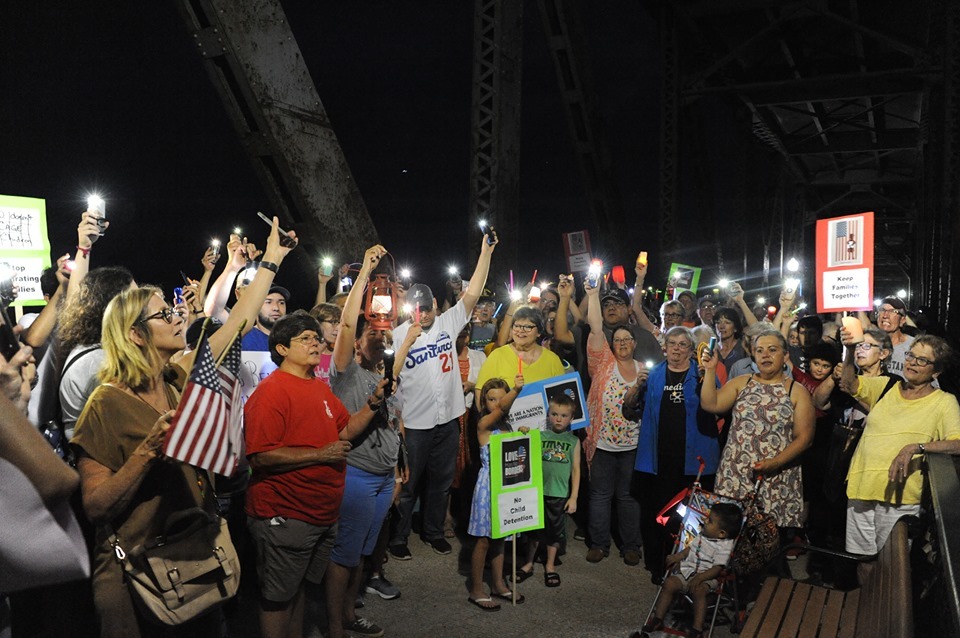 More than 200 people gathered in Yankon on the Meridan bridge at the Lights for Liberty vigil. Photo byBernie Hunhoff.
Hundreds of people, including several United Methodists from Aberdeen, Rapid City, Sioux Falls, and Yankton, in South Dakota, gathered for the Lights for Liberty vigil on July 12. Vigils were held in Bismarck, Fargo, Grand Forks, and Minot in North Dakota. The Lights for Liberty vigil is now in its second year. Organizers hope to shine a light on the conditions inside human detention camps near the United States southern border.
The vigil was created as a way for people from various communities to show compassion for the families living in detention camps near the U.S., Mexico border. Seven hundred Lights for Liberty vigils were held at dusk on Friday, attracting tens of thousands of Americans seeking to raise awareness on how refugee children are being treated at the U.S. Mexico border.
More than 200 people gathered for the vigil in Yankton, South Dakota, held on the Meridian Bridge. The speakers included Jacob Bies, who recently returned from working with families on the border, and Pastor Ron Johnson, who serves First United Methodist Church in Yankton. Rev. Johnson ended his comments with a verse from a popular song: "What the world needs now is love … no, not just for some, but for everyone." The crowd then silently marched onto the bridge with lights in hand and sang "My Country 'Tis of Thee."
Rev. Lou Whitmer, who serves at North Highland United Methodist Church in Aberdeen, South Dakota, spoke at the vigil in Aberdeen for the second consecutive rally. "As a person who lives in this area, so far away, you kind of feel helpless to be able to do anything at all. This was a way that we could maybe do something," Whitmer said.
Detaining immigrants — documented and otherwise — and asylum seekers in detention facilities along the Mexican border is an American practice stretching back decades. Reports from U.S. Immigration and Customs Enforcement (ICE) estimate that approximately 25,000 to 35,000 people were held in border facilities on any given day in 2016. Since 2016, that number has increased significantly: The latest ICE reports estimate that more than 51,000 people were kept in border detention camps daily during the 2018 fiscal year. According to data compiled by the immigrants' advocacy group "Freedom for Immigrants," almost 60 percent of those detained are kept in for-profit private detention camps that contract with ICE.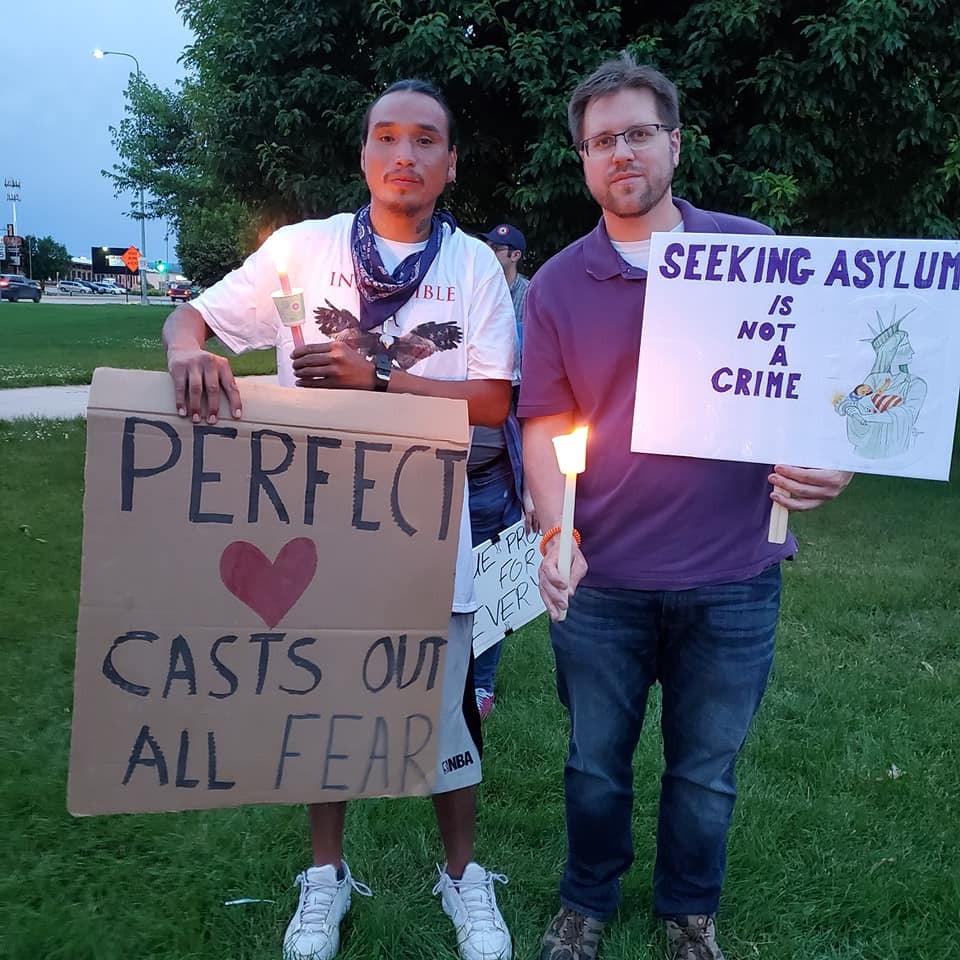 Rev. Karl Kroger, right, joins the Light for Liberty vigil in Rapid City, South Dakota. Photo courtesy of Karl Kroger's Facebook page.
In Rapid City, South Dakota, Indivisible Rapid City, and Democracy in Action hosted an event in conjunction with Lights for Liberty. The event, at the Memorial Park Bandshell, featured speakers Rowdy Brewick, Lily Mendoza, and Lori Miller. Participants had an opportunity to write postcards to South Dakota members of Congress. Rev. Karl Kroger, who serves at Grace UMC in Piedmont, South Dakota, was in attendance and posted on Facebook, "Would you think about the children seeking refuge like Jesus, would you hold them in your hearts?"
Grand Forks, North Dakota is the northernmost ICE facility. Grand Forks County Correctional Facility, owned and operated by the sheriff's office, serves as an ICE detention center. Its average detainee population this year is six, according to jail administrator Bret Burkholder. In 2018, the average detainee population was nine and 16 in 2017, Burkholder said, adding that the facility does not detain children. The juvenile center can hold children, but he said it hadn't held any "for years."
Horrific stories about the treatment of migrant children and families along the U.S. border and threats from the administration to carry out immigration sweeps sparked a call to action on behalf of migrants from the United Methodist Immigration Task Force, Board of Church and Society, Board of Global Ministries and United Methodist Women.
Many of us cannot imagine what it must be like to abandon your home nation due to war, natural disaster, or economic hardship. This is indeed the reality for many people in countries around the world, including in our communities. To protect and provide for their families, some make the difficult decision to look for a new nation to call home.
The United Methodist Church upholds practicing hospitality to migrants, immigrants, refugees, asylum seekers, and others without regard to race, status, nationality, or religion. Learn more about ways United Methodists can stand with immigrants here.