By:
Rev. Karl Kroger, who serves Grace UMC, and Doreen Gosmire, director of communications, Dakotas UMC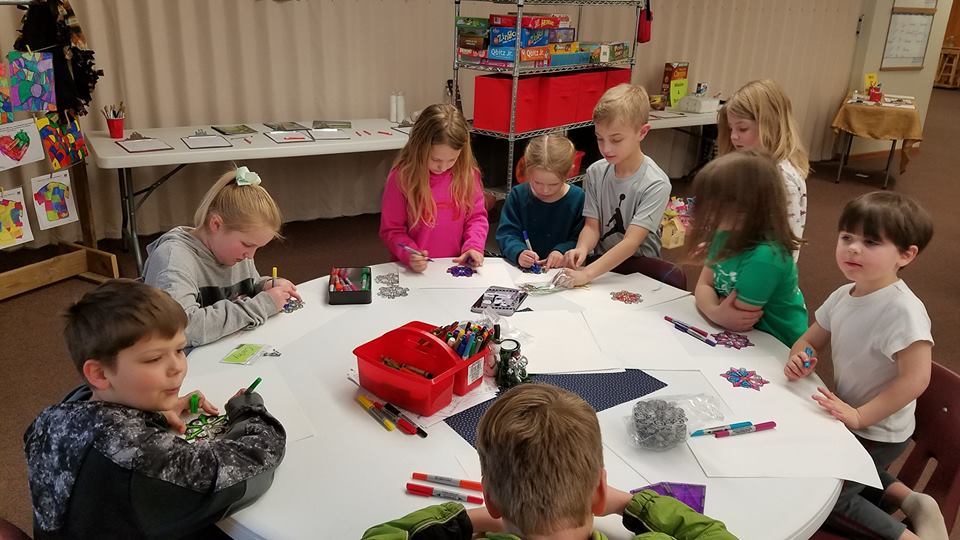 Children gather on Tuesdays for the after-school program at Grace UMC in Piedmont, South Dakota.
One Tuesday afternoon while trying to teach a lesson to a small group of elementary students, one of the younger students, was trying to get Rev. Karl Kroger's attention about something. "Pastor Karl, Pastor Karl," she said, "God loves me." Her words caught Pastor Karl, who serves Grace United Methodist Church, in Piedmont, South Dakota, off guard, yet warmed his heart.
"I made sure to pause from whatever I was trying to accomplish a minute prior, to say to her, you are exactly right," says Pastor Karl. As the year went on, this same little girl became one of the most eager kids to pray, at snack time, and during small group. Her prayers are a blend of the pledge of allegiance, confession, and gratitude. "I know she is talking to God. Her prayers bring me delight, and I know they also bring delight to God," Kroger says.
The experiences have all been possible because of a weekly ministry at Grace UMC in Piedmont called the After School Program. Launched in the Fall of 2017, with the assistance of a Breakthrough Ministry Grant, the church has been hosting 20-30 children every Tuesday.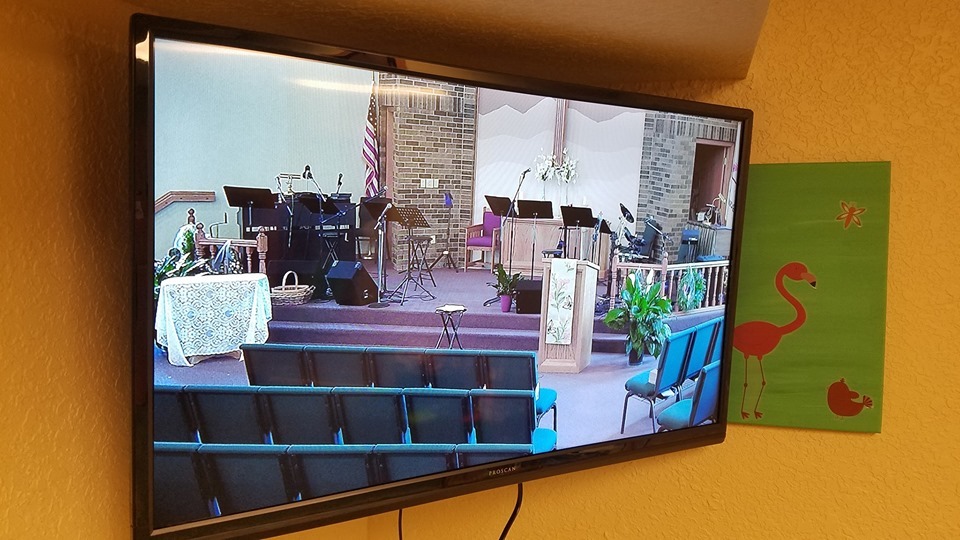 Technology was installed in the nursery at Grace UMC so that services could be viewed live.
This year, Grace UMC, started a new art program, made improvements to the nursery through a technology grant, commissioned a youth on a year-long mission trip around the world, and installed a basketball hoop for the church and community. Grace also baptized youth and children, saw multiple teens apply for Conference Council of Youth Ministries— CCYM, and created a pilot ministry internship program.
Michelle Kroger, Children and Youth Ministry Coordinator at Grace UMC, leads the after-school ministry. Michelle would be the first to say she has been inspired by other United Methodist Church laity, especially Gerry Cass of Pierre, and Lori Miklos of Rapid City. Watching and learning from how they shared the love of Jesus with children and their families have laid a foundation for Michelle's work.
The After School Program at Grace is also possible because of a wonderful team of persons who give their time and gifts to support the ministry. Two individuals who play an essential role are Chris and Clara. These two older ladies come for a portion of the time, preparing and serving the snack. What they give through their role in the kitchen strengthens the ministry as a whole. They also get to visit with the children and demonstrate the love of God to them. "These women inspire and remind us, that even when you're 89 years old, you can still serve God," says Pastor Karl.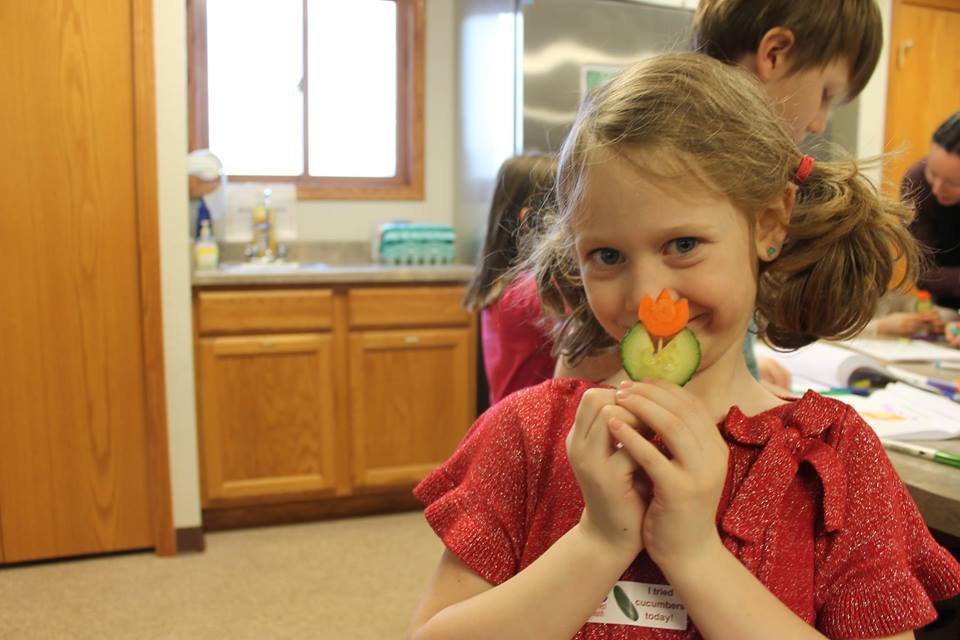 A "Harvest of the Month" creation at the after-school program.
Another team member, Prairey offered to help the kids learn more about food preparation and healthy snacks. Once a month, Prairey takes time off from her fulltime, 8 a.m. to 5 p.m. job, to lead an activity called, "Harvest of the Month." This year the kids learned about and made separate dishes with cucumber, grapefruit, mango, peas, and asparagus.
Throughout the past few years, the congregation has been building a partnership with the local elementary school, Piedmont Valley. In addition to connecting with the principal and other key school leaders, every staff member is blessed with a gift card and note of appreciation. Recognizing the school is often on the front lines of responding to student and family needs, half of the Christmas Eve offering collected at Grace UMC, is given to the school to bolster their assistance fund.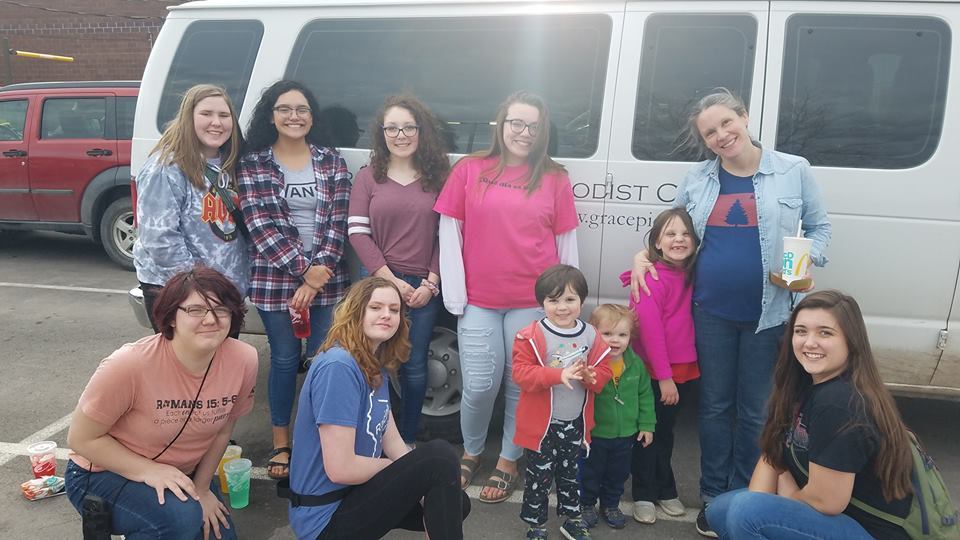 Grace UMC youth pose for photo after serving others in Rapid City.
Last year when a new middle school was built in the area, the congregation began investing in those relationships as well. With the shift of fifth and sixth graders to the new school, Grace UMC recognized the need to adopt an outreach program for students. Starting in the Fall of 2018, Michelle Kroger and Deana Jeans, another lay member at Grace, put together and initiated a new ministry called Art with Heart. Each Monday afternoon, about ten middle school students are picked up and come to the church for two hours of snack, activity, devotion, art concepts, and art projects.
This past year it was incredible to see the students grow in their confidence, their abilities, and their faith. Explaining more about the experience Michelle shares, "We take the time to connect the art with the heart of God, and that God's love is unconditional. We had the joy of getting to explain what that meant. One of the kids who did not initially understand the concept was later blown away that God could love like that! It can be crazy and chaotic, but then there are these beautiful moments where the Holy Spirit moves, and it's an honor to witness."
Pastor Karl sums up what is happening at Grace UMC. "Investing in and reaching out to children in Piedmont has been essential in our efforts to love our neighbors and share the good news of Jesus with others in our community. We have done so to be faithful to the God who has been so faithful toward us. We are thankful to God that our efforts to be missional have also strengthened and enlivened our congregation. As the pastor at Grace, I am so grateful for our staff, our leaders, and our congregation at large. As we have sought to give children additional opportunities and experiences to grow in faith, helping kids get to church camp as well as plugging kids into youth group when they are of age are natural and critical steps of discipleship, but they also require great intentionality. "
In the upcoming year, the congregation is already discerning modifications to youth ministry to enhance student worship and faith development. Michelle says one of the most exciting statements she heard this year was how a youth referred to the youth group. In this youth's words, she was "going to church." Youth group is the church to her as Sunday service is the church to many of us. This sentiment is also true for many of the children who attend on Tuesday. They refer to the After School Program as the church.
"Looking to the future I trust Holy Spirit to continue shaping the hearts of the people of Grace," says Pastor Karl. "As they welcome and support youth and children with radical hospitality, unconditional love, and courageous faith. I am eager to see everything God has in store for 2019."