Date
: May 22
Latest update: The actual start date is to be determined. Registration for this coaching group will remain open until enough participants have signed up. Upon registration, Stephanie will reach out to you directly to discuss group parameters. Once the group is full, Stephanie will talk with participants to confirm the launch date.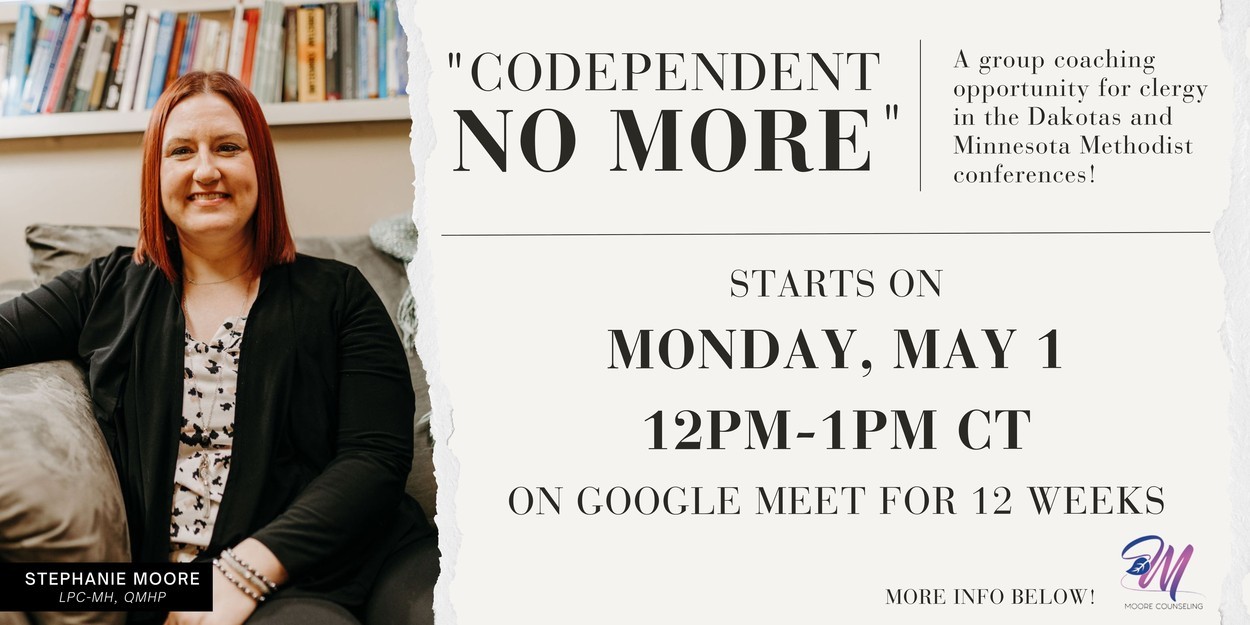 "Codependent No More": A Group Coaching Opportunity for Clergy in the Dakotas and Minnesota Annual Conferences!
If you wake up every day focusing on making everyone else happy (except yourself), emotionally drained, feel immense amounts of pressure and demands to meet everyone's emotional/spiritual need, struggle with guilt and making decisions, find yourself walking on eggshells around others, and almost forcing joy most of the time when around others…..this is a MUST DO group experience!! This group is for pastors only and starts on Monday, May 1, from 12-1pm central on Google Meet for 12 weeks. The group will be capped at 8-12 participants.
There have been 19 pastors from both the Dakotas and Minnesota Conferences who have completed this 12 week coaching group experience. See a few of their testimonies below!
"I'm learning to give myself permission to be vulnerable with those I can trust, while understanding I am only responsible for my own behavior and reactions. This group has taught me so much! This book has given me numerous tools to utilize in interacting with my congregation and leading them more effectively through vulnerability." -Kim Hastings, Pastor, Salem Unite, SD
"If you are in need of a space to process co-dependent proclivities, this is the group for you! I have found the group discussion, facilitated y Stephanie, to be warm, welcoming, and compassionate. The discussions have helped me to process the unhealthy tendencies in my own life, and have encouraged me to discern new paths forward. I am so glad I joined this group!"-Jerry Bertelson, Canistota, SD
"The Codependent No More Group impacted my ministry. I learned to focus on my call to Christ versus trying to keep my congregation happy. It shifted my attention from protecting the church's back door from people leaving to swinging open the front door and focusing on the community around the parish. I would recommend this training for all clergy!"-Pastor Eric Pone, Hillcrest UMC, Bloomington, MN
Codependent No More group coaching is led by Stephanie Moore, founder of Moore Counseling Group in Sioux Falls and a licensed mental health counselor. She is a pastor's wife (Charlie Moore, Sunnycrest UMC in Sioux Falls, SD) and the daughter of a pastor. Stephanie can relate to the specific issues faced by spiritual leaders and their families and the challenges that contribute to stress, burn out, and depression/anxiety.
If you are interested in giving an hour a week to your health and healing as a pastor, register here. The funding is provided by Lilly grants provided to both the Dakotas and Minnesota Annual Conferences. You only need to buy the book "Codependent No More: How to Stop Controlling Others and Start Caring for Yourself" by Melody Beattie available on Amazon and commit to one hour for 12 weeks. The registration deadline is Friday, April 28th, 2023. Upon registration, Stephanie will reach out to you directly to discuss group parameters.