Annual Conference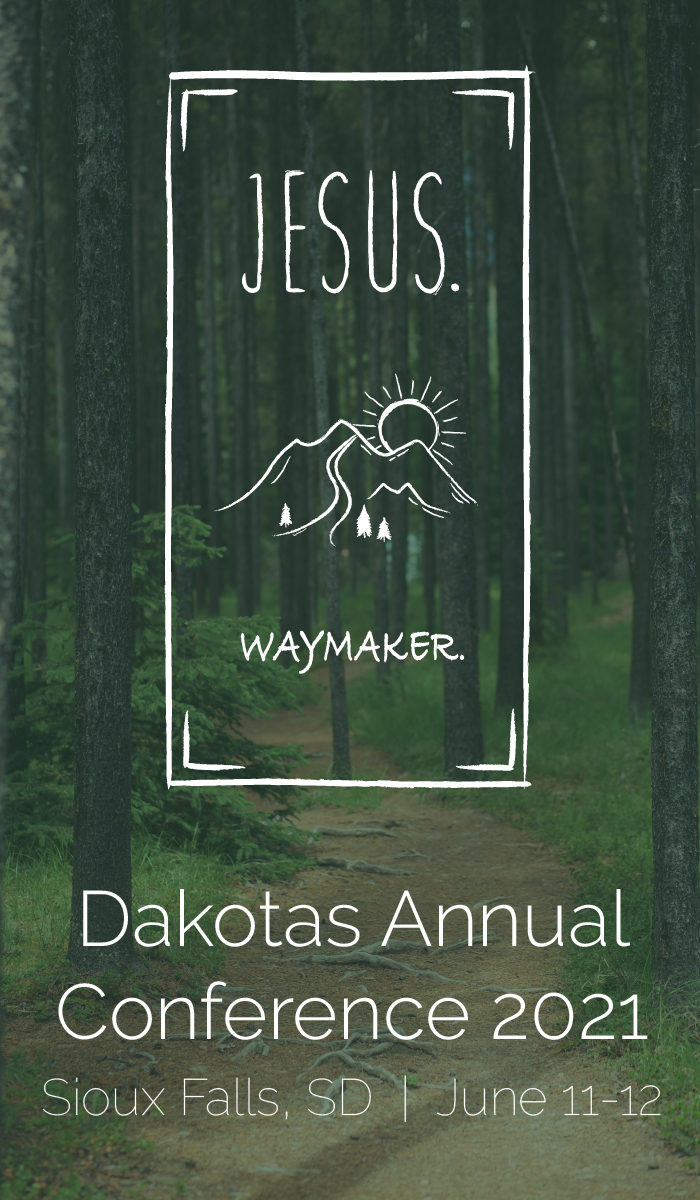 Annual Conference is a yearly session when clergy and lay members gather for worship, fellowship, learning, and to conduct the business of the Dakotas Conference of The United Methodist Church. During the 2021 Annual Conference session, members of the conference will hear reports of past and ongoing work; adopt future goals, programs and budgets; ordain clergy members as deacons and elders; and participate in workshops and learn about discipleship.

The Dakotas Conference Session Committee invites you to attend the June 11-12 event happening in a hybrid format.
Register here
The hybrid format will feature an opportunity to gather for business, in-person on Friday, June 11, 2021, at one of these four locations:
First United Methodist Church, Fargo, North Dakota

McCabe United Methodist Church, Bismarck, North Dakota

First United Methodist Church, Rapid City, South Dakota

Sioux Falls Convention Center, Sioux Falls, South Dakota
The Sioux Falls Convention Center will serve as the broadcast site, with all speakers and videos being broadcast to the three other locations. The agenda for Friday will focus on business with voting taking place at each location.

Saturday, June 12, 2021, will be a day of equipping and learning. Participants can join in-person at the Sioux Falls Convention Center or from their own device virtually. All sessions, whether you attend in-person or virtually, will have an interactive feature with the presenters and audience.
In a time of continual changes, God is calling United Methodists in the Dakotas to remain rooted in Christ. Drawing on our collective values of Jesus, Mission and Connection, the theme of this year's annual conference session is "Jesus. Waymaker." We will explore ways in which we need to step out of our comfort zone and follow the path to live like Jesus in ways beyond our imagination.

The Celebration of Life in Ministry service, a time when we remember those clergy and conference leaders who have left this earthly home to be with Jesus, celebrate clergy entering retirement, bless local pastors entering a ministry, commission and ordain new clergy, will happen Friday, June 11, at 7 p.m., broadcast from the Sioux Falls Convention Center. The service will be available virtually on the Dakotas Conference website.
On Saturday, June 12 , 2021 we will learn to grow in discipleship and our love for Jesus with teacher Rev. Rachel Billups. Billups is a visionary, leader, speaker and author. Currently she serves as Senior Pastor at Ginghamsburg Church multi-campus ministry in Tipp City/Dayton Ohio. Rachel draws on her love of people and passion to explore new venues for ministry and mission. She is an ordained elder within the United Methodist Church and holds a Bachelor's Degree in Bible/Religion and History from Anderson University and a Master of Divinity Degree from Duke Divinity School. Most days you can find Rachel reaching out – praying online, hosting Open Table gatherings in her home or enjoying moments with husband Jon and their four loves: Adeline, Christopher, David and Sarah. She also might be cheering for those Duke Blue Devils and The OSU Buckeyes. She is a popular speaker for national gatherings and has recently authored BE BOLD: finding your fierce, as well as co-authoring Down to Earth: Hopes and Fears of all the Year Are Met in Thee Tonight, and Sent: Delivering the Gift of Hope at Christmas . All of her books are published by Abingdon Press. You can find her on social media at: @RLBillups.