Location
: Broadcast on KELO, KFYR, WDAY, and WDAZ TV
Date
: April 12, 2020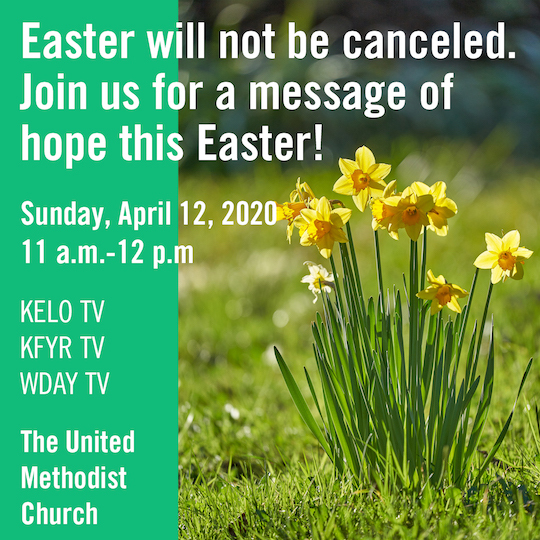 11am-12pm CDT / 10-11am MDT
"Regardless of what is happening in our world on April 12th, Easter cannot be canceled. We may not be able to gather in our glorious Easter celebrations in our lily-decorated sanctuaries, but Easter cannot be canceled. The resurrection cannot be stopped or delayed or defeated!" Bishop Bruce R. Ough, resident bishop for the Dakotas-Minnesota Area of The United Methodist Church, brings words of encouragement and hope to all this Easter.
Join Bishop Ough, April 12, 2020, at 11 a.m. CDT / 10 a.m. MDT. Celebrate the resurrection, in the Dakotas United Methodist tradition, and watch a televised broadcast of Easter worship.
KELO TV, a CBS affiliate reaching audiences across South Dakota, northwest Iowa, southwest Minnesota, and northeast Nebraska, will broadcast this special Easter service, with Bishop Ough preaching. This service is being planned by Sioux Falls area United Methodist congregations.
KFYR TV, an NBC affiliate reaching western North Dakota—west of Jamestown, and eastern Montana, will broadcast a service featuring celebrants and musicians from Bismarck area United congregations.
WDAZ and WDAY TV, an ABC affiliate with coverage in eastern North Dakota and western Minnesota, will offer two broadcast options to view Easter worship, with Bishop Ough preaching.
Local congregations are encouraged to hold virtual worship gatherings as planned. Consider inviting someone, who may not have a way to attend a worship service, to view the broadcast.
"Some things will continue to change for the unforeseeable future," says Ough. "We live in the confidence of the resurrection promise and proclamation: Christ is risen! Christ is risen, indeed!"