By:
Doreen Gosmire, director, Dakotas Conference Communications

UPDATE: DakYouth 2020 has been canceled, due to the pandemic. Please pray for an end to the pandemic, and a return to events for all Dakotas youth. The following story is a recap of DakYouth 2019.
November, 2019: Carter Hall, a seventh-grade student from Faulkton, South Dakota, is getting to know a whole lot more about God and loving it. He walked in the doors of the United Methodist Church in Faulkton, and came to DakYouth 2019 for the first time this fall. "This is my first year at a church. Everyone was telling me about DakYouth and just how much fun it is, says Carter. "Coming here is fun! We are inspired to love God."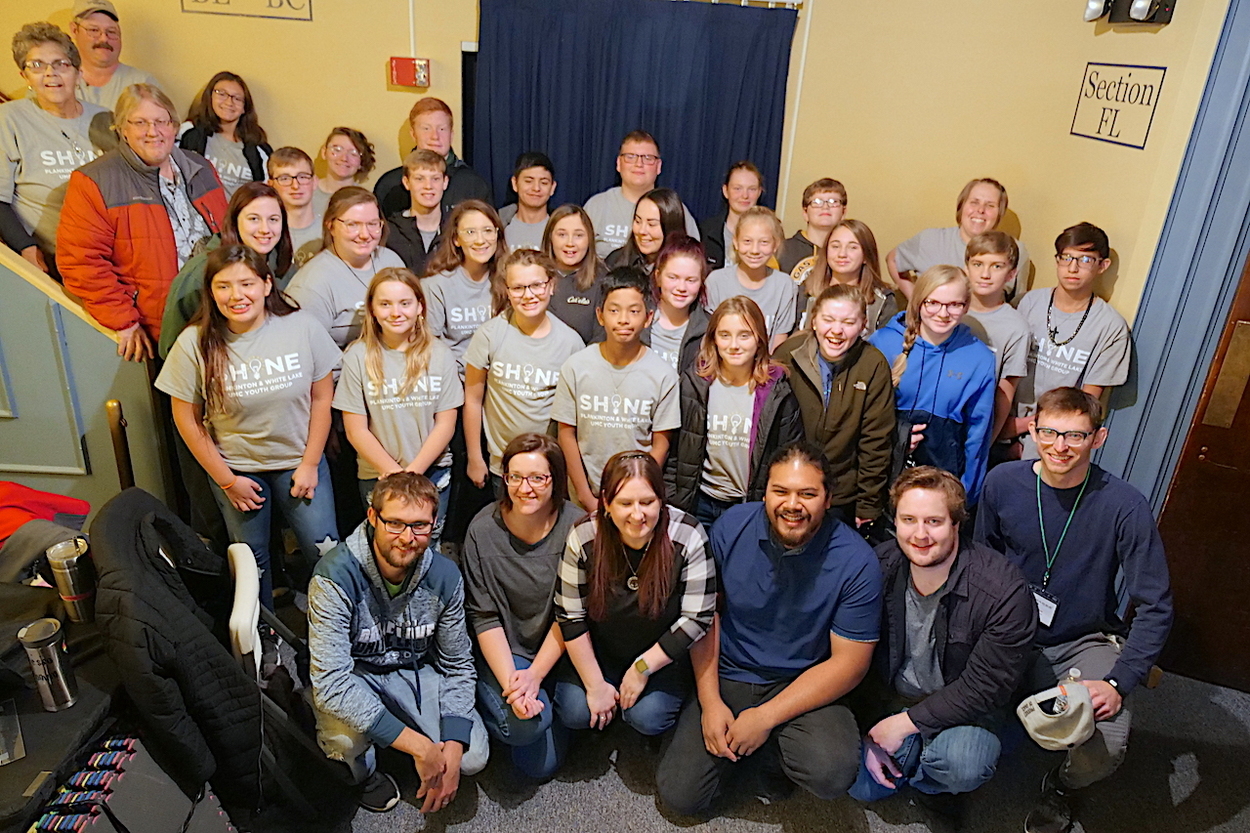 Bishop Bruce R. Ough, resident bishop for the Dakotas-Minnesota Area, asked nearly 400 youth present at DakYouth 2019, "If you are ready today to ask Jesus to come and live within you, stand up! Say with me, 'Jesus come into my heart today. Fill me up with your love.' Get ready now, your heart is going to start to burst with love for Jesus," said Ough.
Youth and adult leaders from 42 different churches gathered in Aberdeen, South Dakota, to recharge. Participants delved into the scripture passage Mark 6:30-32; Jesus called all of us to "come away and rest."
Ough challenged attendees to focus on the why. "You have been focused on the theme of recharge. The importance of taking time to recharge our spirits and our lives so we can stay focused on the why not the what. It is about the why. What do we need to do to slow down and stay focused to keep Jesus in our space?"
The three-day event began with opening worship on Friday evening, with Rev. Sarah Heath, who serves as the pastor at First United Methodist Church in Costa Mesa, California, delivering a message about how we all get caught in the busyness and what of our lives.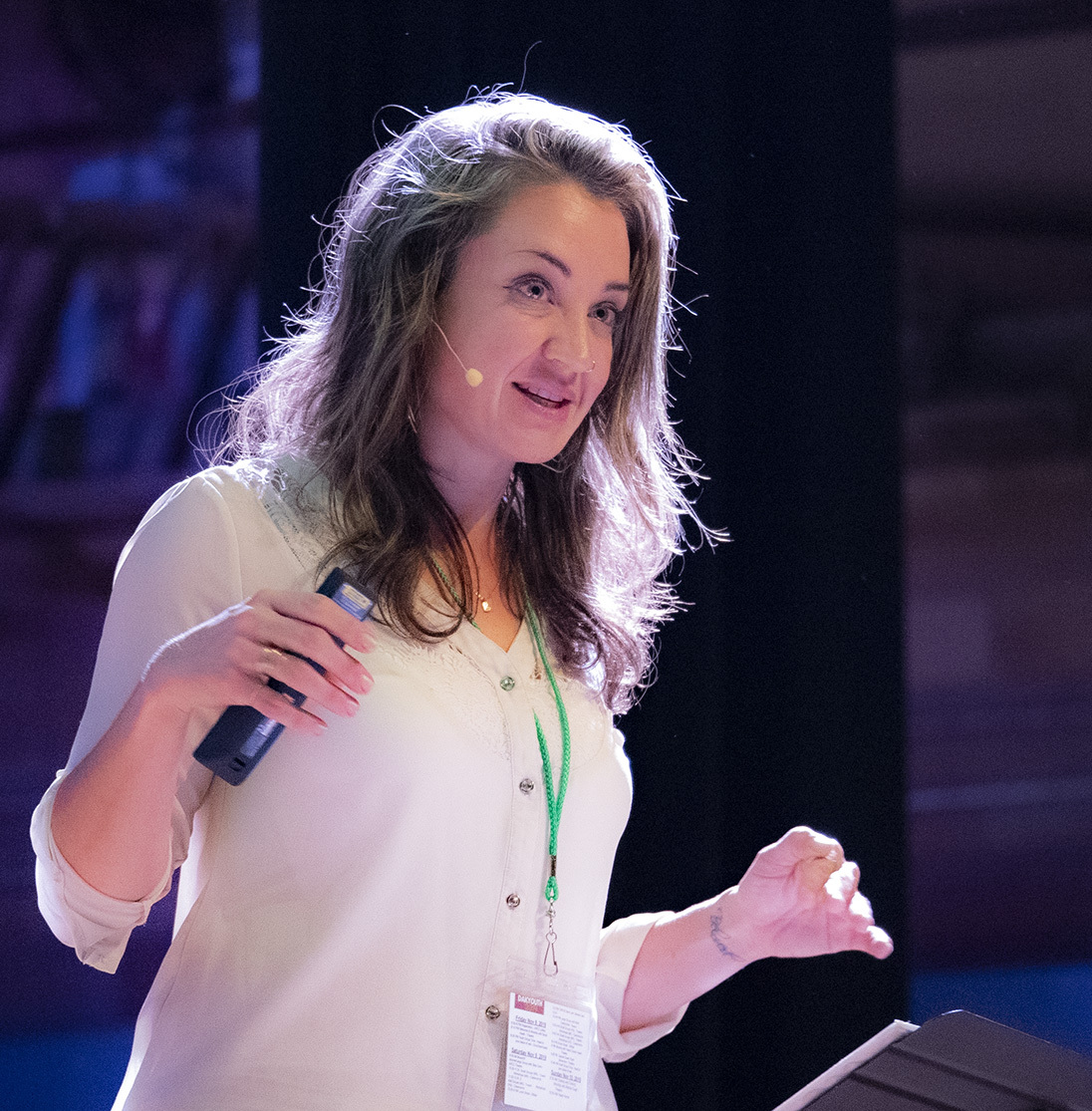 "I think we have been giving all of you a really bad story. We show everyone how busy we are with our lives. That you need to win, win, win. The goodness of life is not in the moments where you are winning. Winning all the time is a boring, not the true story," says Heath. "A lot of times as people of faith, we hear what we are supposed to do. Do this, don't do that. That is a belief, not faith. The disciples give Jesus a list of what Jesus asks why?"
High school and middle school youth attended large group sessions with Stephanie Caro, from Ministry Architects, and Mark Oestreicher (Mark O), from The Ministry Cartel. Caro told those present to believe they are beloved in the eyes of God and to live out the call to love others. Mark O shares the example of eaglets learning to fly, and soar is similar to our faith journeys.
"Some of you are in that the spot, in between learning to fly and flying. God is right in front of you. When God made you, out of love, God knew that you were meant for a life of faith, flying on your own. Are you still in the nest? Are you ready to move out and soar with God? Maybe you in the free fall? Are you maybe soaring on your own? For humans, it is a cycle go through over again, nest to the soaring with God," says Mark O.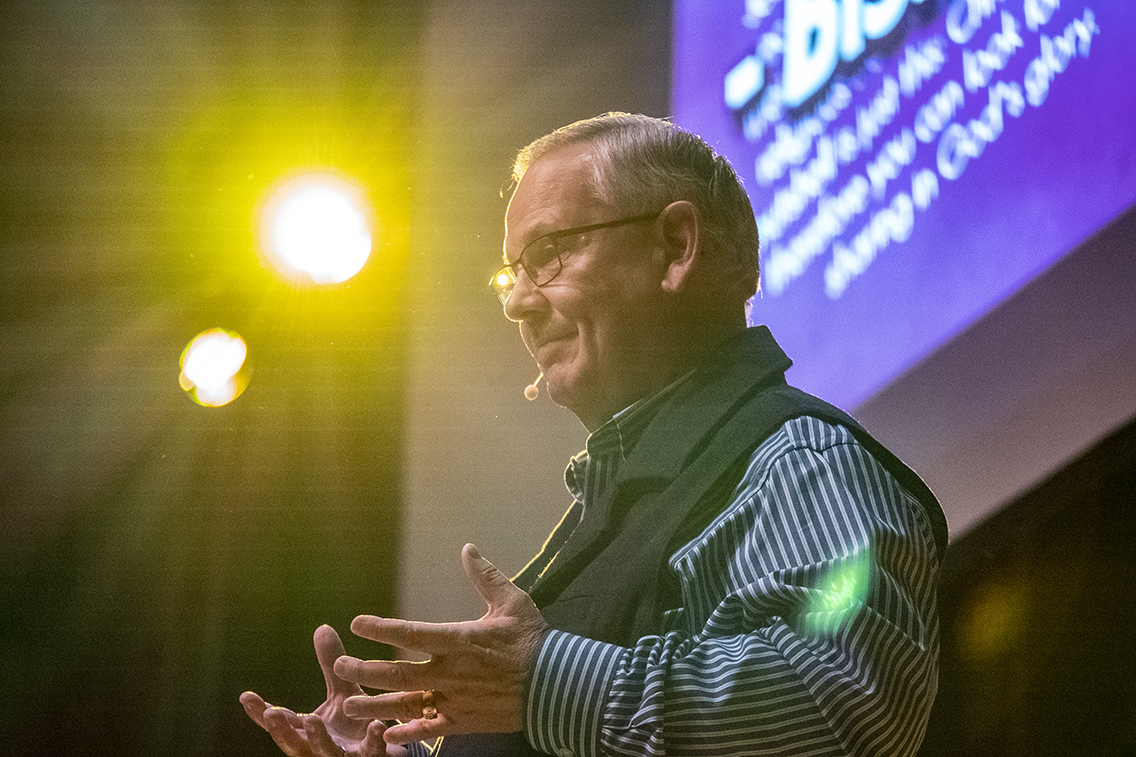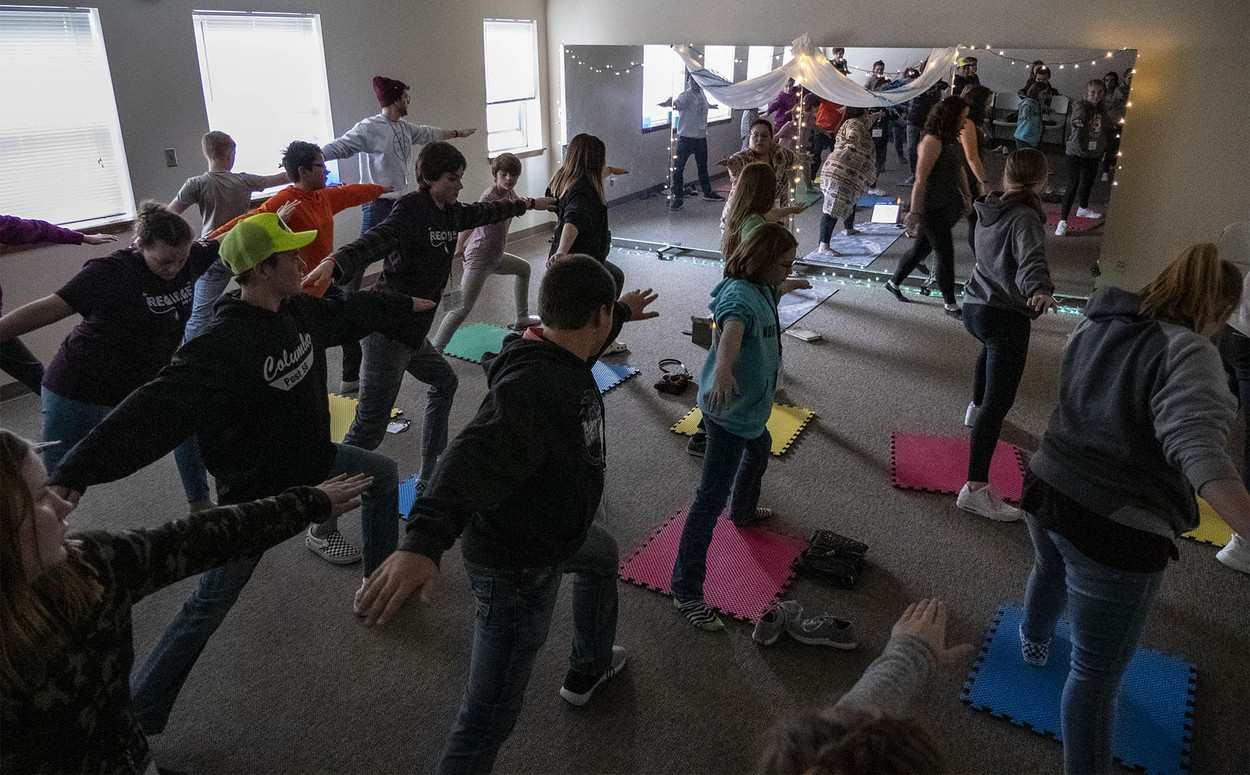 Ten workshops were offered to youth in four different sessions. Anna Mutzenberger, a member of the Dakotas Conference Council of Youth Ministry (CCYM), stated that the variety of workshops was exciting to those attending. "We had more people attending DakYouth than last year," says Mutzenberger, who is a member of First UMC in Fargo, North Dakota. "It was nice to have a variety of workshops this year. In past years, we have had five to six different workshops people could attend. This year we had ten."
CCYM is responsible for planning and carrying out the event. "Members of CCYM arrive a day early to set things up and get ready," says Mutzenberger. "We lead worship, help in the workshops, make sure that things are running smoothly, and everyone is feeling included."
Katie Pillatzki, an eighth-grader from Tabor United Methodist Church, in Big Stone City, South Dakota, attended, as the only member of her youth group, with her youth group leader. "This is such an amazing experience. To listen to the stories of the speakers who are here for us from all over is exciting. I am meeting people from all over," she says. "The main thing I am going to take away is that God wants us to recharge and that there are a lot of people excited about God just like me."
The Thrive Band, out of the United Methodist Church in Madison, South Dakota, led music for each of the worship services. "I came here, and the worship is, wow! I also met a lot of people I have not met before," says Deneis L Kaiki, who is a ninth-grade student that attends Legacy UMC in Bismarck, North Dakota. "The first day, I was stuck on the stage, and people cheered. The worship is not silent here. You give more praises to God." Kaiki came to North Dakota from Liberia with her family and aspires to live out the dream to grow up and be who she wants to become in the future.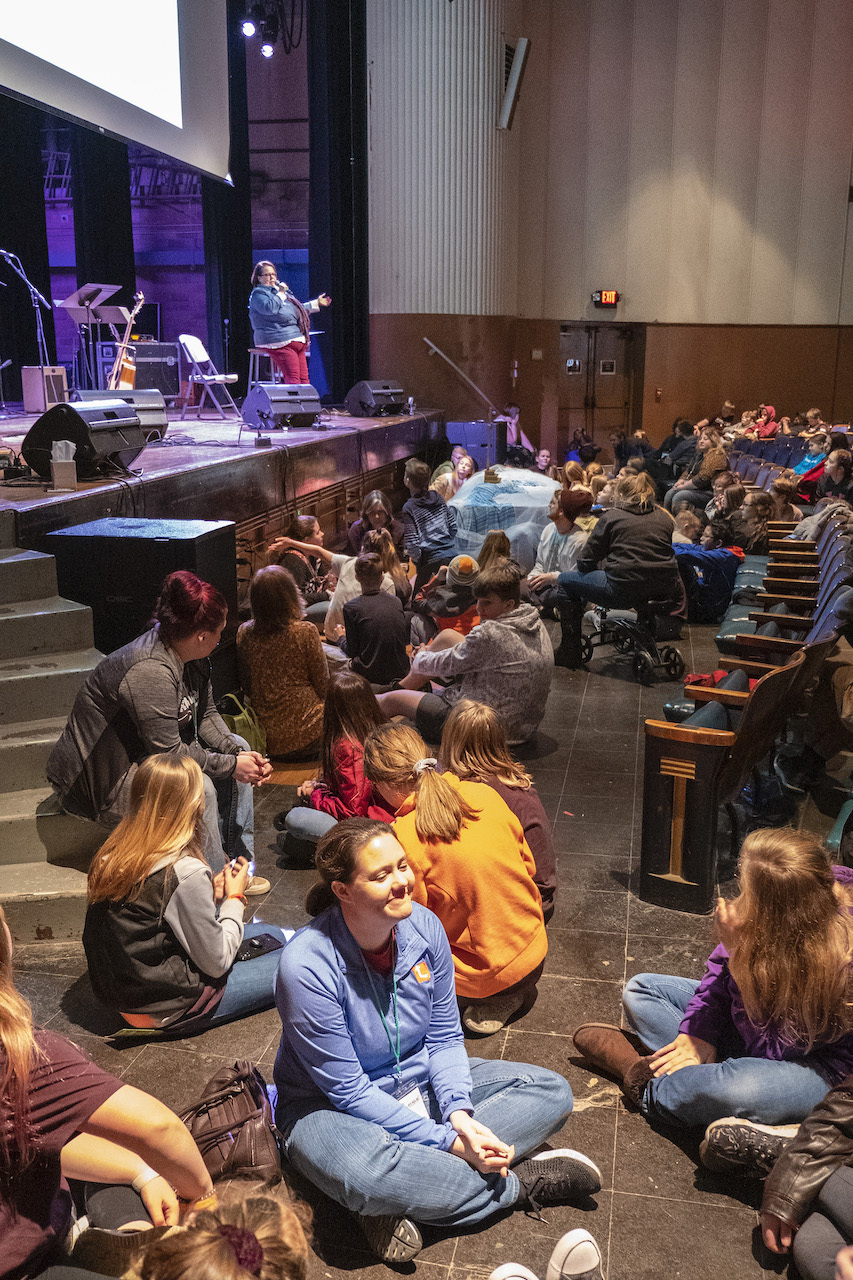 Legacy UMC had 36 youth who attended. Plankinton and White Lake United Methodist Churches brought a team of 26 to DakYouth 2019. Two large buses of youth and youth leaders traveled to DakYouth from churches in western South Dakota. The Faulkton United Methodist Church had twelve youth attend with their youth leader and pastor, Rev. Tom Sumers.
"I am blessed with wonderful youth and children's ministry adult leaders. There were seven youth that came last year, and we have twelve that chose to come this year," says Sumers. "I came as a clergy person. I have never been here before. I wanted to come and experience what the kids are going to experience. I think it is important as a pastoral leader to be part of it. You have to lead by example."
Kayden Hammond, an eighth-grade student who attends Faulkton UMC, came to DakYouth last year and wanted to come again this year. "You get the chance to experience things you would not at home here at DakYouth," Kayden says. "I like learning about God. You get to interact with others your age. You get more in-depth with things. You meet new people and grow in your faith."
Winter Connection is an annual event for middle school and high school youth that takes place in the Bismarck, ND, Rapid City, SD, and Sioux Falls, SD, January 24-25, 2020. This is an opportunity for youth to gather, share, worship, and serve others. Each year there is a focus on a particular theme and scripture along with a unique and important component of service. The theme for Winter Connection 2020 is "Love Is." The scripture focus is 1 Corinthians 13:4-7.
See photos on Flickr from DakYouth 2019 here.