By:
Rev. Rebecca Trefz, Southeast District Superintendent and Director of Ministries, Dakotas UMC
"Evangelism happens in many contexts and many settings; impacts and engages all generations; and requires relationship among a variety of persons. The Harry Denman Evangelism Youth Award is given each year to a youth in the Dakotas Conference who "consistently introduce others to the Good News of Jesus Christ in all ministry settings. Their ministry is exceptional for the number of new Christ Followers who credit encounters with this person as critical in helping to start or reignite their faith journey."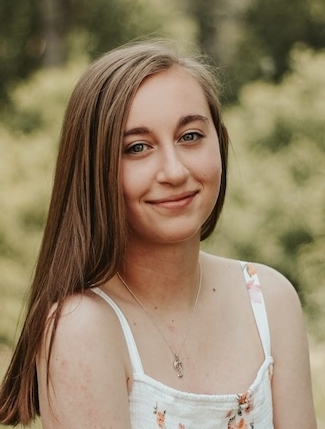 This year's youth recipient of the Denman Award is Anna Mutzenberger, of Fargo First UMC. She was nominated by her youth leader, who describes Anna as "always modeling our church motto of 'Love God, Love Others.' She steps up to help lead. Anna is the first person to pray with someone and for someone. She intentionally mentors the younger kids in our youth group. She is the kind of person who makes people feel comfortable having faith conversations with. She also helps to lead our youth worship on Wednesday nights and volunteers with children's ministry, investing in their experiences of faith and discipleship."
Some other voices chimed in about Anna coming alongside them in youth ministry, saying, "Anna has shared her faith in the many ways she includes others. She notices people and details that others often miss or overlook. Anna is consistent in how she offers the grace of God to others in how she takes the time to invite and ensure others are included. I have witnessed this from her in her role on CCYM and it has been confirmed by others who know her within the local churches she's been active in."
"Anna is an incredible person with a heart for Jesus. Her love for Him shines through in everything she does and in every conversation she has. She lives out her faith in every aspect of her life and models Jesus' love and grace in many ways throughout her involvement in the community and our church. I have heard everyone from children to adults share stories of how Anna has been a part of their faith walk."
We're excited to hear how Anna continues to share the love of Jesus as she starts college at Dakota Wesleyan University this fall and are honored to name her as the youth recipient of the Harry Denman Award for Evangelism for the Dakotas Conference.
---
Hey Young Adults! Use the QR code to access a survey and share your information with the Young Adults and Campus Ministries Committee! This group is compiling the Dakotas' young adults and campus-aged folks onto one list of contact information—we want to contact you for upcoming events, ministry and fellowship opportunities, and more!