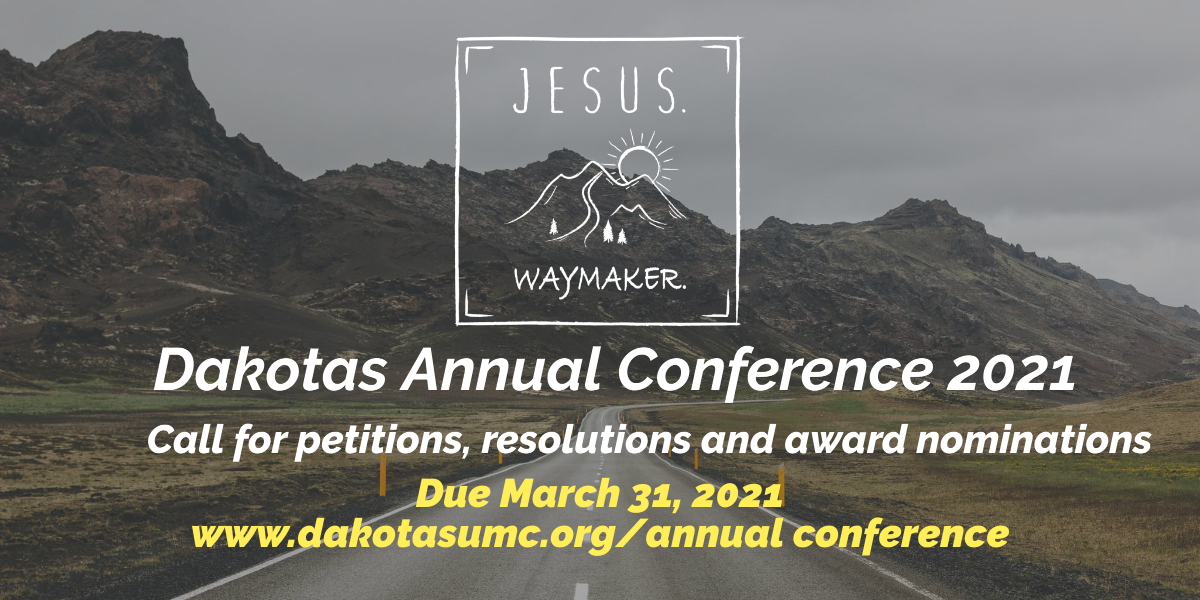 The 28th session of the Dakotas Annual Conference will be held June 11-12, 2021 in a hybrid format. Drawing on our collective values of Jesus, Mission and Connection, the theme of this year's annual conference session is "Jesus Waymaker." We will explore ways in which we need to step out of our comfort zone and follow the path to live like Jesus in ways beyond our imagination.

Lay and clergy are invited to submit petitions and resolutions to be considered at the 2021 Annual Conference. The Dakotas Conference Cabinet also intvites nominations for several awards that will be a part of the session.
Resolutions and petitions:
All proposals for petitions and resolutions for the 2020 Dakotas Annual Conference Session must be submitted electronically to Rev. Rebecca Trefz, by March 31, 2021.
Items should be created using the Petitions and Resolutions form.
If you have questions about resolutions and petitions, you may contact Rebecca by e-mail or phone 605-990-7791.
The Dakotas Conference Petitions and Resolution Committee will review submissions before being placed on the agenda for consideration at the 27th Session of the Dakotas Annual Conference.
Award nominations:
Nominations are now open for the following awards. More information on each award and nomination forms are here.
Denman Award for Evangelism
Francis Asbury Award
Streams of Justice Award
Youthworker Hall of Fame
Darrell Leach Youth Worker of the Year Award
To nominate an individual, please submit your nominations to Rebecca Trefz via e-mail here by March 31, 2021.