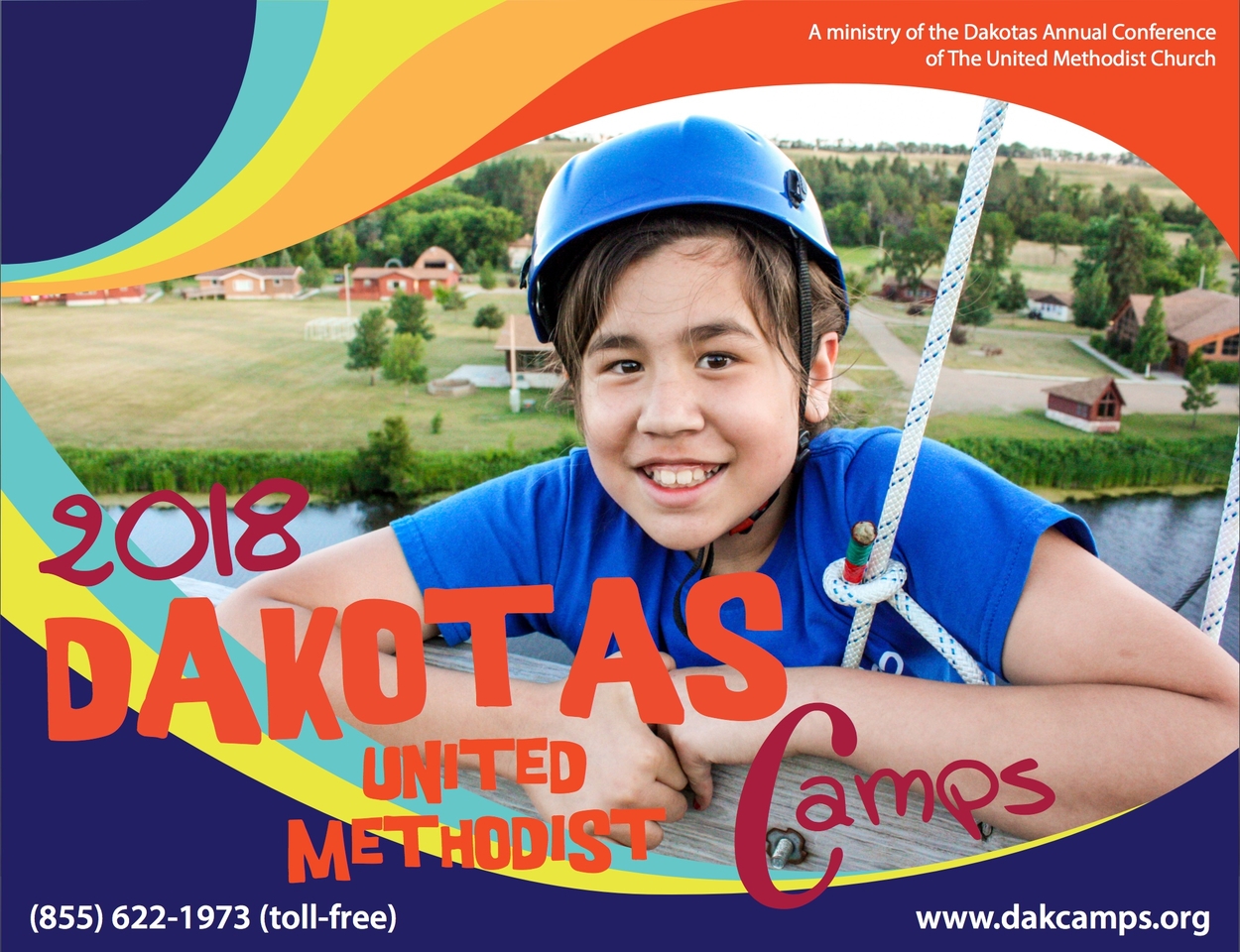 Dakotas United Methodist Camps are excited to announce registration for the 2018 Summer Camping season programs is now open. Program details are available online now and brochures will be mailed next week. Camp brochures are sent to past participants and campers, as well as churches of the Dakotas Conference. To download a PDF of the 2018 brochure click here.
"We are eager to share this summer's camps, programs, and opportunities with our families and churches," said Keith Shew, Dakotas-Minnesota Area Director of Camp and Retreat Ministry. "Your camping ministry team, in collaboration with many volunteers, worked hard to offer events for all interests throughout the 2018 camping season. Each event will help campers explore Christian faith and discipleship, experience hospitality and community, develop as principled spiritual leaders, and provide a safe space apart for reflection and growth."
Dakotas United Methodist camps offer programs and experiences for children, youth, families, and adults. Camps will be held at three beautiful locations Lake Poinsett, Storm Mountain and Wesley Acres. Experience the natural beauty of the lakes and wooded areas at these picturesque locations. Camper safety is a top priority. Each site accredited by the American Camp Association. Campers and guests are invited to experience Christ, creation and community through camp and retreat ministry.

The 2018 Bible Study theme will be Beyond Belief ! This Bible study invites campers to ask the big questions about God and explores how God can be seen in the vastness of creation, the power of community, and in their own hearts. Games, worship services, Bible studies, art projects, and service projects will center around this theme. Campers will discover how God's endless love launches amazing adventures. God always has new mysteries to explore.
The online Campwise system allows you to access everything from financial information to medical forms directly from our website, dakcamps.org. Each camps has online registration, making it easy to register for a favorite or to find a new one to attend.
For more information, contact us via e-mail at info@dakcamps.org or toll free 855-622-1973.