By:
Doreen Gosmire, director of communications, Dakotas UMC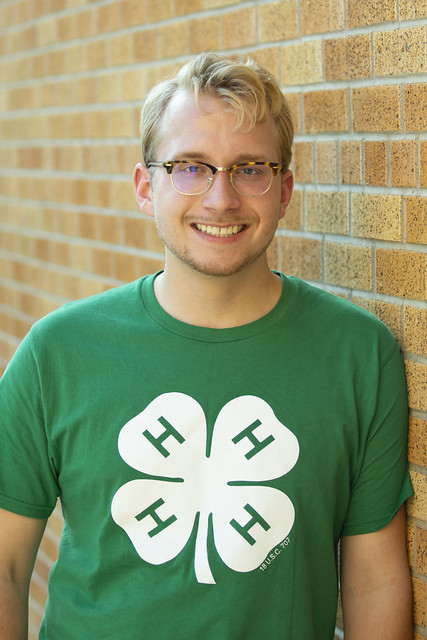 Tanner Carlson, Elisha intern at Canyon Lake UMC in Rapid City, South Dakota. Photos by Joni Rasmussen, jlynn studios.
Potential changes and decisions about the future of The United Methodist Church are something that Tanner Carlson, an Elisha intern at Canyon Lake United Methodist Church in Rapid, South Dakota, is pondering as he considers his call to become a pastor.
"My call to be an elder is still there. However, I want to keep other career options open. It is not an encouraging time in the denomination. There will be a lot of shuffling happening in the church," says Carlson.
Carlson is a member at Legacy United Methodist Church in Bismarck, North Dakota. A student in his junior year, at the University of Oklahoma, with majors in Religious studies and History.
Tanner first felt a call to ministry when he attended Exploration. While at Exploration, he heard about the Elisha internship. He thought it was a great step to explore his call to ministry.
"I feel called because I have a love for my church," says Carlson. "I contemplated other careers and did not see a fit. Being an elder in The United Methodist Church seems like a perfect fit for me. I had a lot of good mentors, both clergy and laypeople. Rev. Peggy Hanson is someone I connected with and who mentored me at camp. I also am grateful to the mentorship of my local pastors, Rev. Kermit Culver, and Rev. Brandon Vetter."
Another inspiration for Carlson is his aunt, who attends a United Methodist Church in Minnesota. "I could never be exactly like her. She serves or has served on every church committee there is. She has even completed repairs to the parsonage. She is part of the worship team and led fundraising. She is a true example of the type of lay leadership every church needs," he says.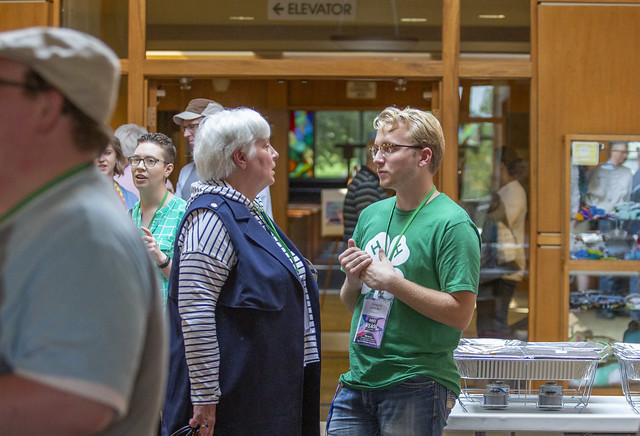 Tanner Carlson, right, takes time to visit at the 2019 Annual Conference in Bismarck, North Dakota.
At Canyon Lake UMC, this summer Carlson has done a little of everything. He even filled in for the receptionist and custodian. He reports, "I have taken the laundry home from church. One of the tasks of the receptionist is preparing the 400 bulletins needed each Sunday, and I did that."
Vacation Bible School at Canyon Lake was a success with a lot of participants. Carlson was in charge of the Kid Vid station. He showed a video clip and then led a discussion with the VBS participants. "It was a great opportunity for discipleship."
Tanner prepared and preached two sermons during the internship. He had a lot of support from Rev. Kevin Kloster and Rev. Brett Roes, his mentors at Canyon Lake UMC. There are three services at Canyon Lake. "So by the third service I had it down pretty well," he says.
The sermon topics fit the series theme for the summer, unlikely heroes and heroines of the Bible. His first sermon focused on Jonah and humility. In the second sermon, Carlson focused on the conflict that Jonah experiences with God. As part of giving the sermon, he also helped design the worship service, the order of worship, prayer, scripture, and music suggestions.
There have been hospital visits with one of the pastors and also on his own. He has been on hospice and home visits. Carlson says, "I was a little nervous on one of the hospital visits. I had to visit someone who I had never met before. It went OK. I have grown in confidence in preaching and congregational care visits."
He is headed back to the University of Oklahoma on August 16 where he keeps involved in his faith. Carlson is active in campus ministry at the University of Oklahoma. "It is a place that I go to hang out with friends between classes. I worship there, and I am active in small groups," he says. "I am also active at St. Stephens United Methodist Church, just a couple of blocks from campus. I help with various activities there."
Before he steps back onto the college campus, he is going on a trip to the Holy Land with Discipleship Ministries of The United Methodist Church. Discipleship Ministry is leading a pilgrimage to the Holy Land for young adults, one from every jurisdiction and central conference. Carlson was selected to attend as the young adult for the North Central Jurisdiction.
"Something I will take with me from the internship this summer is what it is like working with a large church. It is important as a pastor, no matter the size of the church, to take the initiative and accept leadership. There are many decisions, responsibilities that fall on the pastor. There is a lot of strategic planning that goes on in the culture of a church. I got to experience that in preparation for the fall."