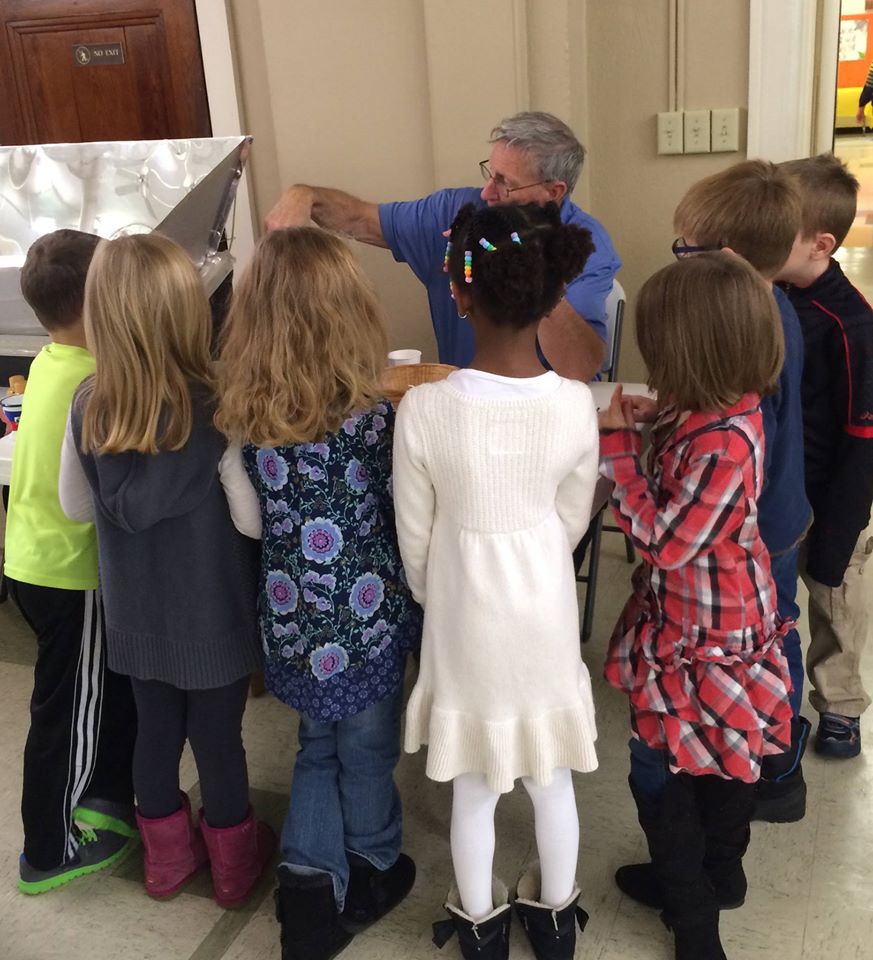 MITCHELL, SD--What gift do you give the person that has everything?  How about a gift that gives to others in need--an alternative to the typical Christmas present.  Mitchell First United Methodist Church held a Alternative Gift Fair on November 16th that resulted in over $4,000  for mission and charitable organiztions.
Photo: Paul Lint tells the the Kindergarten class at Mitchell First UMC how the solar ovens work.  Photo by Jean Ramsay. 
This year was the fourth Annual Alternative Gift Fair, offering holiday shoppers a choice of holiday "gifts" to honor family and friends while supporting charities and non-profit organizations in a festive atmosphere.
Shoppers could chose from 17 charities.  The vendors included; Lagnove Live--Hatian ministry, Haiti Solar Oven Partners, Heifer International, Church World Service, Center for the Church and Global AIDS, UMCOR--Ebola Response, Dakota Wesleyan University Peru Mission trip, Mitchell Area Habitat for Humanity, Mitchell Area Safehouse, United Methodist Women's mission projects, United Methodist Youth--World Vision 30 hour famine, Love Feast, Weekend Snack Pack Program, Mitchell Area Food Pantry, Tree of Life, Gifts of Tanzania. 
The United Methodist Men served coffee and rolls.  Plans are already underway for next year's Alternative Gift Fair.  Ron Fuhs chairs the event.