By:
Doreen Gosmire, director of communications, and Rev. Rebecca Trefz, director of ministries, Dakotas UMC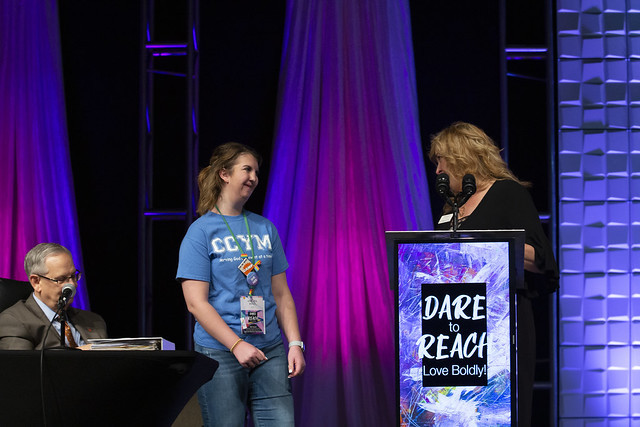 Deb Kjerstad, right, presents Andrea Hult, center, with the Harry Denman Youth Evangelism award at the 2019 Dakotas Annual Conference. Photo by Joni Rassmussen, jlynn studios.
This year's Harry Denman Youth Evangelism award recipient is Andrea Hult. She is an active lay member of the First United Methodist Church of Brookings, South Dakota and is the current president of the Conference Council of Youth Ministry (CCYM).
Andrea Hult has a passion for mission and evangelism, which is evident in the areas of ministry she participates both within her local church and the Dakotas Conference. She has demonstrated maturity in her leadership, using her gifts and graces to meet youth and adults where they are at and to engage them. She is passionate about sharing the Gospel message of Jesus Christ by connecting with people and allowing people to see Christ in her. Her authenticity has helped her develop connections and has set her apart in her leadership.
Through her leadership, she has helped build relationships among herself and her CCYM peers, the adults, and in her local church. She has empowered the CCYM to communicate effectively with their leaders and with church leadership throughout their districts.
She is willing to lead first by example, and to live out what it means to be a disciple of Jesus. She is an advocate for those who are on the fringes and margins because she has the gift to be able to see and get to know them.
It is truly a joy to watch as children, youth, and adults experience the love of Christ through Andrea. Her humility, joy, and conviction for serving Christ are visible in all she does.
Deb Kjerstad, director of leadership development, presented Hult with the award at the 2019 Dakotas Annual Conference in Bismarck. "She truly deserves to be honored for her service and dedication to the mission of making disciples of Jesus Christ for the transformation of the world, because she is authentically living it," says Kjerstad. "It is with joy that we presented Andrea Hult with the Harry Denman Evangelism Award."