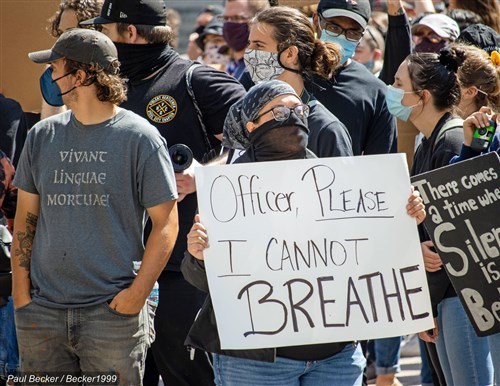 Bishop Bruce R. Ough issued the following statement amid protests and violence happening in Minneapolis six days after the death of George Floyd. Floyd, a Black man, died in the custody of Minneapolis police after an officer was shown pinning him down while he struggled to breathe.

It is Pentecost Sunday, and the Twin Cities and America burn. It is the birthday of the Church, and the Twin Cities and America smolder with horror, anger, and righteous outrage at the killing of George Floyd at the knee of a Minneapolis police officer. Tomorrow we enter the Season after Pentecost, and African-Americans in the Twin Cities and across America are still gasping for breath.

As persons of faith, we are people of breath. God called us into being and created our shared humanity by breathing the breath of life into us. As followers of Jesus, we are people of ruach—the breath of God—that blew like a fierce wind and filled the disciples with the Holy Spirit. As Pentecost people, this same Spirit compels us (and will guide us, if we listen) to protect the breath of every child of God.

Dr. Martin Luther King astutely observed that "a riot is the language of the unheard." Throughout our country's history, subjugated, displaced, and unrepresented people have resorted to protests and riots to be heard and to compel national governments, state authorities, and community leaders to act. I do not want to be misunderstood. I am not advocating or justifying burning, looting, or anarchy. I am not advocating or justifying destroying the very businesses that provide the livelihood of and serve predominantly black and brown communities. I condemn the outside agitators and anarchists who are exploiting the situation and do not care for or honor the message intended by the protesters. I join the many faith leaders who are urging peaceful protests and honoring curfews designed to curtail senseless violence and destruction.

But I do want us, particularly those of us who are the beneficiaries of white privilege, to understand that our African-American sisters and brothers are gasping for breath. For 400 years, through slavery, lynching, apartheid (Jim Crow), the civil rights movement, institutionalized racism, and long-delayed police reform, the African-American community has been crying out, "I can't breathe." And yet, the knee of oppression, white supremacy, and inaction remains. If we see only riots and protests, we are not looking close enough. People of color and many others who have been left out and left behind are gasping for the oxygen of freedom. They are gasping for the oxygen of economic opportunity. They are gasping for the oxygen of equal justice.

I am convicted by the words of Edwin Hatch's nineteenth century hymn (#420, The United Methodist Hymnal):
"Breathe on me, breathe of God,
fill me with life anew,
that I may love what thou dost do,
and do what those wouldst do."
In this season of Pentecost, I pray that we will be a people filled with new life, loving as God loves and doing what God would have us do to make the kingdom in heaven come on earth. Let us join others of faith in giving breath and voice to the cries for justice. Let us join hands in cleaning our streets and making them safe and secure. Let us work, tirelessly and without delay, to change our culture of institutionalized racism to a culture of the Beloved Community. Let us not lapse into "normalcy," but insist on reforming the culture of policing from one of waging war to one of being guardians of every person's rights and dignity. Let us refute the purveyors of division and discrimination and embrace the peacemakers. Let us address the underlying sources of despair and broken trust that stoke the fires of rage and riot.

In this season of Pentecost, I urge us to continue to pray for the family of George Floyd and all those whose lives and livelihoods have been damaged by the burning and looting. Pray that the breath of God will fill us and our country with life anew. Pray that we will become the nation we claim to be and protect the breath of every citizen and sojourner. Pray that the breath of God will reign in our hearts, our churches, and our communities.

Bishop Bruce R. Ough
Resident Bishop, Dakotas-Minnesota Area
The United Methodist Church

Download a copy of this message here.