By:
Bishop Bruce R. Ough, Dakotas-Minnesota Area
Dear Beloved in Christ: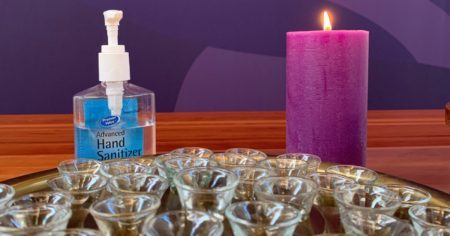 As if there is not enough fear and anxiety in our lives, the world is now enveloped in the fear of the spread of COVID-19, commonly known as coronavirus. This fear is fed by the repetitive 24-hour news cycle, crashing stock markets, and growing restrictions on travel and large gatherings. And now we have our first confirmed case in Minnesota's Ramsey County. This probably means that community transmission of the virus is already taking place in Minnesota.

The most common questions I am being asked by Dakotas-Minnesota Area United Methodists and, now, colleagues and bishops across the connection are about the fate of the General Conference we are hosting in May. I have been in touch with Rev. Gary Graves, secretary of the General Conference. He assures me the Commission on General Conference is closely monitoring the situation. I refer you to its recent press release.

Additionally, our Dakotas-Minnesota Host Committee, chaired by Rev. Jim Haun, is engaged in this monitoring even as its members continue their excellent preparations to extend radical hospitality to all General Conference delegates and guests. At the moment, possible travel restrictions for delegates coming from outside the U.S. are the greatest concern.

The Third Letter of John, verse 2, says "Beloved, I wish above all things that you may prosper and be in health, even as your soul prospers." I believe God clearly intends for all of creation and each of us to be healthy in body and soul.

Although much of what is happening to spread coronavirus is beyond our immediate control, there are things we can control to prosper our health and souls. We can pray for those who are ill, for the medical teams caring for the infected, for those working to contain or mitigate the virus, and for those policy-makers who are determining our response protocols.

And, of course, one of the best ways we can care for others is to practice and model healthy behaviors. I encourage you to strictly follow the preventive measures recommended by the Centers for Disease Control and Prevention. This is particularly important within our respective faith communities and gatherings where older persons with serious underlying health conditions may be present. I also recommend this article about how faith communities can assist in the effort to contain the spread of coronavirus.

We will continue to keep you informed of any future developments that might impact General Conference or other events in the Dakotas-Minnesota Area. In the meantime, I encourage you to stay calm, stay healthy, stay focused on our mission, and stay together.

I continue to pray for God to prosper you in health and in soul.


Bishop Bruce R. Ough
Resident Bishop, Dakotas- Minnesota Area
The United Methodist Church