I Saw God Today
by
Bruce Blumer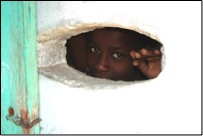 One day I challenged our mission team to report back where they saw God that day. But that challenge revealed to me that God is present each day. My hope is that this book will help you see God in simple places. That when we can see God in Haiti, we can see God wherever we are.
Bruce Blumer has completed a second book, I Saw God Today, which will again be used to raise funds for projects and ministries on the island of La Gonave, Haiti. "The book sort of found me," says Blumer. "When I challenged our team to find God, it revealed to me that God was in an old woman, in our interpreter, in a three-legged dog, and other ways. And if we can see God in Haiti, can't we see God wherever we are?"
The first book, Paths, Proverbs, and Lessons from Haiti raised over $11,000 from donations and book sales. "This was far beyond what I expected, but allowed me to return all the profits to deserving people, churches, and programs in Haiti." These funds have enabled many students to attend school, provided mobile medical clinics, assisted women's groups, contributed to orphanages, held Christmas meals/gifts for orphans, and other projects.
Bruce has taken five trips to Haiti, including being on the island during the 2010 earthquake. Mitchell 1st United Methodist Church and Hot Springs United Church have also committed to sponsor a young man to complete medical school.
"A dream of ours is to build a clinic in La Gonave and to have our medical student, William Hyppoite, return to serve people in the rural areas. On the latest trip, we put a roof on a church in the village of Nan Café, but we also found a perfect spot for that clinic." A lot has been purchased and construction will begin later this year.
Bruce is willing to speak to churches and groups. Contact him for questions bblumer@dakotasumf.org or 605/770-5156. The book is selling for $15 (plus $2 if shipping is required) and checks may be made to Bruce Blumer Publishing. The book is also available at Cornerstone Coffee in Mitchell.