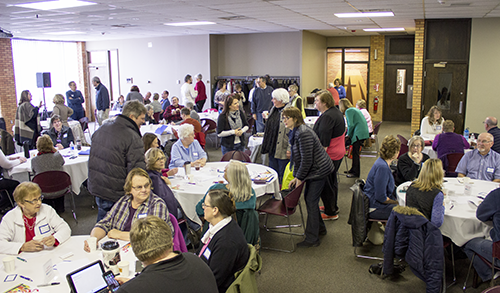 Over 145 people from 21 churches spent time exploring what  Breakthrough Prayer is and how to incorporate a Breakthrough Prayer initiative in their church. The six-hour training took place at Dakota Wesleyan University in Mitchell, South Dakota on March 19 and Jamestown First UMC in Jamestown, North Dakota on March 20. Photo: Groups arriving at the Dakota Wesleyan University Workshop.
Reverend Sue Nilson Kibbey, Missional Church Consultation Initiative, presented the two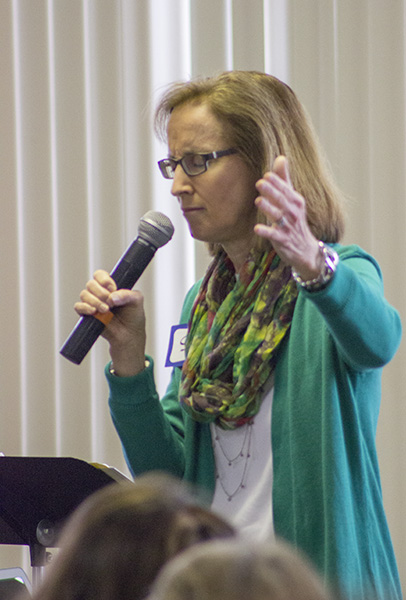 workshops.  Nilson Kibbey equipped those present with tools and resources to practice Breakthrough Prayer in their local churches.
There are many types and styles of prayer.  Breakthrough prayer is a Spirit-led thing according to Nilson Kibbey. "We all pray for the sick, grieving, for protection and safety," said Rev. Nilson Kibbey. "Breakthrough prayer is not just one person praying. It is engaging large swaths of the congregation, adding to the prayer life of the church. A comprehensive effort allowing God to breakthrough with new possibilities." Photo: Sue Nilson Kibbey prayed for the group.
The idea of a comprehensive church prayer effort stems from Oswald Chambers who conceptualized, "Just as the physical body requires food for fuel, the body of Christ, the church, requires food as well as. That fuel is prayer."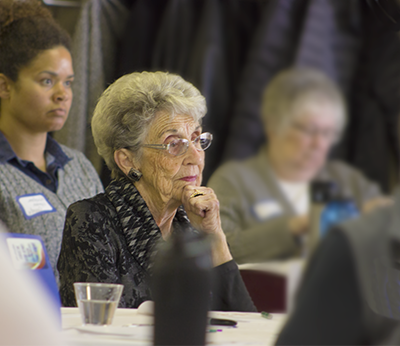 "Many churches snack on prayer instead of feasting on prayer," said Reverend Nilson Kibbey. "Truly engaging the entire the church is to feast on prayer."
One of the key aspects of the Breakthrough Workshop is that people attend it teams. "What we have learned over time is that a team is a powerful tool for Breakthrough Prayer," said Nilson Kibbey.  The typical model is that the pastor comes to a training and is sent back to the church to implement. The team helps to ignite a passion and comprehension that one person can not. The workshop setting provides resources and examples that create a solid base for the team.  Near the end of each workshop teams spend 35-45 minutes making a plan for when they return home. Photos: Participants contemplated and laughed as they experienced the presentation and the examples of Breakthrough Prayer.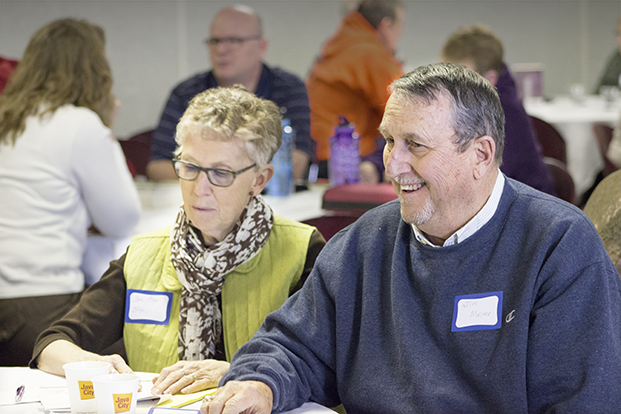 Participants at the workshops in Mitchell and Jamestown were inspired by the many examples of how churches that have engaged in a Breakthrough Prayer Initiative have grew in ways that are incomprehensible.  "I had no expectations before coming to this workshop," wrote one participant. "Now I'm anxious to see where we can go from here.  We have lots of ideas as a team. Let the feast begin."