By:
Commission on the General Conference press relaease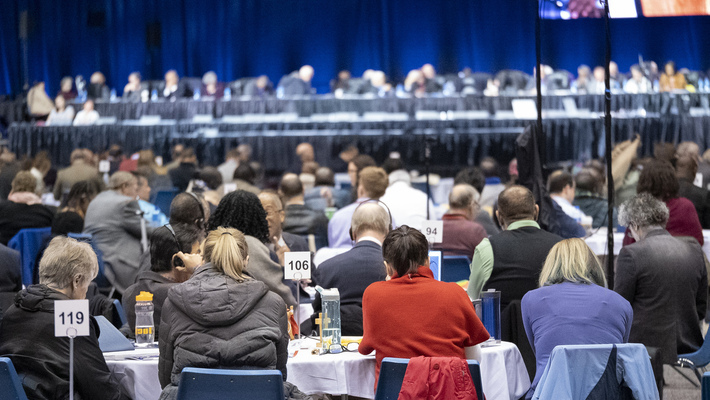 Nashville, Tenn.: The Commission on the General Conference announced today that the 2024 United Methodist General Conference will be held April 23 – May 3, 2024, at Charlotte Convention Center in Charlotte, North Carolina.
"The Commission selected Charlotte as the site that best met our varied needs. We believe that delegates and attendees will be pleased with all the city has to offer," said Kim Simpson, Chair of the Commission on the General Conference. "Charlotte is a part of the Western North Carolina Annual Conference – but due to the shorter timeframe for planning, both the Western North Carolina Conference and the North Carolina Annual Conference will co-host the event."
In making the selection, Simpson said that the Commission looked at the suitability and capacity of meeting facilities, availability of adequate space, the proximity of hotel rooms, accessibility and convenience of travel and costs of meeting space, lodging, meals and airfare. Proposals from three cities were considered, but ultimately Charlotte was determined to be the best fit.
Charlotte, known as the Queen City, is the 16th most populous city in the U.S. and a major airline hub for American Airlines. The 600,000-square-foot convention center recently completed a $126.9 million expansion and is only 7 miles from the Charlotte International Airport and within walking distance of 200 restaurants.
"We are honored to host the 2024 General Conference of The United Methodist Church," said Bishop Kenneth H. Carter, Jr. of the Western North Carolina Conference. "Our people are hospitable and welcoming, and we trust that the delegates who gather for what promises to be an historic gathering will be blessed by the city of Charlotte and the state of North Carolina and its warmth and beauty."
"We bathe this gathering in deep prayer while also praying for each delegate who will seek the guidance of the Holy Spirit as we spend time in Holy Conferencing. It is my prayer that the same spirit will empower and encourage us to see the possibilities and live the promise," said Bishop Leonard Fairley of the North Carolina Conference. "May you experience the beautiful natural setting of North Carolina, and the amazing hospitality of its people as you do the work of the Kingdom always remembering you are Beloved of God."
The last General Conference was set to happen in Minneapolis, Minnesota, until the pandemic made it necessary to postpone the quadrennial legislative event until 2024. At the upcoming conference, the Commission will follow appropriate protocols related to COVID-19 to safeguard attendees' health.
Delegates from Africa, Europe, Asia and the U.S. will attend the 11-day gathering, which is expected to attract about 5,500-7,500 people.
"It is such an honor to be able to host the 2024 General Conference of The United Methodist Church," said Mike Butts, Executive Director of Visit Charlotte. "I'm excited that delegates and attendees will get to experience the region's warm hospitality and enjoy all the offerings that make Charlotte such a dynamic city."