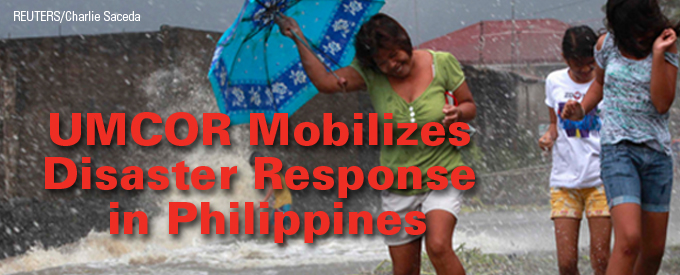 PLANKINTON / WHITE LAKE, SOUTH DAKOTA --- A super typhoon, Haiyan hit the Philippines on November 8, 2013. Pastor Jeff Lathrop, Plankinton / White Lake UMC stated, "Reports are coming in that Tacloban took the brunt of the storm-it's also the city where my parents live. I looked up their address on 'Google Earth' and found that they were very close to the ports and airport (where many of the devastation reports are coming from). I am asking for prayers-not just for my parents, but the rest of my family."
Typhoon Haiyan, possibly the strongest storm ever to make landfall, battered the Philippines Friday, Nov. 8. With sustained winds of 195 mph, the category 5 storm cut a swath of devastation across the northern tip of Cebu and tore through the three large island provinces of Samar, Leyte and Bohol. The United Methodist Committee on Relief is working with partners in the Philippines to provide assistance immediately.
Pastor Lathrop heard from his immediate family and was able to Skpe with them on Monday, November 11.  "It was nice to hear and see them.  They are safe but have lost everything." 
Lathrop continues to be concerned for extended family members throughout the Phillipines.  Many of them have not been located and Lathrop's mother is anxious to hear from them.
Pastor Jeff and family will be taking time off in the upcoming days to update passports and consider heading to the Phillipines to help out family.  Please hold them and all of the victims of Typhoon Haiyan in prayer. 
Super Typhoon Haiyan from Global Ministries on Vimeo.