Boyd Blumer became Reverend, Dr., Dr., Boyd Blumer on Sunday, May 8, at the commencement services of Dakota Wesleyan University in Mitchell, South Dakota.
Blumer, a retired elder of the Dakotas Conference was awarded an honorary doctorate degree and he also delivered the commencement address.
Photo: Rev. Dr. Boyd Blumer delivers the DWU commencement address on May 8. Photo courtesy of Dr. Bruce Blumer.
"Keep your dream alive—it's God's gift to you, " said Professor Rev. Dr. Boyd A. Blumer. He encouraged the record-high 283 graduates to keep their dreams alive.
"It's a miracle of God that you are at Dakota Wesleyan," Blumer said, adding that by faith in God's miracles, and faith in a dream, anything is possible.
A North Dakota native, Blumer has spent nearly 60 years in ministry, and has been with Dakota Wesleyan since 1997.
DWU President Amy Novak explained that Blumer has been busier in his retirement than many people are in their careers. In the last 20 years at DWU, Blumer has served as an interim campus pastor, carpenter, custodian and adjunct professor, teaching several courses each semester, she said.
"Whether from the pulpit, the front of a classroom or over a cup of coffee, Boyd is an expert storyteller," Novak added.
She said that Blumer continues to be a sought-after preacher in the region, and is called upon to write prayers and litanies for special events at DWU.
Such contributions by Blumer earned him the distinction of receiving this year's Honorary Doctor of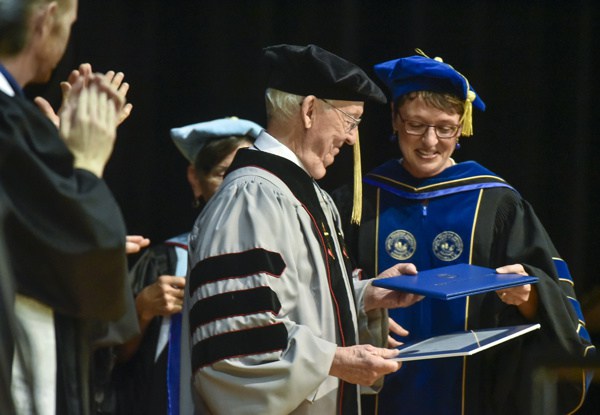 Humane Letters Degree.
DWU Provost Dr. Rocky Von Eye explained that it is the right, privilege and responsibility to recognize the achievements and service of those who exemplify DWU's model for sacrifice and service by conferring an honorary degree such as the one given to Blumer.
Photo: DWU president Dr. Amy Novak presents Rev. Dr. Boyd Blumer with an honorary doctorage of humane letters on May 8 at the DWU commencement. Photo courtesy of Dr. Bruce Blumer.
Novak addressed Blumer saying, "Your selfless service to God and humanity is the essence of what it means to be a Christian. You are a role model to all of us at Dakota Wesleyan University."
In Blumer's commencement address, he explained that even he struggled at times to keep his dream alive, wondering, "What can I be sure of?"
He related a time when he asked that question, "What can I be sure of?" and the answer was "Nothing. Nothing if you do not have faith."
So, faith he keeps, he said, and on Sunday urged others to keep it as well.
Click here for the full citation for Blumer's honorary doctorate