We mourn the death of Dr. Martin Salia, along with the rest of the global community.  We are grateful to God for his sacrificial service in caring for the people of Sierra Leone.  The United Methodist Church continues its commitment to helping to eradicate the global Ebola epidemic and we pray for all of the victims and those fighting this disease.  Forty percent of the health care in Africa is provided by church-related clinics and hospitals including the UMC's extensive network of medical facilities and services.  I encourage everyone across the Dakotas Conference to give generously to the 2014 Thanksgiving Appeal.  One-half of the Thanksgiving Appeal will go to help fight the Ebola epidemic.    
Bishop Bruce R. Ough
Dr. Martin S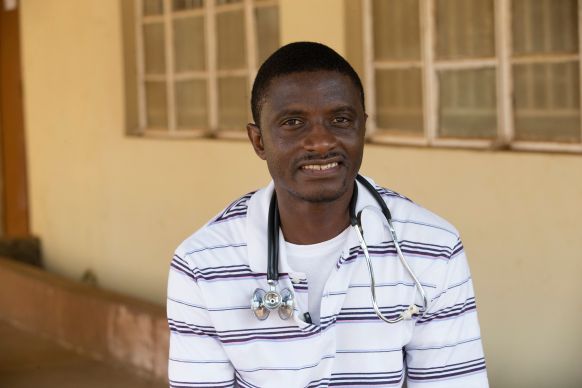 alia contracted the Ebola virus while treating patients in Sierra Leone, and was transported to the University of Nebraska Medical Center (UNMC) in Omaha on Saturday, Nov. 15, in extremely critical condition, including kidney and respiratory failure. Dr. Salia had initially tested negative for the virus, but a subsequent test came back positive on Nov. 10.
Photo:  Dr. Martin Salia is shown at United Methodist Kissy Hospital outside Freetown, Sierra Leone, in April, 2014.  Photo by Mike DuBose, United Methodist News Service.
Monday morning Dr. Salia went into cardiac arrest, from which he was not able to recover. While the staff at UNMC is deeply saddened and grieving, they do not feel defeated. This case solidified their determination to care for Ebola patients. "Our staff is taking this extremely hard. We did everything we could," said Dr. Jeffrey Gold, chancellor of the University of Nebraska Medical Center, in a press conference on Nov. 17.
While at the UNMC, Salia received two forms of interventions, ZMapp (provided by a pharmaceutical company) and convalescent plasma (donated by an anonymous Ebola survivor). The UNMC staff worked around the clock in their efforts to save Dr. Salia, who "arrived [in Nebraska] on day 13 of his illness with Ebola. The earlier you start supportive care, the better," said Dr. Phil Smith, medical director of the Biocontainment Unit at the hospital, answering questions during the press conference. 
Read more about Dr. Salia and the efforts by the United Methodist Church here