By:
Doreen Gosmire, director of communication, Dakotas UMC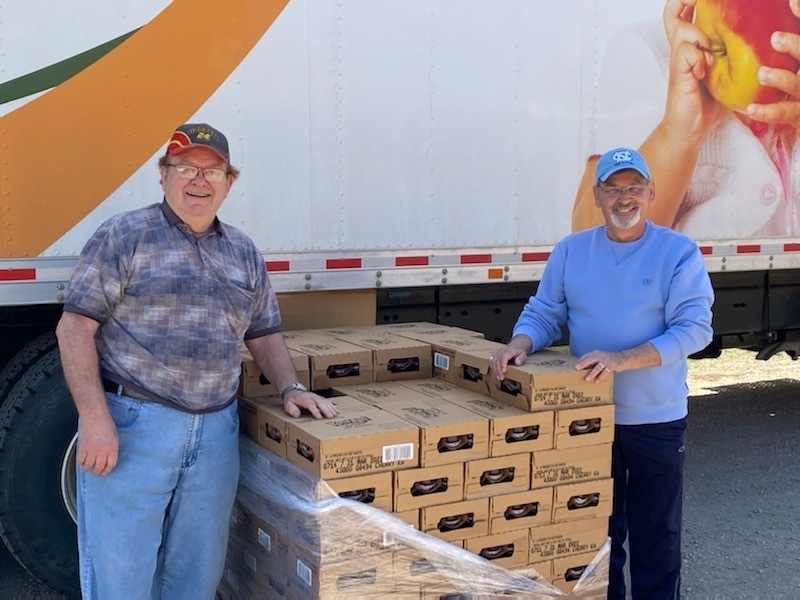 About a year ago, the United Church in Faulkton, South Dakota, got a call from Feeding South Dakota requesting a distribution site for the mobile food pantry. "I thought, why not. It would be a great way to serve the community," says Rev. Tom Sumers, who serves the congregation.

Every six weeks, the Feeding South Dakota truck shows up, and 8-12 volunteers help distribute four different boxes of food.

"I just send a text out, and within 15 minutes, I have more than enough volunteers," says Pastor Tom.

The food giveaway assists 45-50 families. The congregation also provides food for more than 15 families through a brown bag food pantry. The food pantry started through a grant from the Faulkton Area Foundation. Recently the Faulkton Area Foundation was featured in several media outlets for fundraising efforts, raising $838,00 for a game of chase the ace.

"We needed a boost to get started and were able to get a grant," says Sumers. "People are continually dropping off food items at the church. Every time supplies get low in the food pantry; God just shows up."

The goal is to meet the need of those facing hard times by giving them two large brown bags full of food.

"Our congregation feeds my soul. I have always had a heart for mission. I get to see people being the hands and feet of Christ.

Feeding South Dakota is one of the three recipients of the 2021 Miracle Offering: Feeding the Dakotas. Our goal is to raise $75,000 to distribute to Feeding South Dakota, Great Plains Food Bank of North Dakota, and local hunger ministries. Feeding South Dakota will match the gift from the Dakotas Conference up to $25,000 through membership donations. Access resources for the 2021 Miracle Offering here.