By:
Rev. Karl Kroger and Rev. Marty Toepke Floyd, co-chairs of Missional Impact, Dakotas UMC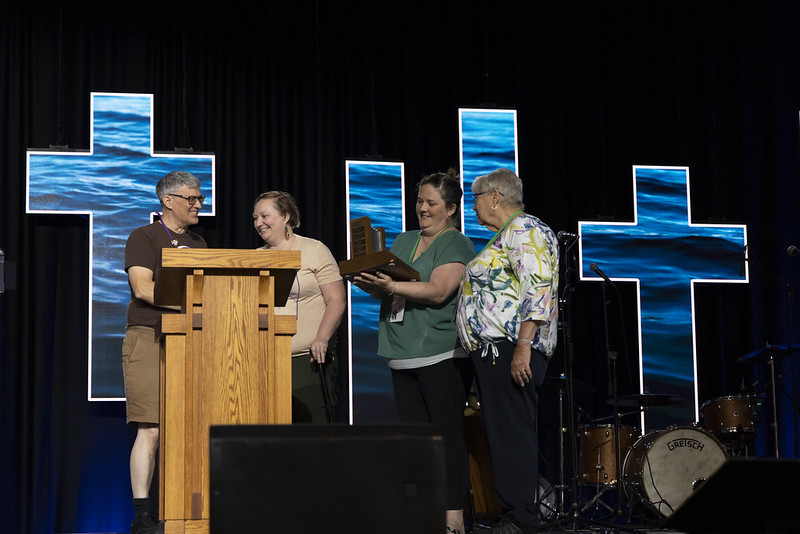 Flame of Faith United Methodist Church in West Fargo, North Dakota, received the Dakotas Conference Streams of Justice Award at the 2023 Annual Conference in Sioux Falls, South Dakota for their neurodiversity ministry.

Throughout the Dakotas Annual Conference there are ministries of justice taking place every day. They are occurring in local churches and conference agencies. They are helping people find their voice to speak out about their concerns and the ills that plague their communities. They are helping people move beyond dependency and despair.

These ministries are helping people organize to gain respect, dignity, and fair treatment. They are helping people to overcome fear and hatred, prejudice and racism, discrimination and exclusion, violence, and greed. They are helping people to confront those who have denied them their rights, refused to recognize their worth, and/or unfairly burdened them. These ministries of justice are seeking to transform our world so that it more closely resembles the reign of God highlighted in the teaching and example of Jesus and the prophets.

The Peace and Justice Focus Team of the Missional Impact Link of the Dakotas Annual Conference seeks to lift and celebrate these ministries of justice taking place in our conference through "The Streams of Justice" annual award. The award consists of a table-top fountain with name plate, a cash amount of $500 for the use of the justice ministry selected, and a copy of the Poverty and Justice Bible, with relevant passages highlighted in orange, from the American Bible Society.

Neurodiversity is the idea that it's normal and acceptable for people to have brains that function differently from one another. Rather than thinking something is wrong or problematic when some people don't operate similarly to others, neurodiversity embraces all differences. The concept of neurodiversity recognizes that brain function and behavioral traits are simply indicators of the human population's diversity.

The education team and worshiping community at Flame of Faith UMC in West Fargo have worked to intentionally create safe and welcoming space for neurodiversity in their community. They researched asked questions and implemented a plan for people of all ages to be welcomed in their neurodiversity. They have visual worship cards, a variety of sensory tools available for use and have set aside a quiet room for calming.

They have also sought to resource others and continue the conversations around making a space for all by holding a Neurodiversity and Faith event. Flame of Faith UMC has also been certified as an Autism Friendly Community Partner through the North Dakota Autism Center. The congregation hopes to continue to build its resources and partnership by doing outreach and holding more awareness events. Flame of Faith is seeing, engaging, and loving a segment of our population that often gets left behind and/or left out and making a safe place for all the experience God's love.