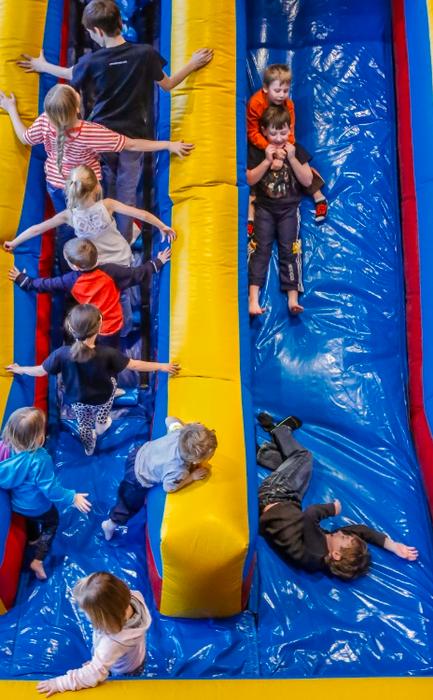 Fusion is a new church start in Mitchell, South Dakota.  Over 160 people attend Fusion's worship weekly at Sherman Center on the campus of Dakota Wesleyan University (DWU) in Mitchell, South Dakota.
In addition to Sunday worship, Fusion also conducts small groups, monthly mission projects, and outreach events. Four adult groups meet each week to wrestle with questions about faith.  The groups meet on the campus of DWU or in homes.  Youth in grades 6-12 meet each Wednesday evening to explore God's word together. 
Photo: Kids make their way up the inflatable slide as 5-year-old Corwin Laffey hangs on the back of 6-year-old Gunnar Laufmann coming down the slide as part of Fusion's indoor inflatable fun in the Sherman Center on Dakota Wesleyan University's campus in Mitchell. Photo by Matt Gade—Mitchell Daily Republic.
Monthly outreach events are held to encourage fellowship and reach new people.  In January, indoor inflatables were set up at the Sherman Center and everyone was invited.  In February, Fusion will hold a movie night.  The plan is to show the Lego Movie and the Mitchell Lego Club will be there with Legos. 
Fusion will hold an Ash Wednesday evening service and a Good Friday service for the first time this year.  On Maundy Thursday, members of the church are encouraged to gather in homes to enjoy a meal together like the last supper.  Easter celebrations will involve a community Easter egg hunt.  Last year over 400 folks came to the Easter Egg hunt, and this year is expected to be even bigger.
Fusion seeks to create a place where those who have never felt comfortable in church can feel welcome.   Some of those attending Fusion have never been part of a church, or have fallen away from the church and are reconnecting with faith.
Fusion a unique partnership from Dakotas UMC on Vimeo.