By:
Doreen Gosmire, director of communications, Dakotas UMC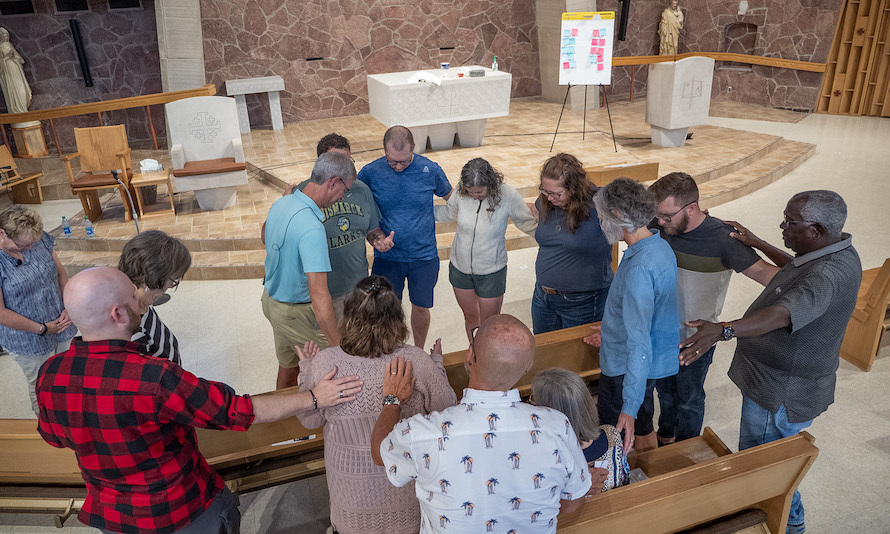 The Dakotas Conference is making an effort to change the overall health of the clergy through the newly developed Higher Ground Initiative. The initiative centers around five key aspects of well-being: social, financial, physical, emotional, and spiritual. At last week's retreat, Rev. Sara Nelson, of Sioux Falls First UMC, was one of the participants. On the last day she reflected, "It's been an incredible week, connecting with friends, with God, and with ourselves. It's such a tremendous gift for renewal and re-creation; one of the best weeks of my summer."
Clergy fulfill vital societal functions as meaning makers and community builders. Partly because of their important roles, clergy frequently encounter stressful situations. Further, studies, such as the Duke Clergy Health Initiative, suggest that clergy experience high rates of depression. The Higher Ground Initiative is made possible because of a $925,000 grant received by the Dakotas United Methodist Foundation from the Lilly Endowments Thriving in Ministry program.
Retreat Coordinators Lin Van Hofwegen and Susan Reese said the program is flexible, depending on the make-up of the particular cohort at the moment. Susan Reese clarified the flexibility they are able to bring into the program, saying, "We take a fresh look at who's involved every time, so that helps create what might be different. We come in prepared, but we also have two or three different ways the experience could go, depending on who's in the group."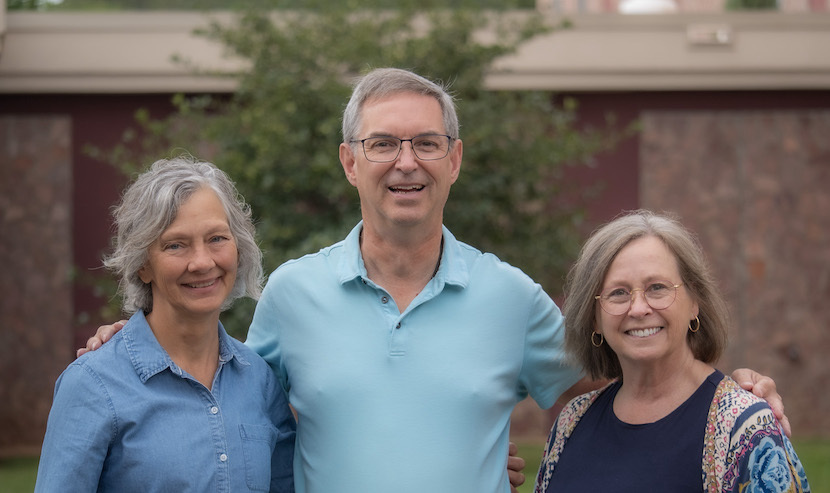 Van Hofwegen said, "Diane Owen [Area Clergy Well-being Director] brought some nice fine-tuning over the years. We don't want this to be a program where they put it on the shelf and five years from now they think, 'Oh, yeah, I did that, but I don't remember anything about it.' We want it to be something that is integrated into their lives to help them– not as one more thing to do, but something that helps sustain them to finish well in ministry."
All clergy must patriciate in this eight-year assessment process as required by the Book of Discipline. The Higher Ground cohort and retreat is offered to clergy at their eight-year junctures in ministry. The Higher Ground retreat is the first step in the eight-year assessment process. For each pastor it is a commitment to wellness. The retreat is the beginning and supports the Dakotas Conference's desire to provide support for the total well-being of clergy.
In the week-long retreat at Terra Sancta Retreat Center in Rapid City, South Dakota, nine participants, ranging from eight years' experience to 40 years in ministry, enjoyed delicious, balanced meals, trails to hike, and walk, free time to read, rest, journal, meet with a spiritual director, a mental health counselor, a physical wellness coach, and a financial counselor/planner. In addition, participants attended large group presentations and small group discussions to share personal stories, discover leadership styles, and envision individual goals.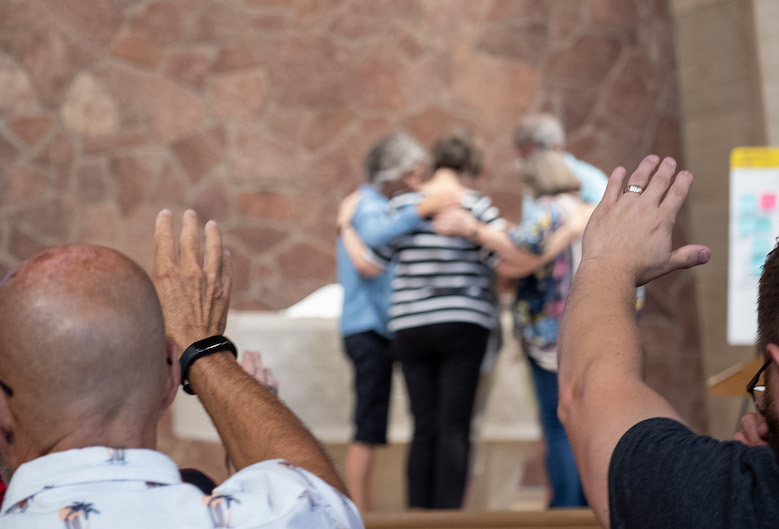 Lin Van Hofwegen was very pleased with the group this year, saying, "I feel like there are a couple of sessions in particular this year that are really led by the spirit, because every year is different. This experience for them to be able to come in, and, this is done for them– they don't have to prepare a worship service. One of them said this is the first time in a long time they've been able to really worship."
One of the Higher Ground leaders, Dr. Shawn Culey, also talked about the recent changes the lead team has been implementing. "What we've built upon this year is an attempt to make this journey more of a visible or tangible piece to them. We laid out a Journey Map this year, and we had been working over the past couple of months to introduce that to them so they could see themselves in this process of becoming who they are called to be, and how that is reflected in their vocation of ministry."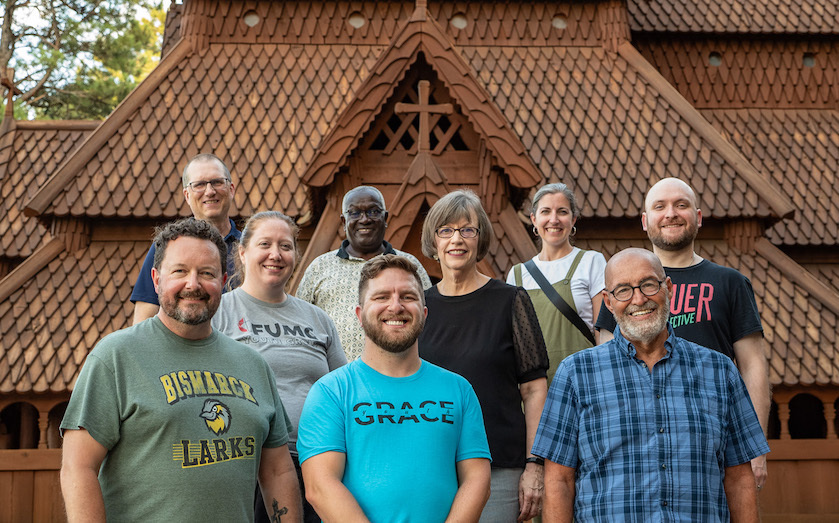 Rev. Taylor Johnson, currently serving in Moorehead, Minnesota, was moved and motivated by the retreat's unique flow. "I think a lot of these times retreats can feel like drinking from a fire hydrant, where it's so overwhelming we're just trying to catch anything we can. But this was much more 'drink as you are ready', but it's never felt overwhelming. I constantly felt myself going back to the stream for more, and not in an unsatisfied way, but because it was just so good."
The renewal of spirit was evident in Rev. Seth LaBounty, who shared a concept he'll be holding close. "One of my big takeaways from the week was a Wesley quote they shared with us, of which a snippet was to 'do justice to your soul,' in combination with what C.S. Lewis taught us about how 'you don't have a soul, you are a soul.' Combining these two different thoughts in how you are a soul, and to do justice to your soul, and the holistic approach to doing justice to everything and everyone that you are, is something I'm going to carry with me for quite awhile."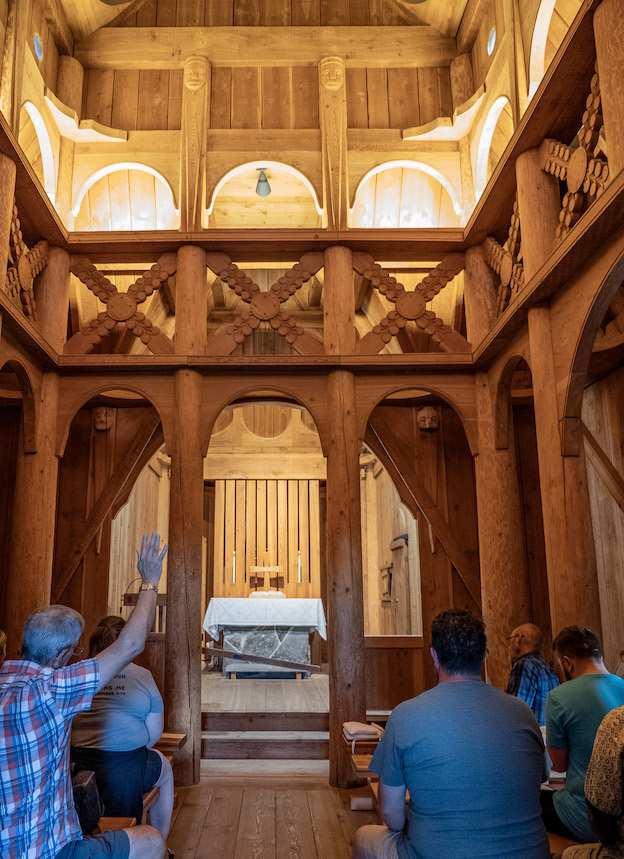 In addition to the retreat, the Higher Ground initiative includes coaching. The coaching allows clergy to identify a support person or program to help them accomplish goals they have set through their annual self assessment and Staff Parish Relations Committee (SPRC) assessments as well as one-on-one meetings with district superintendents.
Rev. Lou Whitmer summed up her week in this way. "It was bigger and more meaningful than any expectation that I had. It was touching and eye- and mind- and heart-opening all around."
Currently, there are many clergy engaged in coaching or support experiences through the Higher Ground initiative. The types of coaching clergy are participating in involve health, spiritual direction, counseling, group therapy, personal training, leadership, and stewardship.