By:
Dave Stucke, communications associate, Dakotas UMC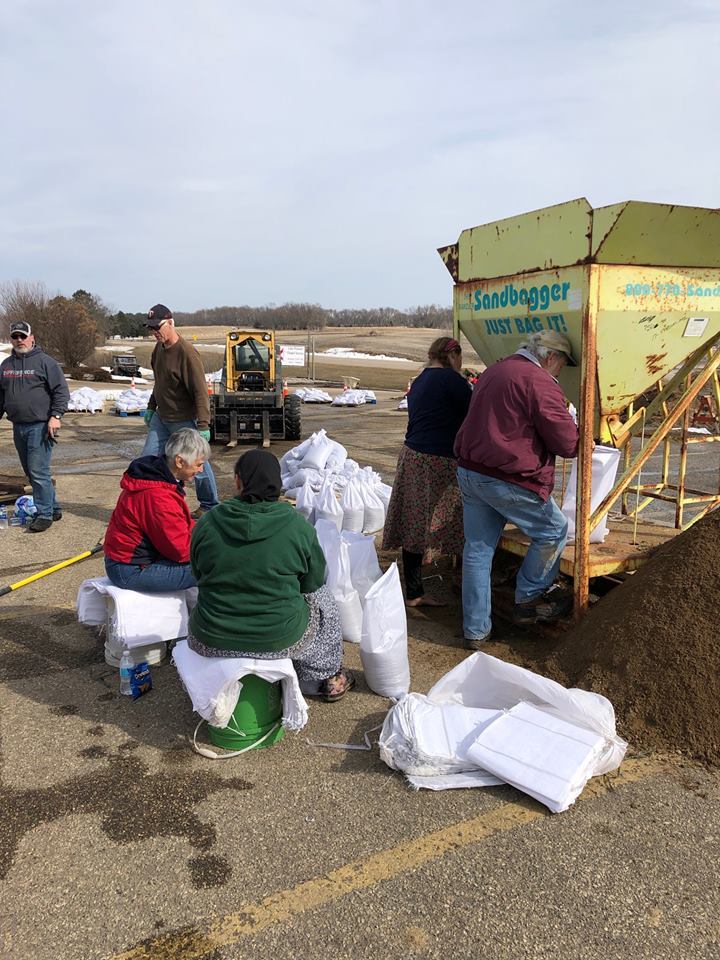 Volunteers fill sandbags at Lake Poinsett Camp. Photos courtesy of Lake Poinsett Camp.
Lake Poinsett Camp and Living Waters Retreat Center prepared for flooding this past week. The Hamlin County Emgergency has been predicting a fast melt and rising waters.
Last week Christy Heflin, director at Lake Poinsett Camp, called for volunteers to come out and help fill up to 10,000 sand bags by lower main, a utility shed, the bridge, and the waterfront lifeguard cabin. Thanks to amazing machinery and 100 volunteers who showed up, working on Wednesday and Thursday, a three-day job was completed in less than two days.
Heflin reported on Facebook: "Fantastic news! Today we finished sand bagging at camp! Special thanks to everyone that prayed for us and supported this big endeavor. We filled over 6500 sand bags in about 12 hours over two days. This amazing task couldn't have happened without the help of many volunteers and donors!"
Among the many volunteers were camp supporters, neighbors, the youth groups from Arlington UMC, Lake Preston UMC/UCC, and Volga Christian Reformed Church, Arlington High School student council and honor society, Arlington ambulance services, South Dakota Game, Fish, and Parks, several pastors from the Dakotas, and camp directors and their families from the Dakotas and Minnesota Area camps.
Heflin added, "A special thanks to Dave Schaeffer of Hamlin County, who went above and beyond to make sure we had everything the volunteers needed for a successful effort, and Crestone Builders, who loaned us machinery and an employee that both helped immensely."
Karen and Howard Grinager, and Ruth and Eric Grinager, were on hand to work in several ways. Howard, Karen and Eric filled and placed sandbags, and Ruth assisted Jim Heflin in the kitchen to help serve hot dogs, pork loin, pizza and snacks. Over 60 volunteers were fed lunch on Thursday, as well as other meals throughout the effort. All the donations and the volunteers were so plentiful, proving the willingness of people to help in times of need.
"A big part of the success here was due to the relationship-building that site director Christy Heflin has been doing since she came to Lake Poinsett Camp," said Howard Grinager. "The local farmers, neighboring communities, and youth groups–even some unrelated to The United Methodist Church–showed up to help because of her reaching out. It was really a great community effort."
Below is a selection of random photos people were able to snap during the event, shared from Area Camping Director Keith Shew and Lake Poinsett Director Christy Heflin.