By:
Laurie Haller, interim bishop, Dakotas Conference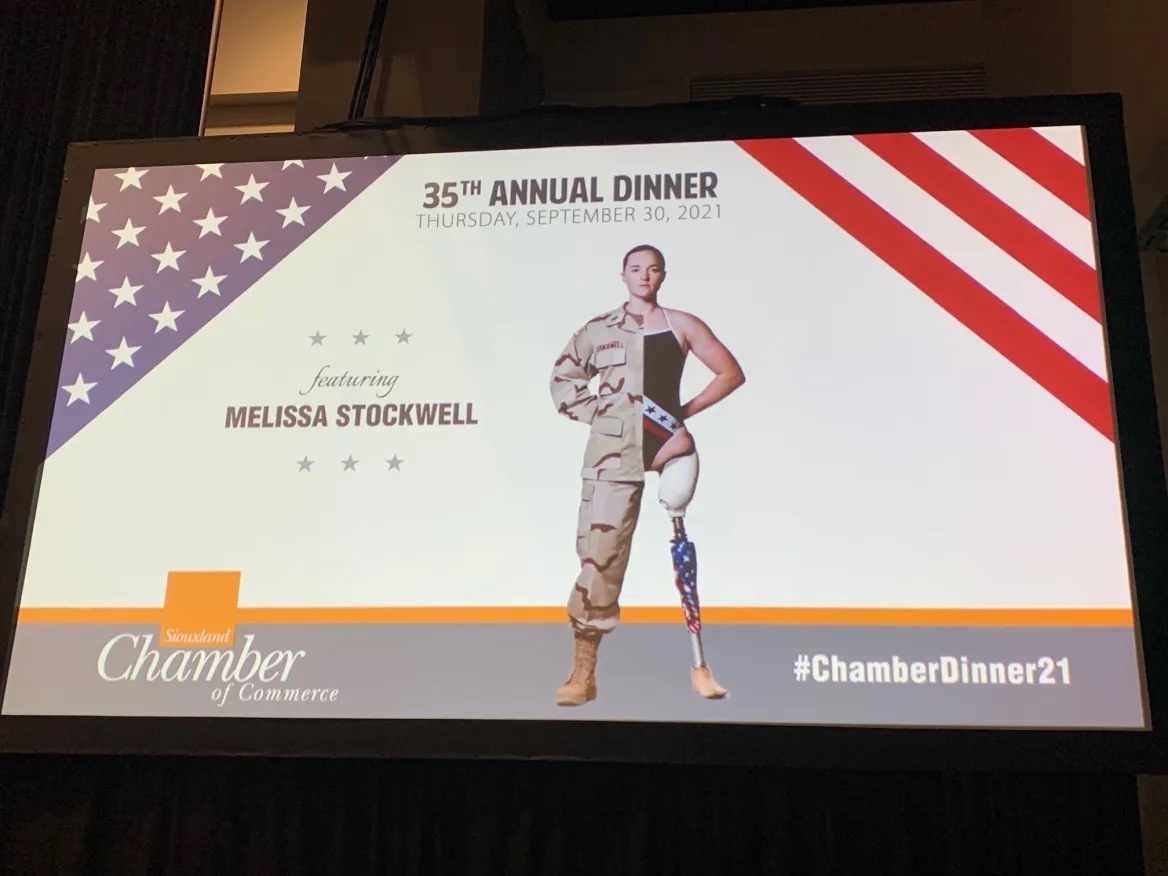 It was truly a night to remember. A few weeks ago, I attended the Board meeting of our United Methodist-related Morningside University in Sioux City, Iowa. President John Reynders, now in his 22nd and last year before retirement, is the longest-tenured president in the university's history. Beloved by faculty and students alike, President Reynders has transformed Morningside into a world-class institution of higher learning. At the annual Sioux City Chamber of Commerce dinner on September 30, President Reynders was given the 2021 W. Edwards Deming Business Leadership and Entrepreneurial Excellence Award in recognition of his vision and leadership in the Siouxland region. But it was what came next that rocked my world.
The evening focused on a celebration of our veterans and members of our Armed Forces, with keynote speaker Melissa Stockwell, who has written a book, The Power of Choice; My Journey from Wounded Warrior to World Champion. Stockwell captivated the audience by sharing her story. Melissa was a 24-year-old 2nd lieutenant in the U.S. Army, deployed to Baghdad in March 2004 as part of the Global War on Terrorism. Three weeks after Stockwell arrived in Iraq, an IED roadside bomb exploded under the Humvee in which she was riding. A combat medic pulled her out from under the vehicle.
Melissa became the first Iraqi war veteran to qualify for and participate in the Paralympics, which welcomes athletes who fit into six disability categories: amputee, cerebral palsy, intellectual disability, visually impaired, spinal injuries, or other (not fitting into the other categories). Unlike the Special Olympics, athletes in the Paralympics must meet certain sport-specific qualifying standards.
Stockwell participated in three swimming events at the 2008 Paralympic games in Beijing, China and was honored to carry the USA flag during the closing ceremonies. Subsequently, she made a transition into paratriathlons. Stockwell represented the United States in the 2010 ITU Paratriathlon World Championships in Budapest and won the Women's TRI-2 (above knee amputee) class. In 2011 and 2012, she defended her TRI-2 World Champion title.