By:
Doreen Gosmire, director of communication, Dakotas UMC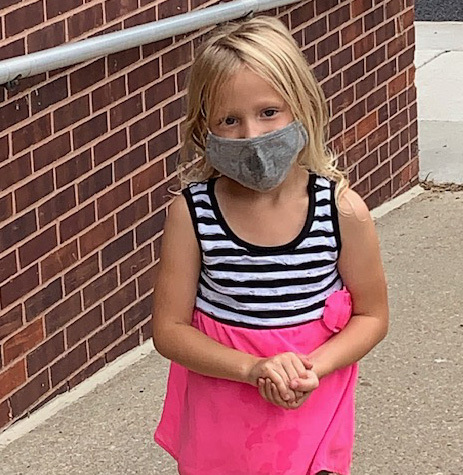 Seven hundred students headed back to school with the supplies they needed in a backpack, thanks to the Mitchell Area Love Feast's efforts. The distribution happened curbside at Downtown First United Methodist Church in Mitchell, South Dakota.
Typically, the Love Feast of Mitchell sets up an in-person give-away for parents who, with their children, come and pick out the backpack they would like inside the church. The COVID-19 pandemic changed the distribution this year.
"We had our system perfected, but this year we had to change things because of COVID. The biggest difference is that students cannot pick out their backpacks. We tried to select a backpack that fit them based on the age, gender, and grade level of the students that signed up," says Carol Hasz, who serves as the coordinator for the Mitchell Area Love Feast, the group that organizes and distributes the school supplies.
Another difference, during the pandemic, is that each backpack has a face mask. The Love Feast Task Force Team requested donations of children's face masks (cloth or paper) for the school supply give-away in August. Several schools in the Mitchell area are requiring or strongly encouraging children to wear face masks.
About 80% of the backpacks were distributed on Friday, August 7. People who had registered for packs through the Salvation Army were asked to come to the front of Downtown Mitchell First UMC to pick up the backpacks full of supplies.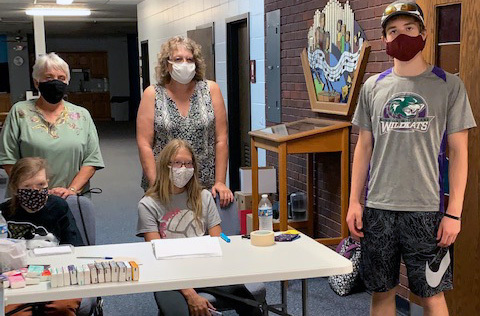 "We had walkie talkies to help us," said Hasz. "A car would pull up. Someone would ask, 'Who signed up to get a backpack?' Then we would call the name into the building where the backpacks were stored. The runners, high school youth who volunteered, would find the order and bring it out to the curbside."
Backpacks that were not picked up on Friday were delivered to the Salvation Army for distribution.
The Mitchell Community Love Feast, a ministry of Downtown First United Methodist Church, offers meals twice a month and more for Mitchell, South Dakota. During the pandemic, volunteers are handing out sack lunches once a month. Postcards are being sent to known clients. The team is busy preparing for this month's cold meal give away.
"Things are different. We have to plan a cold meal that people pick up. We have not been able to bring in outside volunteers for assistance," says Hasz. "July was our first month, and we had 90 people pick up meals. We think there will be more this month. Probably about 150. Normally we serve 300 meals."
The ministry is adapting and moving forward to serve those in need of a meal, fellowship, and outreach. To learn more about this ministry contact, Carol Hasz, by e-mail or Downtown First UMC.