By:
Bonnie Ostenson, Northern Site Mission u dean, and Michelle Brennan, Northern Site Mission u assistant dean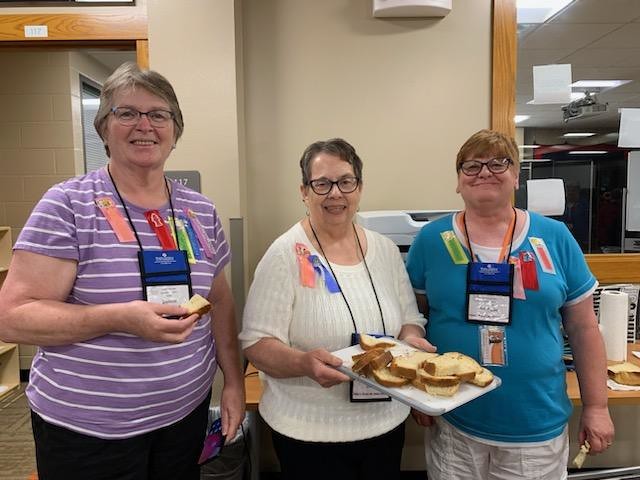 The northern site of Mission u 2023 was held July 20-22 on the campus of the University of Jamestown at Jamestown, ND with 42 attendees. Six attendees came for the very first time, and are making plans to come again next year.

The theme of Mission u 2023 was "Living the Good News / Reflecting God's Love". The adult curriculum was "Living the Kin-dom: Exploring the Lord's Prayer as a Spiritual Practice for Social Transformation" written by Riva Tabelisma.
"Our goal of Mission u was to explore the heart of the good news of the Kingdom and to learn why we prefer Kin-dom over Kingdom. Pastor Debra Ball-Kilbourne and Pastor Marty Toepke-Floyd wonderfully led the study with different leadership styles, each leading a portion of the attendees as space permitted," said Bonnie Ostenson, dean of Mission u Northern Site.

A couple of the comments received were, "The study reached deep into my soul," and "Everyone in class has such deep insight."

Kay Nelson blessed the group with her music leadership on the electronic keyboard as did Robyn Nadvornik, song leader. Lisa Hoffer was the computer technician assisting the study leaders and preparing the plenaries for showing on the screen.

Rev. Michelle Brennan and Cindy Yeager led a great evening session on "Can We Talk?" where they shared information on several current controversies in regards to "Critical Race Theory" and "Reparations". Karen Workman presented a great solar oven demonstration. Participants learned about "Creation Care and Justice" via a display by Pastor Marty.

At United Women in Faith Night attendees were the audience for various talents in the Dakotas; heard about upcoming district and conference events, recognized past deans, shared many stories of our first Mission u events, and enjoyed "soda floats".

Three worship plenaries were held: Opening Worship, Healing Service with Remembering our Baptism, and Closing Worship with Communion. An offering was received for Pledge to Mission and Love Ribbons with Hugs with proceeds going to Love Ribbon Grants. During the Healing Service VirLyn Hoff and Bev Enger led those attending in the movements for a body prayer based on the Lord's Prayer.

Other comments shared were: "Mission u is a real boost. New knowledge is always welcome," and "Mission u encouraged me and informed me in my walk with United Women in Faith".

It was another successful Mission u with inspiration that deepened faith.