By:
Doreen Gosmire, director of commmunication, Dakotas UMC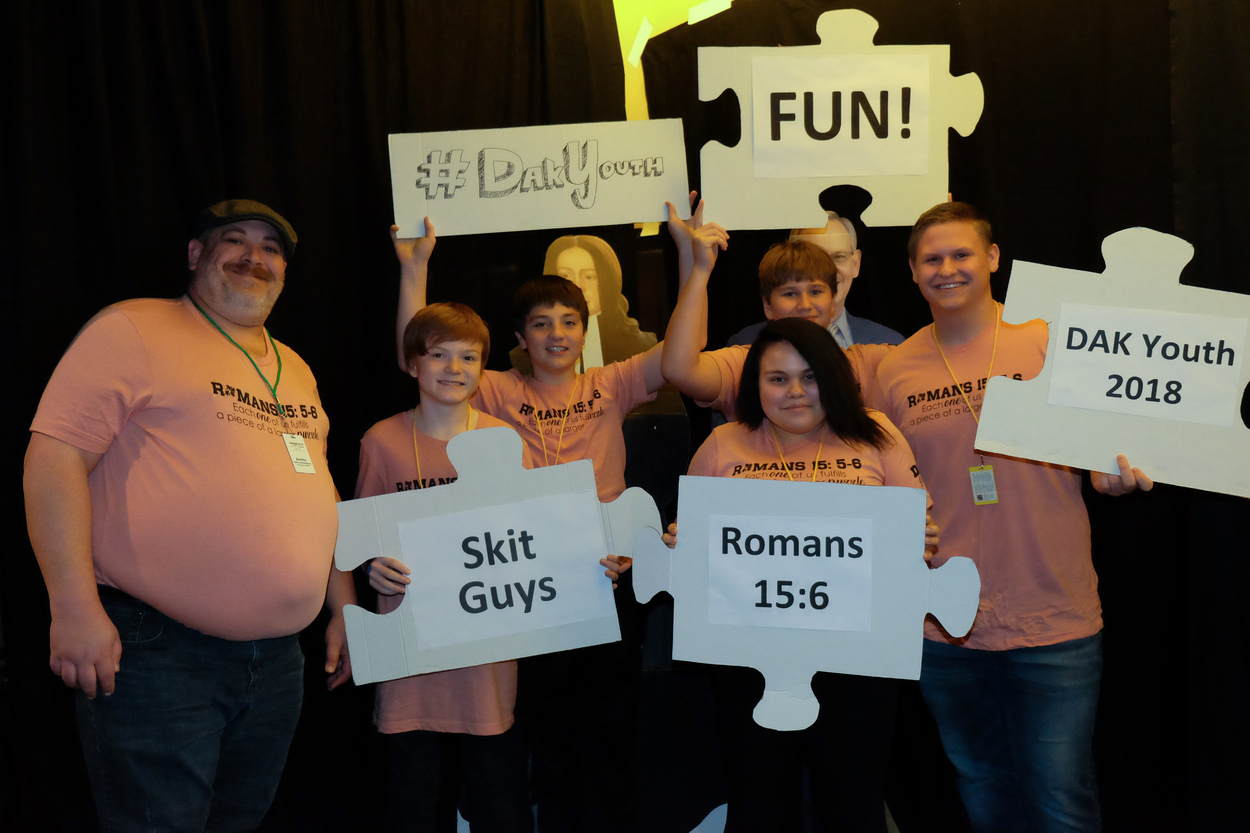 "DakYouth is a great experience! It is an opportunity of a lifetime experience. I am never going to forget it." That is how Dustin Gilseth, a tenth-grade student from Langdon UMC, and a first-time participant, describes Dak Youth 2018.
Gilseth, along with more than 400 other youth and adults from 53 churches, gathered in Aberdeen, South Dakota for awesome worship, music, speakers —Chris Hanson and Andrew Root, The Skit Guys, and preachers — Revs. Kris Mutzenberger and Dayne Zachrison.
Gilseth says, "It is a lot of fun! It is definitely is an eye-opener. I am glad our pastor (Rev. Justin Schnackenberg) encouraged me and other youth to come. I already can't wait for next year!"
The theme for Dak Youth 2018 was built around the scripture Romans 15:5-6 —Each of us fulfills a piece of a larger puzzle.
Rev. Kris Mutzenberger, who serves Fargo First UMC, kicked off opening worship with a message centered on Corinthians 12-17, "The body is one and has many members and all the members of the body work as a team."
Pastor Kris told attendees that each of them are essential members of God's team. "God loves you, even before you love God back. God wants you to be part of the team. You are the body of Christ," she said. "You are gifted. You are special. You are unique," Pastor Kris says. "If any of this entered your mind: not me, I'm not, I'm not gifted. If that entered your mind that is a lie! That is B.S. You are on God's team."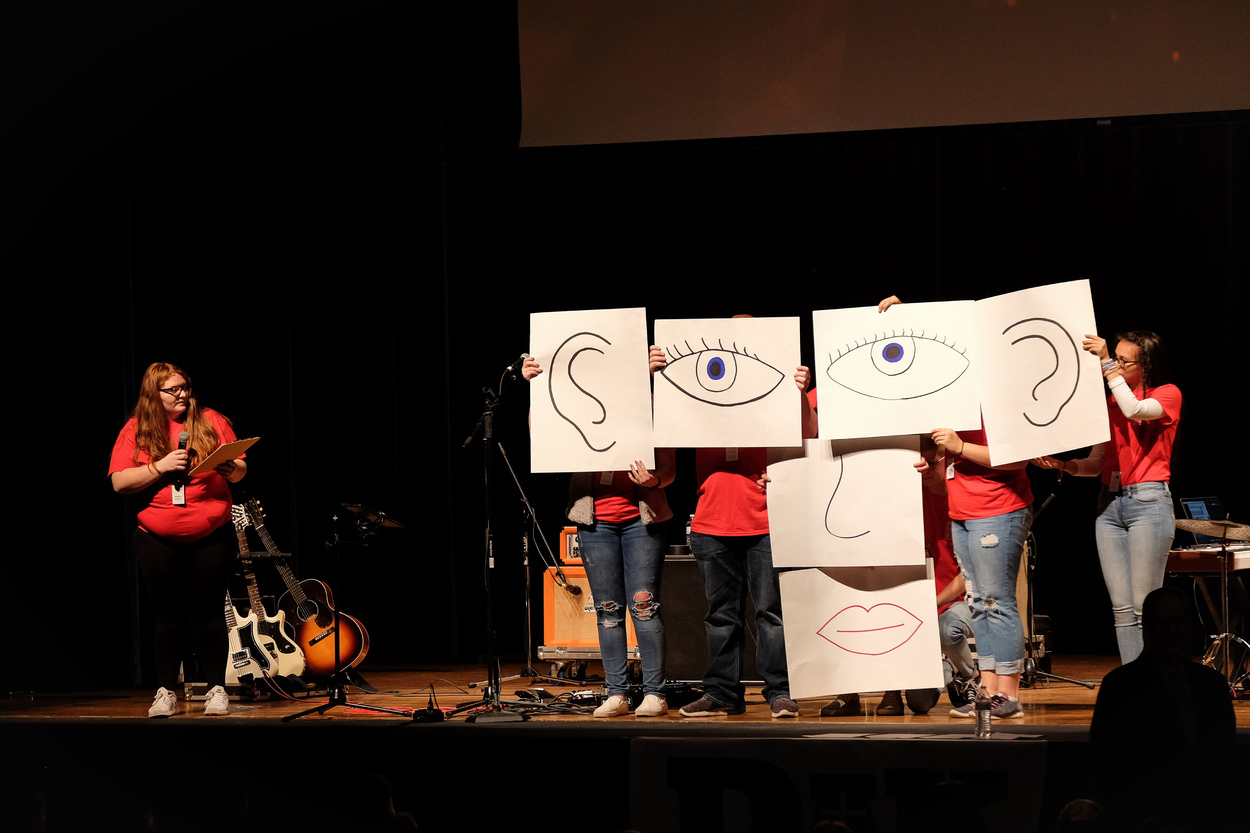 Members of the Dakotas Conference Council of Youth Ministry (CCYM) organized the event and provided leadership throughout the three-days. During opening worship, CCYM members illustrated with diagrams of parts of the face: eyes, ears, nose, and mouth, that we are all one body in Christ.
CCYM members shared the ways that leading Dak Youth, and other youth ministry events are shaping them as leaders. Lauren Kjerstad, a tenth grader from Rapid City Canyon Lake, said, "It is a great experience to grow in faith and make connections with other people that you would have never connected with."
Tyler Rassmussen, a CCYM member from Brookings First UMC, describes the energy at Dak Youth as electric. "It is great to see so many youth here. We have had a decline in the past few years. It is a lot of work, so it is great to see everyone really getting into it!"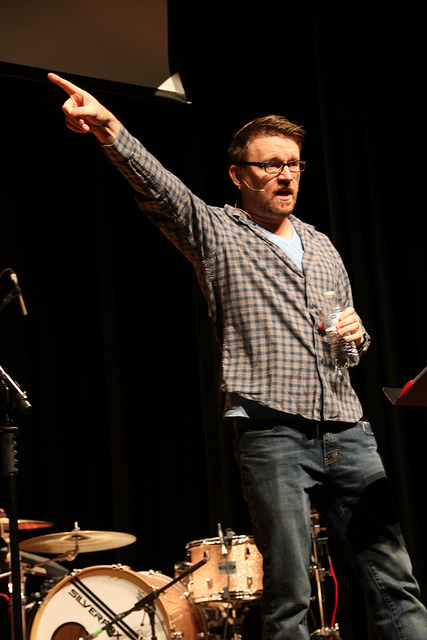 Day two participants spent time listening to speakers, enjoying music and workshops. Andrew Root, associate professor youth and family ministry at Luther College in St. Paul told youth present, "You are loved for who you are. We are all flawed. We all feel shame. We sometimes want to walk away when we need to run towards Christ."
Root had youth share there most embarrassing moments. "Could you die of embarrassment," he asked. "The truth is that no one has ever died of embarrassment."
Youth attended two workshop sessions throughout the day. There were eight workshops for middle and high school youth to select from.
Science and Christianity with Andrew Root —Root shared why evolution and things like the big bang theory are not in opposition to Christian faith and values.
You're a link to others with Chris Hansen —Hansen shared how to use your gifts and passions to make an impact for suicide prevention in your school and community.
The social media project with Rev. Quaya Ackerman and Sean Binder. Attendees learned about how Jesus fits into Snapchat, Facebook, Twitter, and Instagram.
Tough conversations with Revs. Peggy Hanson and Karl Kroger—Participants learned about how to navigate the landmines of tough conversations with diverse opinions.
Leading worship with Rev. Andrew Gross— Participants were able to explore how they can use their gifts to lead worship with others.
Games, games, games with Rev. Paul Lint—This workshop was an opportunity for youth to move a little and learn some games that they could lead back at their local church with their youth group.
Cookies for the homeless with Bekki Holzkamm—Youth who attended this session made homemade cookies for the homeless in Aberdeen.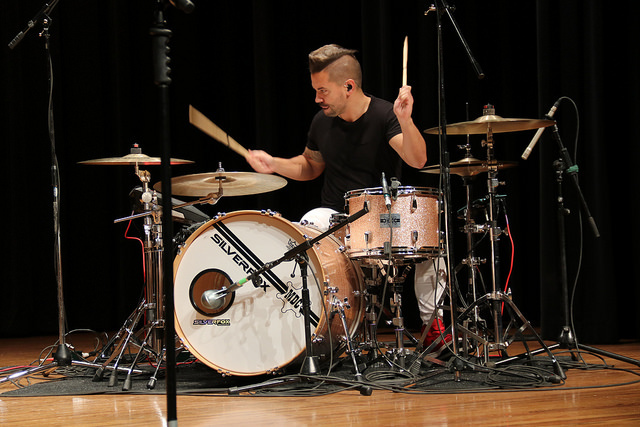 VOTA, a Christian rock band, from Lincoln, Nebraska held a jam session as part of the afternoon session. The group features Bryan Olesen, a former guitarist with Christian rock band Newsboys. Several of the band's songs have been featured on national radio networks such as K-Love. VOTA provided music for worship Friday evening through Sunday. http://votaband.com/
Chris Hansen, from Yellow Ribbon, a suicide prevention program, shared stories and resources with attendees and compelled them to believe in each other and make a difference. "Together we can make a difference. A huge impact and stop needless deaths from suicide," he said. "Peers need peers. Youth will reach out to you. Be ready. Be the difference." https://yellowribbon.org/
Rev. Dayne Zachrison, serving Valley City Epworth UMC, gave the message at evening worship on — one voice. "One Voice, we are meant to share with others," Zachrison said. "We're called to be there for one another. Together we are one voice for God."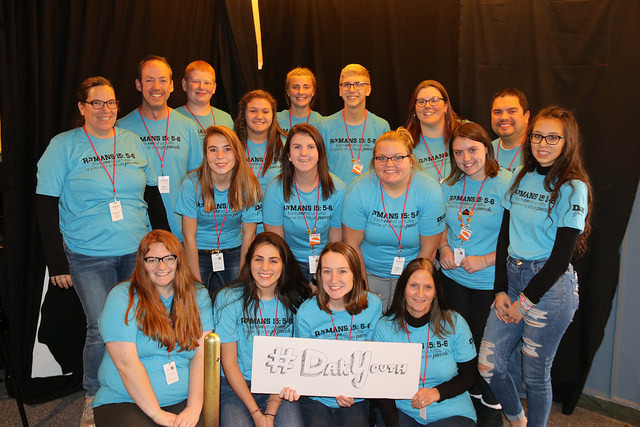 The one and only Skit Guys made their way to the stage at 9-11 p.m. They filled the place with laughter and love. Tommy Woodard and Eddie James are The Skit Guys. They have been best friends since high school. Think of them as the wise guys in class who had everyone laughing and managed to make a career out of it. They've been teaching God's word using comedy, drama and whatever category talking action figures fit into for over twenty years.
Dak Youth ended on Sunday with closing worship and communion. "I am thankful to be part of CCYM. Things went well," said Sara Jones, a member of CCYM and Mandan UMC. "I saw a lot of kids step outside their comfort zone. I hope we can reach even more next year."
View all of the photos from Dak Youth 2018 here.
Check out the 2019 youth ministry activities in this video: