Ten Minnesota pastors and eight Dakotas pastors are improving their administrative effectiveness through a new non-profit church leadership certificate program at Dakota Wesleyan University (DWU).
In a nutshell, the program will provide clergy with the business acumen required to meet the demands of a growing church, along with training in how to handle aspects of fundraising, organizational leadership, and human resources.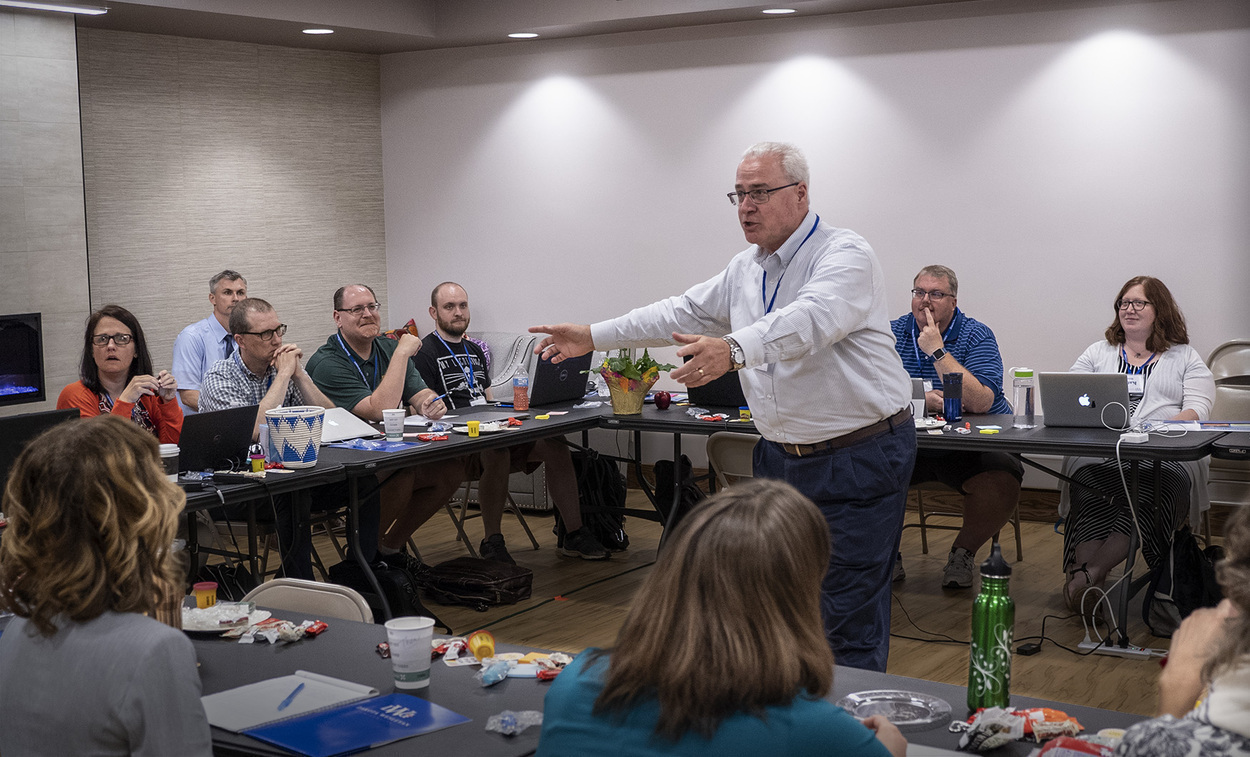 "There are only so many things you get in seminary. This program is a great opportunity to develop as a clergy and a leader," said Rev. Max Richter, who serves Champlin UMC in St. Paul, Minnesota. "I hope to take my church to the next level with what I learn."
The program is twelve graduate credits, delivered in eight courses that emphasize stewardship of all resources—money, people, talent, and vision.
"I hope to understand stewardship at a deeper level," said Rev. Dayne Zachrison, serving Epworth UMC in Valley City, North Dakota. "I want people in my church to give because it is an inspiration and means something. I want to lead them to give in all the ways they can so we can do new ministry in the church."
Dakota Wesleyan University and the Dakotas-Minnesota Area of The United Methodist Church launched the non-profit church leadership certification program (NCLP), in an orientation July 10-11, at Sioux Falls First United Methodist Church.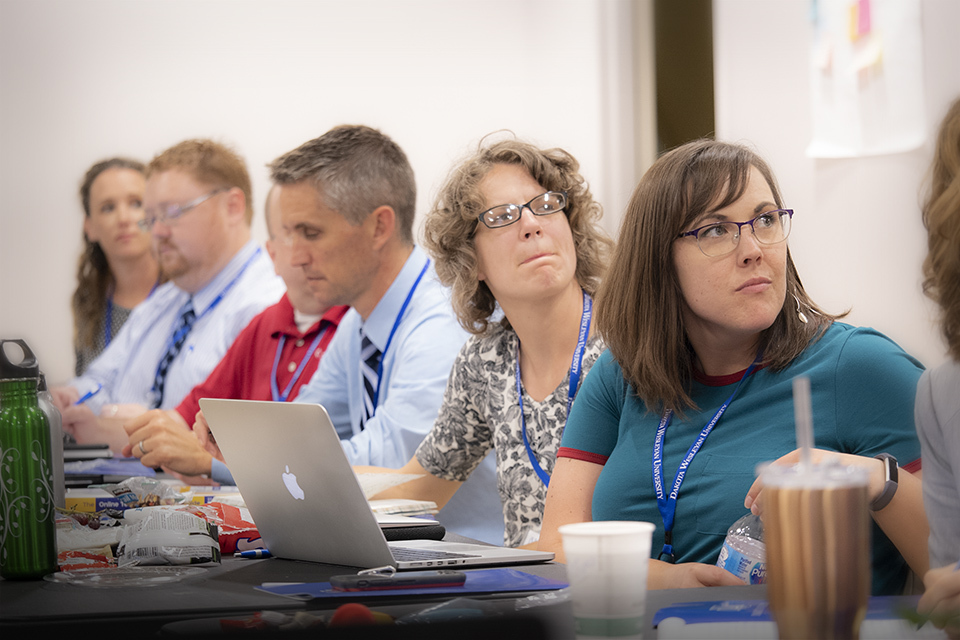 "We are excited about this new endeavor with the Dakotas and Minnesota Conferences because it uniquely fills a gap in pastoral leadership training and is designed to improve their confidence in administration while applying to their workplaces," said Dr. Alisha Vincent, nonprofit administration professor at Dakota Wesleyan University and chair of the program. "The hands-on nature of the courses, supported by one-on-one coaching and mentoring, will further enhance their learning and leadership capacities. We believe our program is relevant and relational while respecting and accommodating the busy lives that pastors lead."
The certificate program is designed to provide clergy with learning and competency development in the following areas:
Financial Stewardship: 21st Century Resource Development and Management

Stewarding Human Resources: Governance, Personnel, and Volunteer Management

Stewarding Vision: Strategy Design, Implementation, and Evaluation

Stewarding the Church: Leadership and Management
Pastors participate in a year-long experience that includes online learning as the primary teaching platform, three in-person cohort gatherings with coaching sessions, speakers and peer learning, and two applied learning projects. The applied learning projects will focus on and benefit the local churches that are served by the NCLP participants.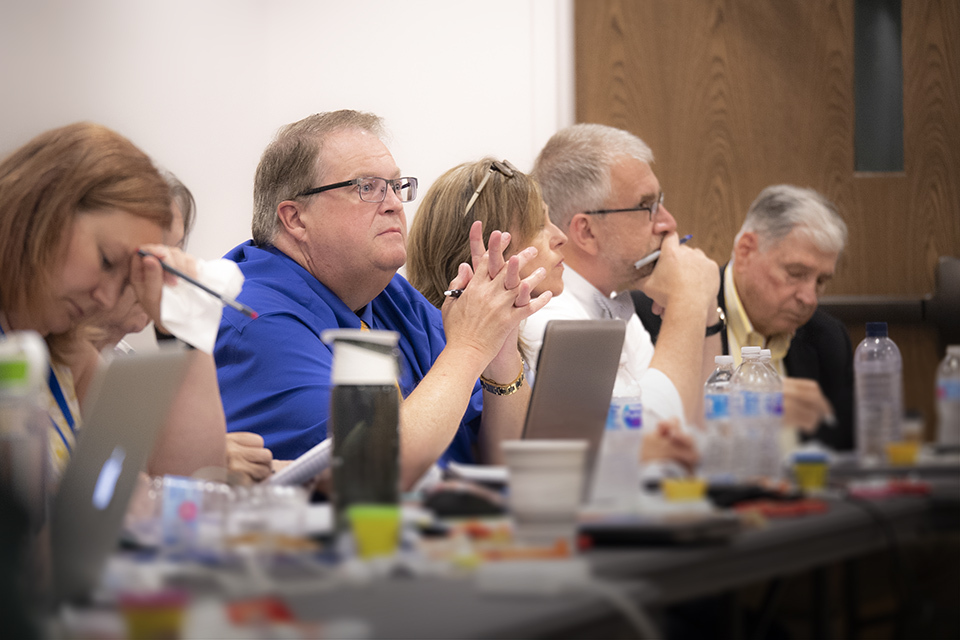 "Seminary teaches you many things, but it doesn't teach you the business side of running a church," said Rev. Seth LaBounty, who serves Pierre First UMC in South Dakota. "I hope to learn a lot about how I can manage human resources, volunteers, cast a vision, and lead others."
One of the things that attracted Rev. Brooke Heerwald Steiner, who serves Excelsior UMC , to this program is that it is tailored for clergy leaders.
"It seems like I never ran short of new ideas in my ministry," she said. "I hope to learn how to manage the timing and process for implementing new ideas and change. I want to be able to cast a vision with a congregation and live into that vision."
The idea for the program came from the leadership and planning team for the Lilly Endowment grant project that includes the Dakotas United Methodist Foundation, Minnesota United Methodist Foundation, Dakotas Conference, and Minnesota Conference.
Diane Owen, director of the Lilly Endowment grant project for the Dakotas-Minnesota Area, helped coordinate and develop the certificate program.
"We are excited about the potential of this program," she said. "The Lilly Project is providing inspiration and funding for a program that will enhance the leadership skills of clergy by focusing on the stewardship of all resources including money, people, talent, vision and time."
Leadership Development is a crucial goal of both the Dakotas and Minnesota Conferences. NCLP is one of the many ways that the Dakotas-Minnesota Area is developing leadership for churches. In late 2016, the Dakotas-Minnesota Area received a $1 million grant from Lilly Endowment Inc. The funding is to help pastors develop stronger financial literacy skills, reduce or elminate persona debt, and become equipped to foster a theology of generosity within their congregatins. The grant is helping underwrite the cost of the certificat program for participants, although clergy and their churches are also funding a portion of the cost.
"We are delighted to partner with Dakota Wesleyan University to provide this opportunity for our pastoral leaders," said Bishop Bruce R. Ough, Dakotas-Minnesota Area of The United Methodist Church. "This is an opportunity to provide our pastors with additional competencies necessary to navigate the complexities of a church adjusting to the changing world and at the same time, wanting to change the world."