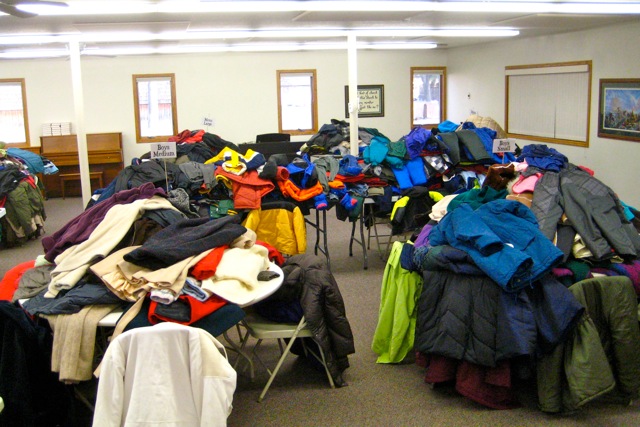 ABERDEEN, South Dakota -- North Highland United Methodist Church of Aberdeen, SD has, for the past five years, organized Coats for Kids Campaign. This year's campaign proved bigger than ever. The beginning of Coats for Kids started with a float in Northern State University's Gypsy Days Parade. The theme for the parade is used to highlight the need for coats. The theme of the parade this year was "Gypsies on Safari". The youth of the church helped decorate the float. Magnets with the Coats for Kids information were given to adult spectators along the parade route.
Collection points were K-Mart, all the Aberdeen Federal Credit Unions and all three United Methodist Churches in Aberdeen --- Faith United Methodist Church, First United Methodist Church, and North Highland United Methodist Church.

The number of coats collected last year was around 850. The goal this year was to collect 1,000. The total number collected was 1,170.
Friday, November 16 the youth of the church plus other volunteers helped display the coats according to size. On Saturday, November 17 North Highland held a Coat Giveaway in which people who needed a coat could come and select a coat. Over 300 coats were given away. The rest were bagged and transported to the Tree of Life Ministries in Mission, South Dakota.