Quick Ash Wednesday blessing offered at Main Street Square
by Brendyn Medina, Black Hills Fox TV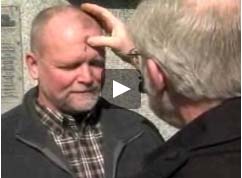 Christians around the world observed Ash Wednesday, and several Rapid City churches say they were trying to make it easier for local believers to do so. The First United Methodist Church set up a small table at Main Street Square Wednesday afternoon to offer a quick alternative to traditional Ash Wednesday services.
Passersby could stop in and receive the traditional ash blessing that marks the start of Lent. The church says it's all about having a stronger, more visible presence in the community.
Pastor Doug Diehl says, "Part of the history of this is; last year we had the idea of having an Easter sunrise service out in the square. The Main Street Square folks were very supportive of that and they're planning to help us do that again, and we're just thinking about expanding the whole Lent/Easter experience down in this more public place."
Main Street Square will host an Easter sunrise service on March 31st at 6 a.m.
Fargo first on the street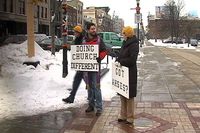 Fargo, ND (WDAY TV) - The convenience of drive-up service has come to the church.
The pastor at First United Methodist offered ashes in downtown Fargo on this Ash Wednesday.
Reverend Cody Schuler held signs saying "Doing Church Different," and "Got Ashes," at the corner of Broadway and 2nd Avenue.
While our cameras were there, a few people got their ashes in a different way. To go.
Rev. Cody Schuller, 1st United Methodist: "We always expect people to come to us, so our idea is to be out here on the street, with people passing by, and at least offer it to let people know this time is beginning, and that the church cares about them."
Ash Wednesday is the first day of Lent. The ashes signify repentance.