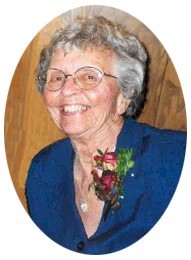 Doris Vos of White River, South Dakota, died on Tuesday, May 4, 2021 at her home in White River at the age of 97. Doris is the widow of Rev. James "Jim" Vos.

Jim and Doris served the Dakotas Conference churches at: Hayes-Kirley (The Little Brown Church); Philip-Quinn; Conde-Andover; Clear Lake-Gary; White River-Mission-Wood; and Selby-Lowry.

Funeral services will be held at 11:00 a.m. CST on Monday, May 10, at the Community Center in White River.

View a complete obituary.