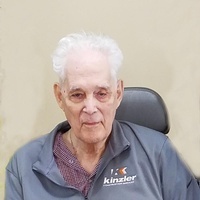 Reverend Francis Kinzler, 91, died on Tuesday, January 8, 2019, at Elim Care Center in Fargo, North Dakota. Rev. Kinzler was a retired elder of the Dakotas Conference.
Reverend Kinzler served the Dakotas Conference at Larimore/McVille; Hettinger; Noonan/Columbus; Cleveland/Woodworth/Crystal Springs; Steele/Robinson/Driscoll; Washburn/Underwood; Riverdale Community; Holmes/ Pleasant View/Thompson; Starkweather/Edmore/Hampden; Salem/ Dazey/Leal; Rugby/Pleasant Lake/Bantry; New Rockford/ Cathay/ Sheyenne.
Visitation will be Friday, January 18, 2019 from 5-7 p.m. with a prayer service at 7:00 pm at the Frank Family Funeral Home, Lidgerwood, ND. Visitation will continue on Saturday, January 19, 2019 from 10-11 am followed by the funeral service at 11:00 am at Milnor United Methodist Church, Milnor, ND. Burial will be in the spring at Pleasantview Cemetery, Lidgerwood, ND.
View a full obituary here.