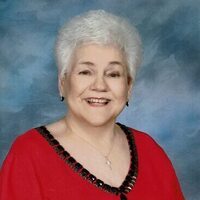 Wanda Jean (Thomas) (Johnston) Louderback departed this life, on Wednesday, March 3, 2021, at Clovis, New Mexico. She was the wife of Rev. Charles Levi Louderback, associate member of the Dakotas Conference.

Wanda was active in the Methodist Church, including church administration, president of the United Methodist Women, and serving as the local Circle Chairperson many times. Her musical talents were shared throughout her life by singing in duets, church choirs, and playing in bell choirs.

A funeral service was held on Wednesday, March 10, 2021, at Muffley Funeral Home in Clovis, New Mexico. View a full obituary here.