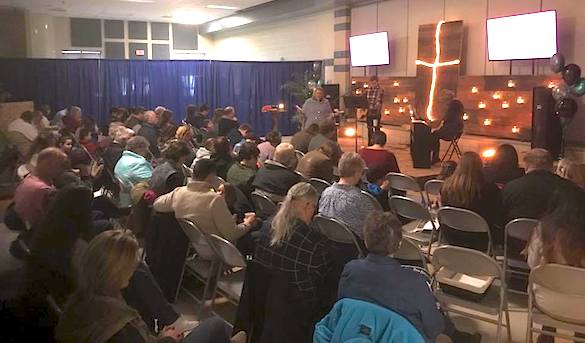 "It was a Holy Spirit-filled day. You could just feel the positive, Spirit-moving, response from the people. There were many families with young children in worship," said Rev. Kori Lehrkamp, pastor at The Bridge.
More than 100 people gathered for a 10:30 a.m. worship service Sunday, February 18 at Valley View Elementary School. It was the first worship service of The Bridge, a new church start, in the Rapid City/Box Elder, South Dakota area.
Sunday was also the launch of "Bridge Kids." There were 20 kids that gathered for a lesson, song and a craft before worship began.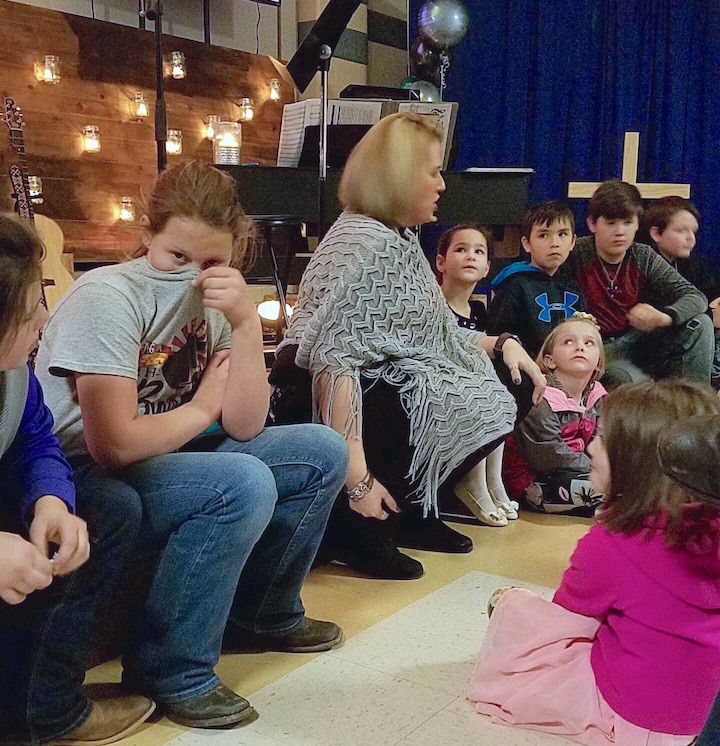 Worshippers in attendance participated in a blended-style of worship with some traditional and some contemporary elements. The worship leader, Sam Britt, played guitar, along with a piano player from Piedmont Grace UMC and a bass player who serves at Ellsworth Air Force base. People were invited to come forward for communion, leave an offering and share their thoughts about how they want to experience and grow in their love of Jesus.
Lehrkamp outlined the desire to have each person have an active part in worship. As persons entered worship they were given a sticky note. Everyone was invited during the message to think about what it means to have Jesus in their life, and how they want to live out their life with Jesus. People wrote their thoughts on the sticky notes and brought them forward, placing them on a wooden cross as they went to communion. Comments on the cross included: "I want a safer school for my kids." "I want to continue to stay clean for my family." "I want to be the best parent I can be."
Planning for the worship experience began several weeks ago. A worship team, Lehrkamp, Britt, Kara Togel, an Elisha intern, Mike Lehrkamp, Quin Trimble, and others dreamed, designed and built elements like a wooden cross, background, lighting and more.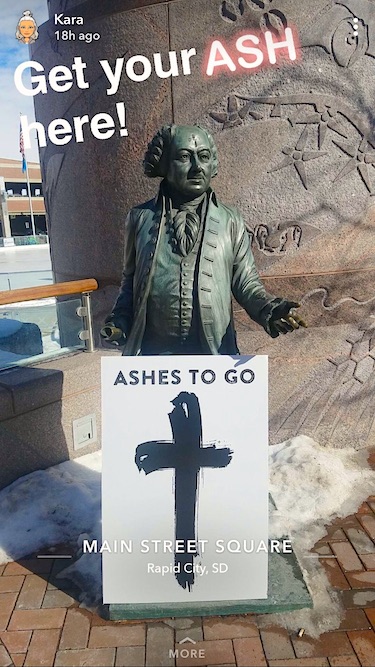 Beyond the physical elements, a core group of leaders has been reaching out and inviting people. Several community activities have been held in the past several months to invite people to be part of a worshipping body. Last summer, Lehrkamp and Togel invited families to neighborhood events, Bouncing in the Park, complete with bouncy houses, hot dogs and hamburgers, and other games — a way for families to connect with each other and The Bridge.
In December, Lehrkamp and a core group held Brunch with Santa at the Valley View School and an Unplugged Christmas Eve service. They also distributed hot cocoa downtown this past winter. Just last week, people were invited to join The Bridge at worship when they experienced, "Ashes to Go." Lehrkamp and team spent Ash Wednesday in the downtown square of Rapid City, distributing ashes and talking to folks about the upcoming worship at The Bridge.
"We also spend a lot of time on social media getting the word out about who we are," said Pastor Kori. "We let people know about Jesus and how they can engage with us and each other through Facebook, Instagram, Twitter and Snapchat."
Planting a new church does not happen overnight. Lehrkamp began the process 18 months ago. She spent months living in, and learning about, the community. Small groups, called life groups, began to meet in coffee shops, restaurants and other public spaces. There are now six life groups that meet on a regular basis with a few more meeting around topics or events.
There have been several forces of support for The Bridge. Rev. Ben Ingebretson, director of new church development for the Dakotas-Minnesota Area of The United Methodist Church, serves as a teacher and leader for ten new church starts in the Dakotas Conference.
"Ben and my district superintendent, Rev. Kevin Kloster, have been my point people and I can always check in with them," noted Lehrkamp. "I have a coach, Rosario Picardy from Ginghamsburg UMC in Ohio, who has also been an excellent resource. They have affirmed that my fears are valid, but have been quick to connect me with resources to keep me moving."
She describes connecting with other church planters in the Dakotas Conference, Minnesota Conference, and through social media, as a very helpful support system. "I belong to a Facebook group called Progressive Chick Church Planters, that has been fun and helpful."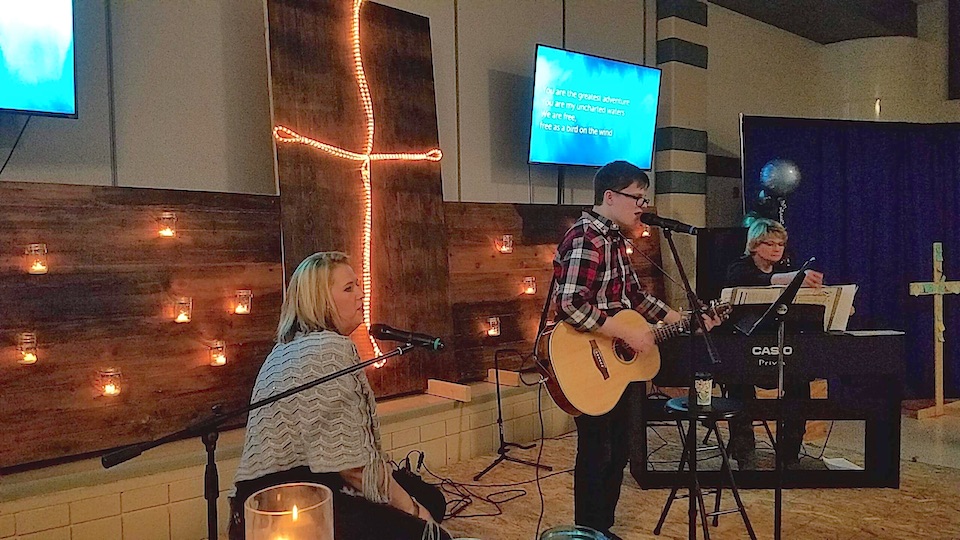 The clergy in the Rapid City area—Revs. Peggy Hanson, Greg Kroger, Karl Kroger, Holly Sortland, Sharla McCaskell, and others, have supported the new church plant by words of encouragement, helping to market, sharing resources and prayer. "I can't thank my colleagues in the Rapid City area enough," said Lehrkamp. "Our Sunday launch was supported by Piedmont Grace UMC pianist Lisa Teachout. Chris Heacock, a member of Canyon Lake UMC, will be our regular pianist, but out of town on a mission trip."
Another key group that has supported Lehrkamp has been her covenant group. All clergy in the Dakotas Conference are encouraged to join a small group that will assist them in growing in their love of God, strengthening their skills, and reaching the next person for Jesus. "I belong to a covenant group of five strong and amazing female clergy leaders," said Lehrkamp. "They have talked me through the struggles and the wins."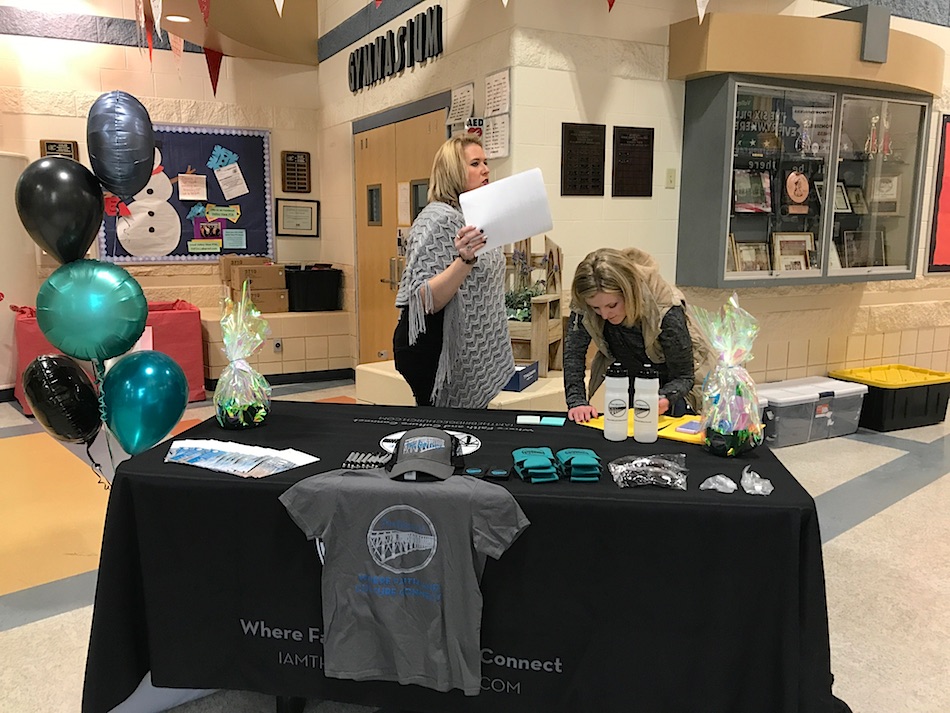 What is next? This week Lehrkamp, with the help of a small group, will follow up with each person that came to worship, by bringing a mug to each worshipper. The mug, with a magnet, pen and hot cocoa, will be delivered in person by Pastor Kori.
Each week, worship will be held at 10:30 a.m. at Valley View Elementary School in Rapid City. Intentional invitations to the community will continue through word of mouth, social media, neighborhood gatherings, small groups, and even sending invitations in the regular mail.
People are coming and meeting Jesus. One couple, with two young children, has just moved to the Rapid City area from Minneapolis. They have been looking for a new church home. As they left worship at The Bridge on Sunday they told Pastor Kori, "You will see us again!"
Website: http://www.iamthebridgechurch.com/
Facebook: www.facebook.com/iamthebridgechurch
Instagram: https://www.instagram.com/thebridgeumc/
Twitter: https://twitter.com/pastorkori