NEW NOTES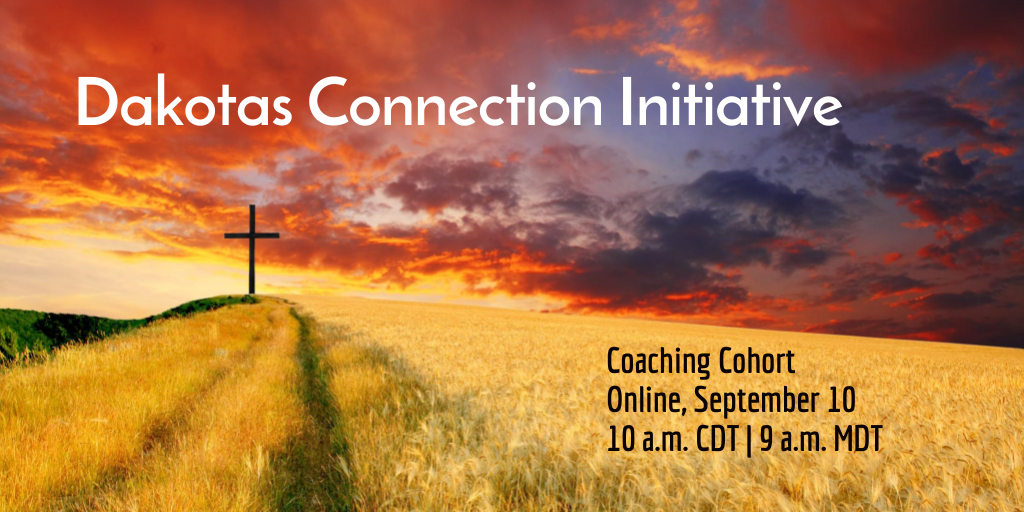 Rural Ministry Coaching cohort online | Sept. 10
    As part of the Dakotas Conference effort to encourage and strengthen rural ministry, we will be conducting coaching cohort calls via Zoom beginning  September 2022. Our Dakotas Connection Initiative (DCI) will be funding these calls through our Lilly Foundation Grant. The first call will be Saturday morning, September 10,  at 10 a.m. Central, 9 a.m. Mountain. The call will be co-hosted by Al Roll, DCI grant manager, and Zach Kingery, DCI Steering Team leader. Join at this Zoom link. 
Belonging webinar series | Begins September 13
     As experiences of division, isolation, and despair grow, belonging brings us connection, encouragement, and hope. The Ministry Lab is delighted to share eight fabulous presenters on seven aspects of belonging. Join these webinars on Sept. 13 and 20, Oct. 4, 11, and 25, Nov. 1 and 8, at 2pm Central, 1pm Mountain. Dakotas UMC clergy can take 50 percent off the registration price as part of our ongoing efforts to support clergy well-being. Register today!
COMING UP 
Foundations of Faith community Nursing course | Begins Sept. 9
     Foundations of Faith Community Nursing course, a collaboration with Augustana University, Sanford and Avera Faith Community Nursing Centers,  is open to persons of all denominations. This is an opportunity to help nurses and congregations who are interested in working or volunteering in this way.  See this flyer and get the details and registration info.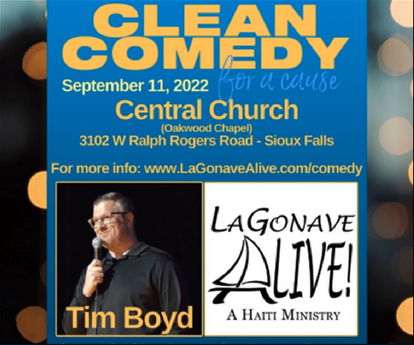 LaGonave Alive! comedy event | September 11
    LaGonave Alive! is a nonprofit organization established to bring HOPE. HEALTH. HAPPINESS. to the people of the island of LaGonave, Haiti. Bruce & Sharon Blumer are the co-founders of the organization. Join this clean comedy event on September 11, 2022, 6:30-8:30 p.m. in Sioux Falls, SD, featuring comedian Tim Boyd, with music by Randy Hedge. Tickets are $25. Get the details here. 
National Day of Volunteer Training | Sept. 24 at Fargo First UMC
    Fargo First UMC is hosting National Day of Volunteer Training sponsored by Download Youth Ministry on September 24. The cost for this all inclusive training is $169.00 until August 31, after that price go up to $199.00. It is one price for your entire group. Join us for a great morning of training and lunch and fellowship afterwards. Register now.
Leadership Institute | Sept. 28-30 
    Are you headed to the Leadership Institute at the Church of Resurrection and want to share travel arrangements?  Share your travels plans and reach out to others here. The Leadership Institute, a conference designed to equip, encourage, and inspire ministry leaders like you from all over the country and around the globe. You'll experience: meaningful worship, eight powerful keynote speakers, time for prayer, reflection, networking, team building, and more. Add the Pre-Institute option to your in-person Leadership Institute experience and choose from over 40 breakout sessions focused on specific ministry topics with practical ideas you can take back and adapt to your context regardless of your church's size. Get the details at li.cor.org.
Jurisdictional Conference Scheduled | Nov. 2-5, 2022
    In response to Judicial Council decision 1445, the Council of Bishops (COB) has formally set the dates for regular sessions of the Jurisdictional Conferences of The United Methodist Church (UMC) to be convened November 2-5, 2022.  Each jurisdiction will determine how many bishops will be elected in their areas. See the full press release here.
Annual Conference Special session | November 2022
    Bishop Deborah Kiesey issued the following letter August 2, 2022, formally calling a special session of the Dakotas Annual Conference for November 19, 2022, beginning at 9:30 a.m. Central, 8:30 a.m. Mountain. The agenda will include one business item: consideration of resolutions ratifying the disaffiliation of local churches from The United Methodist Church according to the provisions of ¶2553.
RESOURCES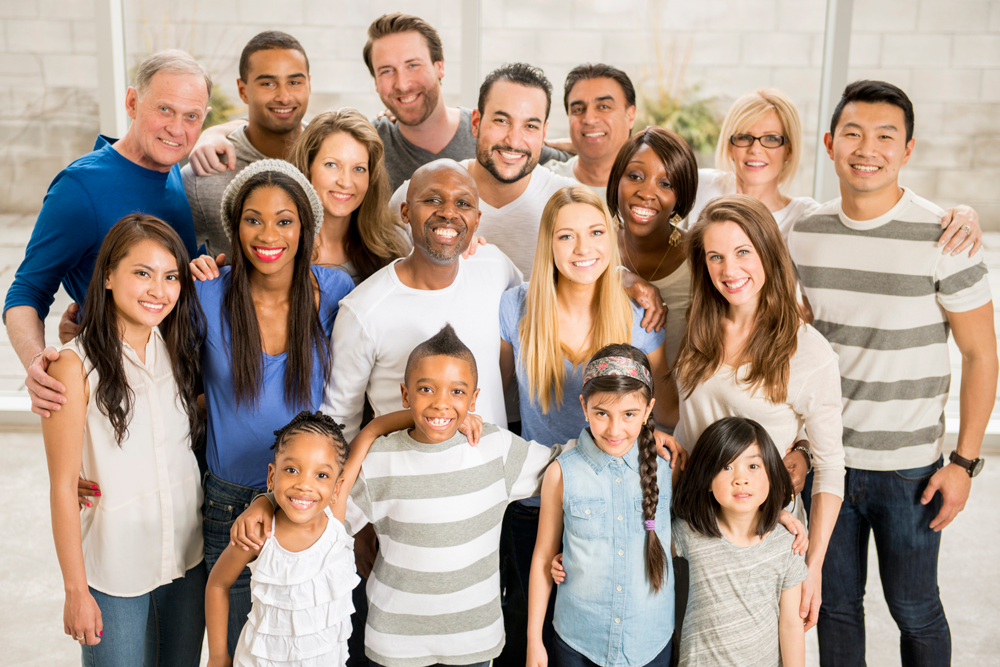 Ministering to congregants who haven't returned post-COVID-19
    The COVID-19 pandemic certainly had an impact on churches, especially regarding in-person attendance. Many churches still have quite a few worshippers taking part remotely, in online services. It is important to remember that even though these people aren't in your pews, they need your love and attention. Read the UM News story here.
Give to support UMCOR's US disaster relief efforts
    As some parts of the United States experience devastating floods, others are confronting massive wildfires. UMCOR responds to natural and civil disasters by providing training, financial assistance, expertise and community collaboration to churches and partners. Give to support these communities in need and remember that 100% your donation goes to the designated project. Get connected here.
Grants Available to Help Strengthen the Ethnic Local Church | Apply now
    Discipleship Ministries is pleased to offer the Racial Ethnic Local Church Concerns (RELCC) Grant, which provides funding to support the ethnic local church through leadership training, small groups, worship, stewardship, and spiritual formation as it engages in developing disciple-making systems inside the church walls and in the community. Applications are due September 10, 2022. More info here.
Dakotas Conference Assistant Benefits Coordinator  | Apply by Sept. 1
    The Dakotas Conference Benefits Office is seeking a full-time Assistant Conference Benefits Officer.   Assist in the administration of the Dakotas Conference clergy and lay staff benefits program. Must have the ability to organize, problem solve, maintain records and have oral and written communication skills.  Knowledge in the use of data bases and computer skills important. If interested, please send resume to Leana Stunes. Job details here. Deadline for submitting resume is September 1, 2022. 
Sturgis UMC After-School Ministry Coordinator 
    This part-time position creates, leads, plans, and implements a well-organized, exciting, character-building, developmentally appropriate, Christ-centered, after-school ministry for grades K-4. Please see details on the Sturgis (SD) UMC website here.
Director of Children's Ministry | Sioux Falls First UMC 
    First UMC in Sioux Falls, South Dakota, is hiring a Director of Children's Ministry. This is a position that  will build a growing thriving children's ministry program that will build relationships with families and children ages birth-5th grade. This will be done by helping families and children know, experience, and follow Jesus and equip parents to be the primary disciple-makers in their children's lives. The Director of Children's Ministry will be a bridge builder, strengthening the bond between children and families inside and outside of the church. View details here.
Executive Director | Center for Connectional Resources and Administration
    Come work with us! The Dakotas Annual Conference of the United Methodist Church is hiring a new position. The executive director will join a team with a culture of excellence, creativity, and respect, to serve our churches. They will manage finance and administration matters in support of our mission to equip and support congregations across the Dakotas. Please send resume and cover letter to Kelsey Morgan in the foundation office.
Technology Coordinator | Downtown Mitchell First UMC
   Downtown First United Methodist Church has an opportunity for you! In this part-time role, the Head Technology Coordinator will oversee the technology for worship, presentations, livestream, and radio broadcasts. You must be available for Sunday morning services and other services as needed (funerals, weddings etc.). Salary will depend on your skills, but we are willing to train the right individual. For more information and to download the application, click here.