2015 Annual Conference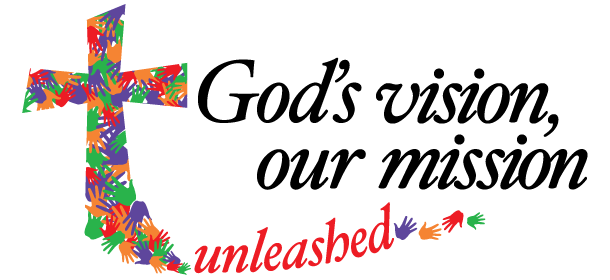 Annual Conference summary, stories, videos and more
Theme: The theme of this year's annual conference was "God's Vision, Our Mission—Unleashed." We celebrated the ways in which we are answering God's call to heal a broken world and we were inspired to go out into our mission fields and find new ways to share God's love with our neighbors.
Click here to download a summary
Videos: Click here to view videos shown throughout annual conference.
2015 Annual Conference Program: Click here
2015 Annual Conference Photos: Click here
2015 Annual Conference Workbook: Click here
Bishop's Episcopal Address: "It is time to take and pass the final exam—it is time to do something." That was the key message from Bishop Ough's Episcopal Address. He said the question Jesus said would be put to us in the final judgment is haunting: "When was it that we saw you hungry or thirsty or a stranger or naked or sick or in prison, and did not care for you?" (Matthew 25:44). "The final exam is whether you and I will fully, sacrificially, extravagantly engage in Christ's mission to transform the world," Ough said. "The final exam question will not be about what we professed but what we did when we saw the least of these hungry, thirsty, naked, a stranger, sick, or in prison." God is calling us to build bridges out of poverty, to be externally focused, and to heal a broken world.  (Click here for a copy of the 2015 Episcopal Address) (Click here to see video of Episcopal Address.)
Jorge Acevedo on faithfulness and fruitfulness: Faithfulness precedes fruitfulness, said Rev. Jorge Acevedo, lead pastor at multi-site Grace Church in Southwest Florida. "Our lack of fruitfulness is the direct result of our lack of faithfulness," he said. "You cannot give what you do not have." He said faithfulness requires rich, authentic relationships with other Christ-followers; training to be Christian (instead of simply trying to be Christian) through daily devotions and other practices that connect us with Jesus; and pruning—cutting things in life that keep us from fruitfulness. Then to be fruitful, we must find a niche that works in our own ministry setting (Grace's niche is special needs ministries) and use it to connect with new people who we can then help connect to God. As we do good works in our communities, it's critical to tell people why we're doing them and connect them to our mission as churches. "There are 7.3 billion people on this planet who are crazy about Jesus, and about 5 billion of them don't know it yet," Acevedo said.  (Watch teaching session one) (Watch teaching session two)
2014-15 Missional report:Click here to view (and print) a missional report that highlights key conference initiatives from the past year and celebrate some of the Holy Spirit breakthroughs in our midst.          (Watch this year's missional report video)
Breakthrough Videos: Across the Dakotas-Minnesota Area of The United Methodist Church God is breaking through and doing great things.  Six videos were created to show various ways the spirit is breaking through.  Click on the title to go directly to the video: Everyone Wins in White River, Jammin' for Jesus, Launching Summit, Discerning God's Call, Dreaming in Dickinson, Fiscally Fit.
---
Thursday, June 4, 2015 Resources
Opening Worship Video (incl. Episcopal Address)
Plenary 1:00 PM Video (incl. Thrive Launch)
Young Adult Ministry Grants Video
Making Disciples in the Bakken Video
Friday, June 5, 2015 Resources
Opening Worship Video (Miracle Offering)
Jorge Acevedo Teaching Session One Video
Jorge Acevedo Teaching Session One Power Point
Jorge Acevedo Teaching Session Two Video
Jorge Acevedo Teaching Session Two Power Point
Celebration of Life in Ministry Service Video
Celebration of Life in Ministry Program
Giving Out of Your Poverty--Bishop Ough's Sermon
Saturday, June 6, 2015 Resources
Worship video (live stream part 1)
Remembering our Baptism, Fixing of Appointments video (live stream part 2)
Plenary, Words of Thanks and Benediction video
Bishop Ough's Prayer for Unleashing Missional Impact--three per page
Bishop Ough's Prayer for Unleashing Missional Impact--single