Camping Forms
Early Bird Discount
Our early bird discount is $5 per night. For example, a 5-night camp would have a $25 discount. **Some exclusions apply. 
Early bird deadline is April 30! 
Camp Registration
Summer camp registration can be completed in two ways, we prefer online registration for the accuracy of camper information in our system:
Register online for summer camp 
Print the Camp Registration Form, complete, sign then return to the Dakotas UM Camping Office.  
Click the image below to view a PDF of our 2020 Dakotas UM Camps brochure!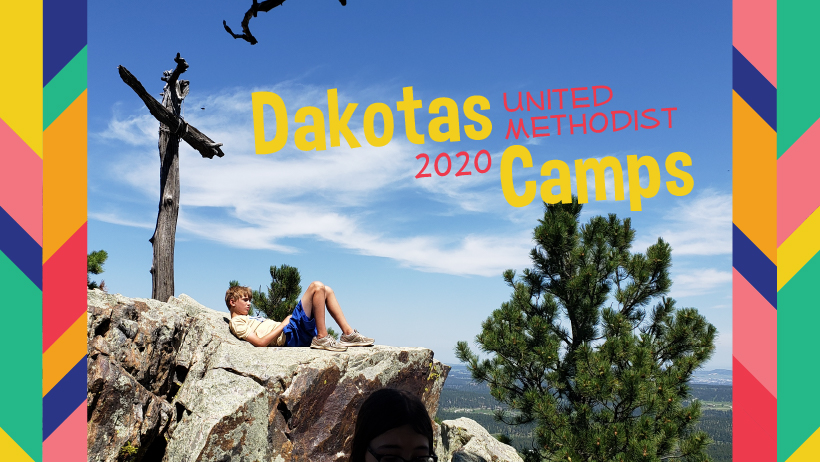 Two Required Forms For Camp Events
1.  Camper Medical Information Form (REQUIRED)
All campers (both youth and adult) are required to complete a health history and authorization form in order to attend camp.  Please notify us in advance if you will require special accommodations to attend camp.  Individual arrangements can be made as needed.  
       A Health Form can be submitted in two ways:
You can complete the health form online after you register for camp.  This will save the information in your online account.  We ask that you review the information and updated as needed.  
Print the form, complete, sign, and return to the Dakotas UM Camp office at least 2 weeks prior to the start date of your camp.  This helps the campsite directors make you have a great camping experience.  If you are unable to turn the form into the camping office, please make sure you bring the form to camp.  Health History and Authorization Form
If you plan to take medication while at camp, please complete the Medications List Form.
Adult Campers: ADULT Medical Information Form.
2.  Dakotas UM Camp Release of Liability (REQUIRED)
All camps require a Release of Liability for participation in any Dakotas UM Camping Event
Other Forms For Camp
Campership Application
The Camp & Retreat Board feels strongly that everyone who wants to attend camp can do so, and that no camper will be turned away because they can't afford to pay.  We provide campership funds to the individuals who need them most, based on individual and family needs. Our expectation is that your local church, personal funds, other sources of support and conference support will combine to cover the registration cost for one conference camping event of your choice. Please allow enough time for this application to be reviewed prior to your camp experience.
Camp Scholarship Application - Online Form
Camp Scholarship Application - Download Form
Bring-A-Friend!
With our Bring-a-friend incentive, you will receive $25** off the price of your camp for each *new camper that you or your child bring to camp. This is our way of thanking you for helping us make camp even better by bringing along a friend! 
* New campers are defined as those who have not been to any Dakotas United Methodist Camp events in the past three years.
**Discounts cannot exceed the cost of your event registration fee.
Church Discount Code
If your church offers a discount, please provide the church code when registering. After your church code is entered, the discount will be subtracted to reflect the portion of registration fees you are responsible for. Please contact your local church directly for information about discount codes.
Bus Information
Effective January 2020, we are no longer able to offer bus service to and from Storm Mountain Center. We apologize for any inconvenience.

It's always fun to drive to camp with a friend! We encourage those interested in carpooling to check with their local church or camp ambassador. The camping office is unable to coordinate or arrange rides for campers.
Parent & Camper's Handbook
Click here for Parent & Camper's Handbook