By:
Dylan Dethlefsen, intern, Dakotas UMC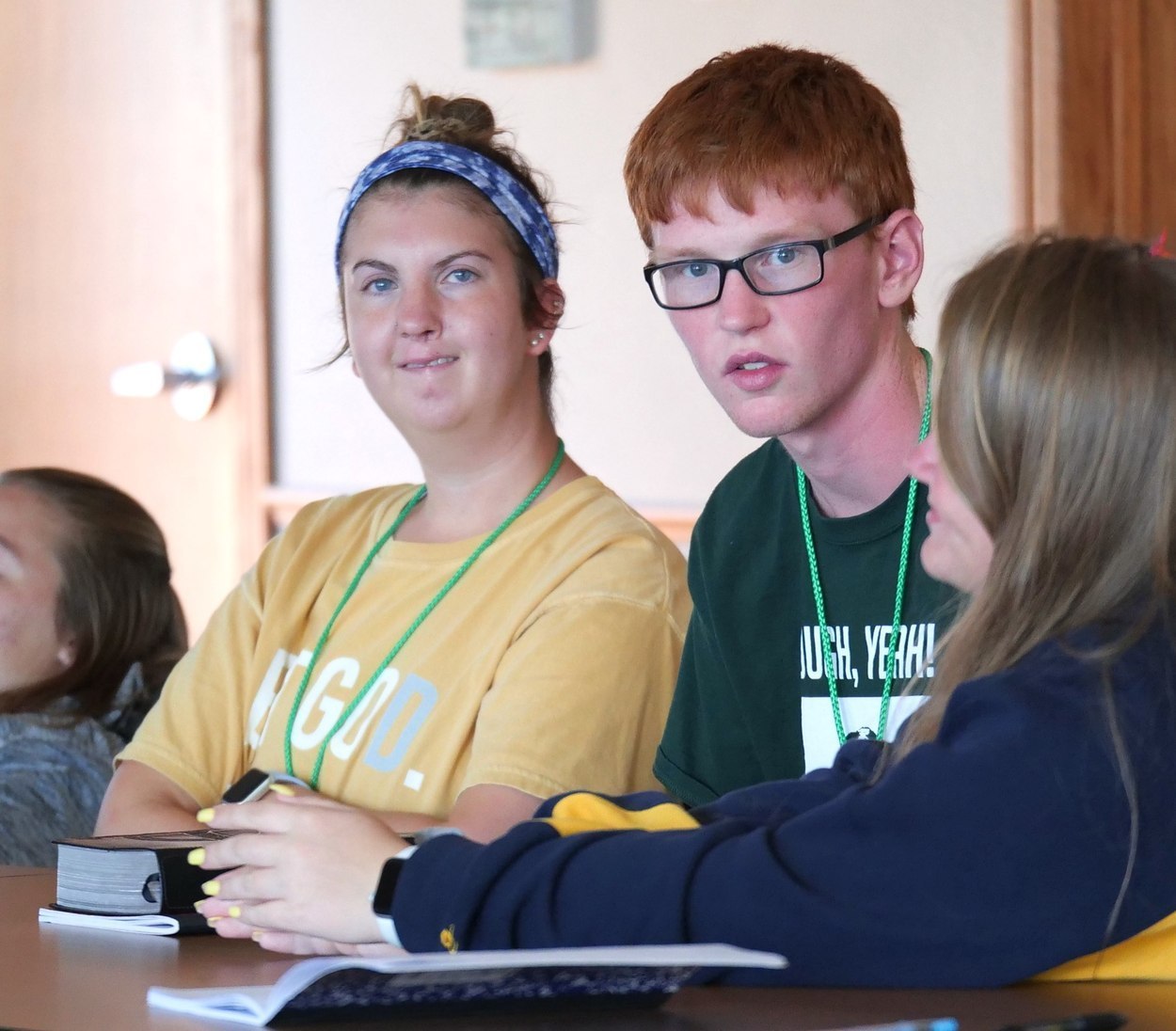 Andrea Hult, left, listens during a discussion at LTC. Photos by Dave Stucke, Dakotas UMC.
Lake Poinsett Camp, South Dakota —"I'd like to become a better leader and show other people how they can each become a better leader as well," says Sam Tobin, a member of The United Methodist Church in Spearfish, South Dakota. Tobin attended Leadership Training Camp (LTC) for the first time this year at Lake Poinsett where he, along with roughly 60 other high schoolers from across the Dakotas, are hoping to gain valuable tools to become effective leaders.
Bishop Bruce Ough made a special guest appearance during LTC. He spent time listening and learning with the future leaders of the church. "They are a true inspiration for all of us," said Ough. "They are the hope of the denomination."
For many attending LTC, it is a time to get reconnected and to grow in their relationships both with their peers and with God. "Everyone said it would be very beneficial for my peers and for me to be here. They kept convincing me, and finally I caved in. It has been beneficial for me being a leader and for developing my faith," said Tobin.
For Andrea Hult of Brookings, South Dakota, this is her fourth and final year of LTC. "It's just kind of something that's come into my summer routine, always coming to camp. It's always such a fun time," she says.
Hult was recently awarded the Harry Denman Youth Evangelism Award at the 2019 Annual Conference for her exemplary display of evangelism at First United Methodist Church of Brookings, and as the Conference Council on Youth Ministry (CCYM) president. Hult says she feels that she's grown as a result of attending LTC for the past few years. The relationships she has formed at Lake Poinsett have helped her become a better leader and follower of Christ.
"I'm able to reconnect and grow more with God. We're all in it together. It's nice to have people in the same boat with you. You're able to talk to them, whatever you're going through," says Hult. "I think it is good to show other youth that it's normal to have struggles. We all have our sinful times, but embrace them and learn from them. Jesus still loves us."
Both Hult and Tobin echo what all campers—youth and adult leaders, feel about LTC. It is a place for everyone. A place where you don't have to worry about being judged or have to feel ashamed for having doubts or questions.
Leaders like Jerry Simmons, one of the CCYM adults at camp, are there for the campers. CCYM works diligently to ensure that the atmosphere is maintained. Simmons, the youth pastor for Canyon Lake, UMC in Rapid City, South Dakota, always finds camp extremely fulfilling.
"LTC is an amazing place to come and grow in your faith. You can spend time with your peers. If you're in the midst of wrestling with God, or you're in the wilderness, this is a place that you can come and get help. One of the main goals at LTC is creating an open, safe space for the youth and adults. Here you can share who you are and the struggles you have."
Another component that makes LTC effective is having a stellar guest speaker for the week. This year's speaker was Andrew Root, a faculty member and author who has served at Luther Seminary in St. Paul, Minnesota. Root explained this year's theme—Ripples, and what it means for the young leaders in attendance.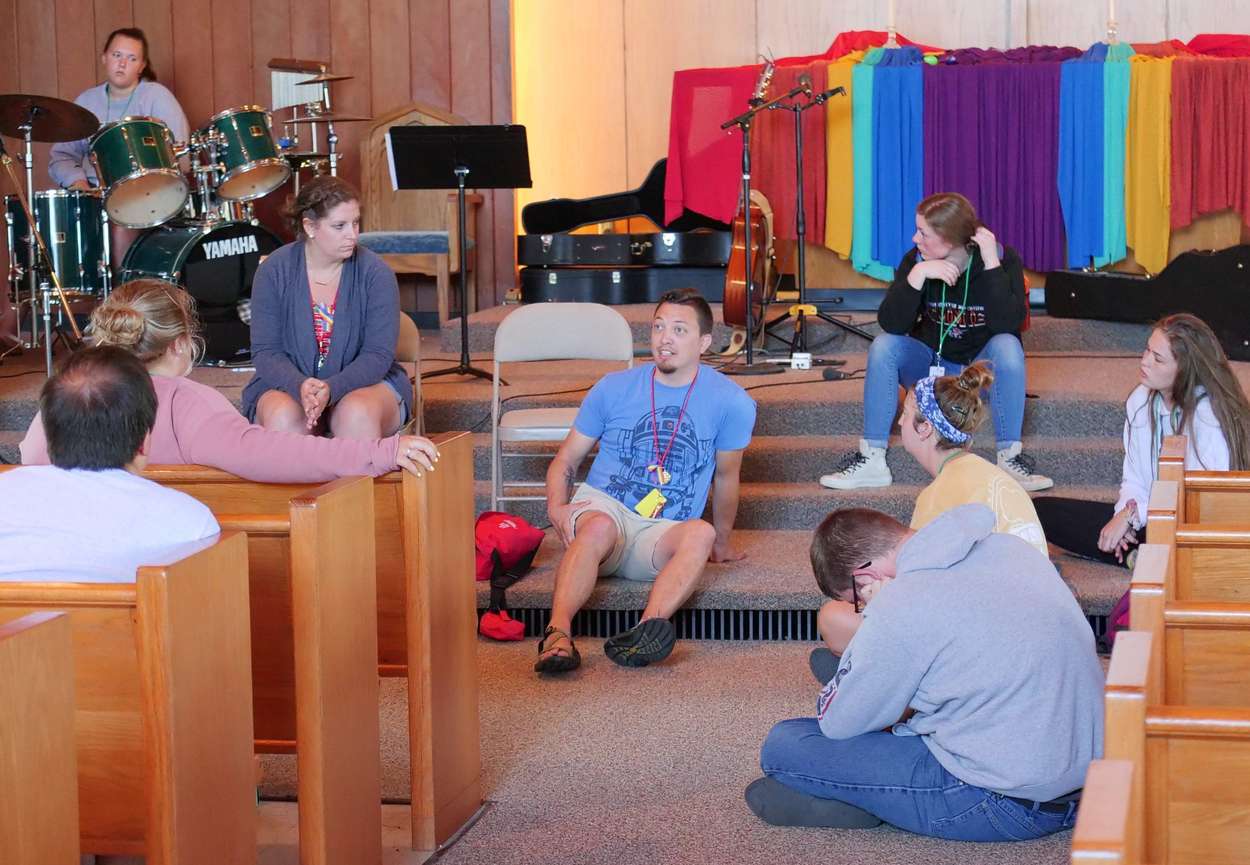 Jerry Simmons, on the steps in the center, leads a small group discussion during LTC.
Participants journeyed with Root through the Old Testament stories, such as that of Abraham and Sarah. Campers also looked at the Hagar story, a unique perspective for many. Root started with these stories in the Bible to show that the Old Testament helps us deal with the ripples in life.
Root says, "The stories may seem a little weird, but there's something beautiful in the weirdness. It seems like when things are at their most impossible is when God shows up. The God who makes a way out of the impossible, is kind. He shows up for all of us in our brokenness, no matter the circumstance or ripple."
Root feels that this theme, this message, is as important as ever in a time when mainline protestant churches are seeing a decline in attendance and are struggling to keep young people in the church.
"You can kind of get the sense that many mainline denominations feel like if we're going to survive another hundred years, we need these young people who are 14-17 years of age involved," says Root. "My real hope for these young people is that we ignite a theological imagination that sends them into the world as these curious people that still seek for a God."
Root suggests that churches should be focusing on why they want more youth active in their congregation. He points out that there is a difference between appearing to be vital and lifting up these young leaders and enabling them to serve.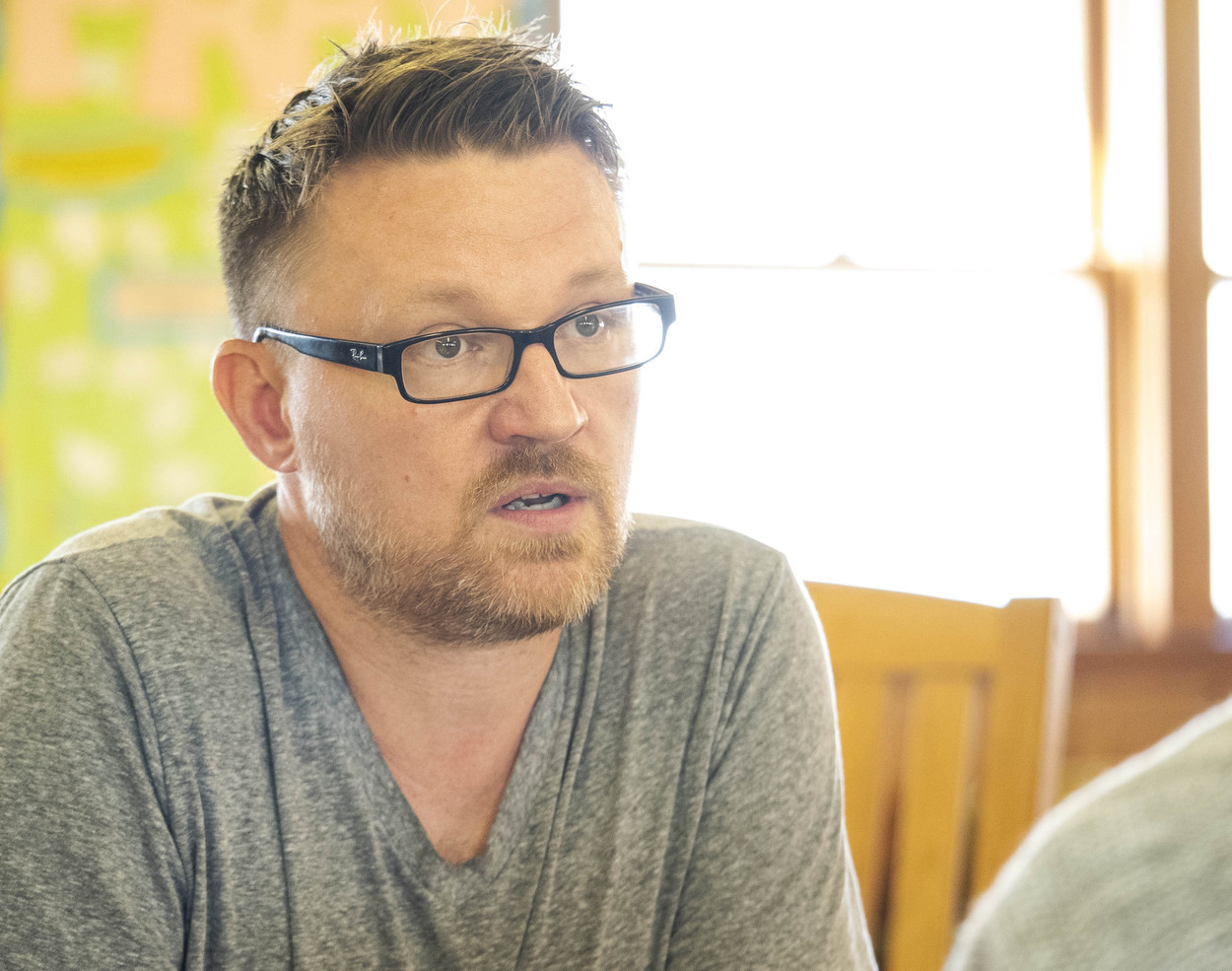 Andrew Root was the teacher at LTC 2019.
He says, "If we really want young people in our congregations we need to seek them out and hear their stories. We need to wrestle with them and open up spaces for them to articulate the depth of their humanity. I think that will often happen in small ways. I don't think it happens by building a wing on your church and building a huge youth room. We need youth here because we need to be in a relationship with them."
Simmons would agree, and he intends to keep the spirit of LTC alive as he returns to his church and encourages others. "To keep that momentum moving forward is to provide that same opening and welcoming space at your church. We need to continue to listen and use youth in leadership areas at the church," says Simmons.
Leadership Training Camp began on July 21 and concluded on July 27. It was a time of growth, encouragement, tears, and laughter. A time spent together in which the Holy Spirit was present.
Earlier this summer at the 2019 Annual Conference, Bishop Ough stated that we are all of us prisoners of hope. The next generation of leaders are the hope of a bright and steady future for United Methodism. Youth like Sam Tobin and Andrea Hult are future servant leaders, our hope.