By:
Doreen Gosmire, director of communications, Dakotas UMC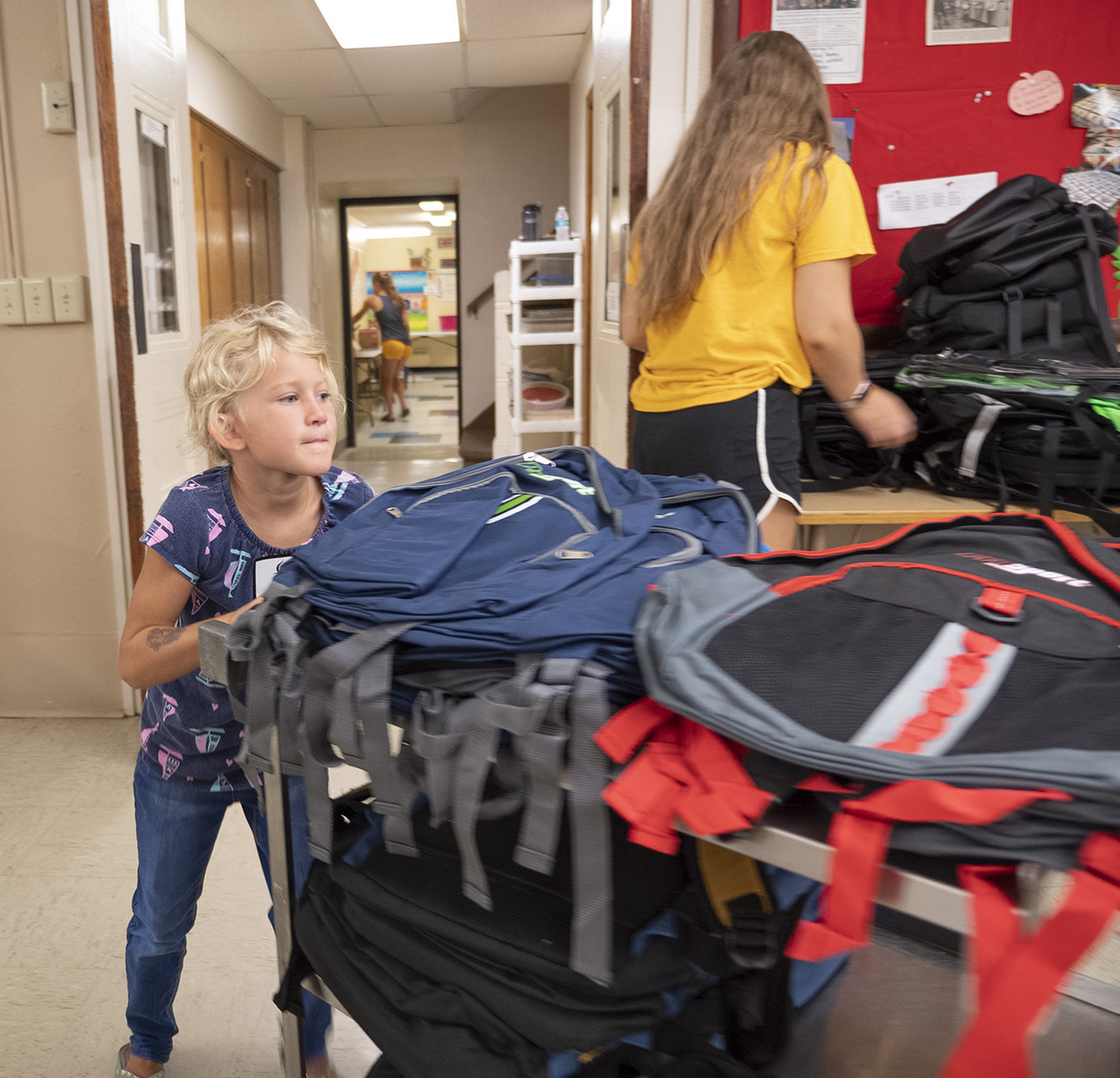 New backpacks, school supplies and shoes are all part of a recent giveaway to children at Downtown First United Methodist Church in Mitchell, South Dakota. Carol Hasz, the chairperson for the Mitchell area Love Feast and backpack giveaway, sees it as something that helps everyone connect with God. "I look at people differently because of my involvement. I think sometimes we see ourselves as being just a little bit better than the next person. I am not different. Each person is facing different circumstances. But we are all the same, and we need a connection with each other and God. "

The Mitchell Community Love Feast, a ministry of Downtown First United Methodist Church, in Mitchell, South Dakota, distributed 620 backpacks to students headed back to school. "The doors opened at 8:30 a.m., and there was a waiting line down the block," said Carol Hasz, who is the chair of the ministry that has been serving food and backpacks for 19 years.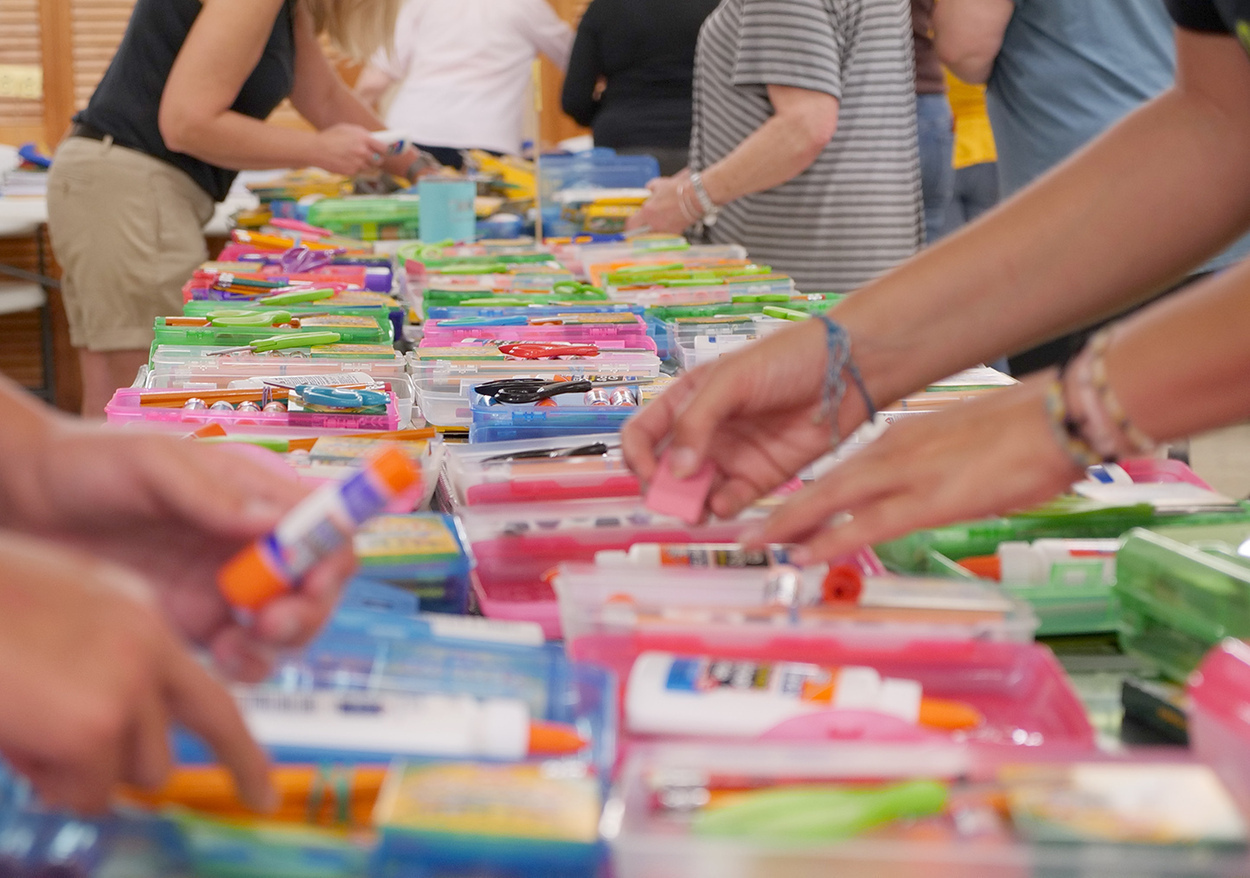 The ministry started in 2000 by serving a hot meal to anyone who wanted to come twice a month, on Thursday evenings. Members of the congregation at First UMC prepared and served each meal. The ministry soon expanded to involve other churches and organizations in the community. Today there are hundreds of volunteers and organizations involved.

The backpack giveaway extended the ministry to reach children that were showing up for the meal. Each year supplies—backpacks, notebooks, crayons, pencils, pens, are gathered from several churches and organizations throughout the Mitchell region. The supplies are collected and organized at First UMC and set-up, by grade level, for distribution on a Saturday before the school year begins.

Hasz describes the ministry as life-changing for her and for the congregation. "It is so humbling to watch the tears of joy as a child gets their new backpack and school supplies," she says. "Our church has accepted this mission and is accepting of those that walk through the doors. What else is a church for?"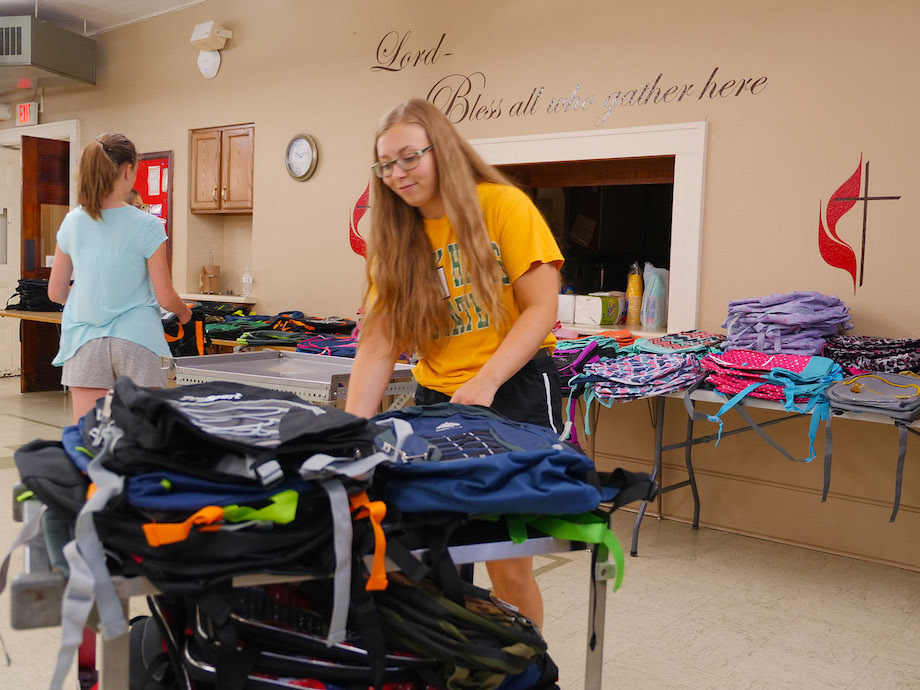 Each child that comes to the distribution also gets a voucher for new shoes. Hasz says, "Having a new pair of shoes on the opening day of schools is so exciting. We have tried various ways to collect and distribute new shoes. But we found giving each child a voucher to a local shoe store works best. They can pick out the shoes they want."
Lilly Hoffman has been helping at the Love Feast Backpack Giveaway for ten years. She says that her mom recruited her to come and help out, and as a future teacher she finds it insightful.

'I am going to be a teacher," says Hoffman, who will be a senior at Black Hills State University this fall. "Being involved in the backpack giveaway has opened my eyes to the struggles people face. I can walk alongside people when they are in need."

Hoffman is in charge of organizing the backpack area. She arranges them by age and interest. When a child first arrives at the distribution, they select their backpack first. Sometimes when a child is unable to come to the giveaway, a parent, or adult shows up to choose the backpack and needs assistance.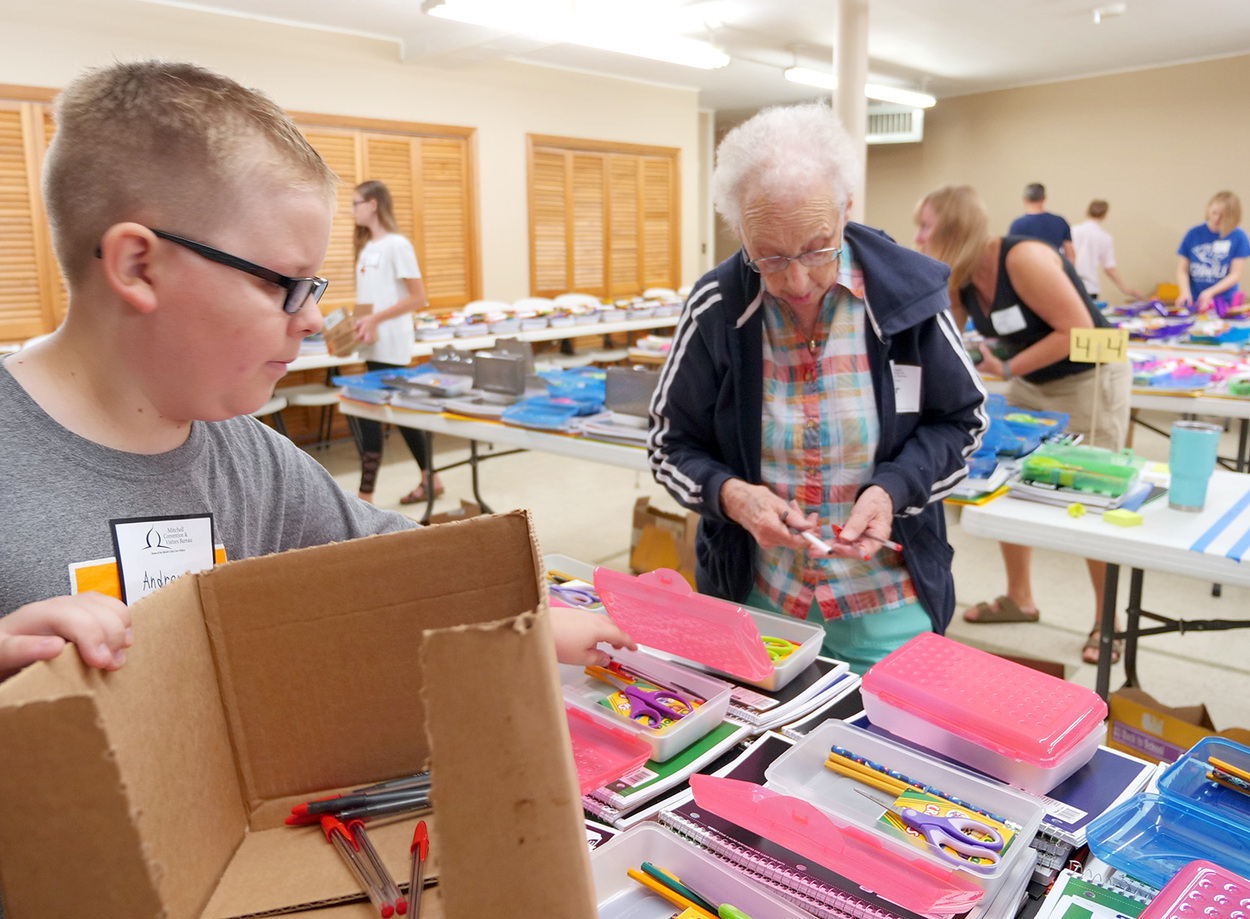 "I remember one mom came running in a little late. She was so stressed that she may miss the giveaway. She had been working all night, was exhausted. I told her you don't need to worry, I can help you pick something out. You could see the weight being lifted off her shoulders. These are every day, genuine people whose lives we are touching. They are always working and worrying," says Hoffman.

Volunteering and mission work is a big part of Hoffman's faith journey. Carol Hasz, her grandmother, has been a significant influence on her life. Hoffman sees her grandma always volunteering and reaching out to the next person for Jesus.

"God made me volunteer. God put people in my family that reach out. That is just who I am and how my faith works and grows," says Hoffman.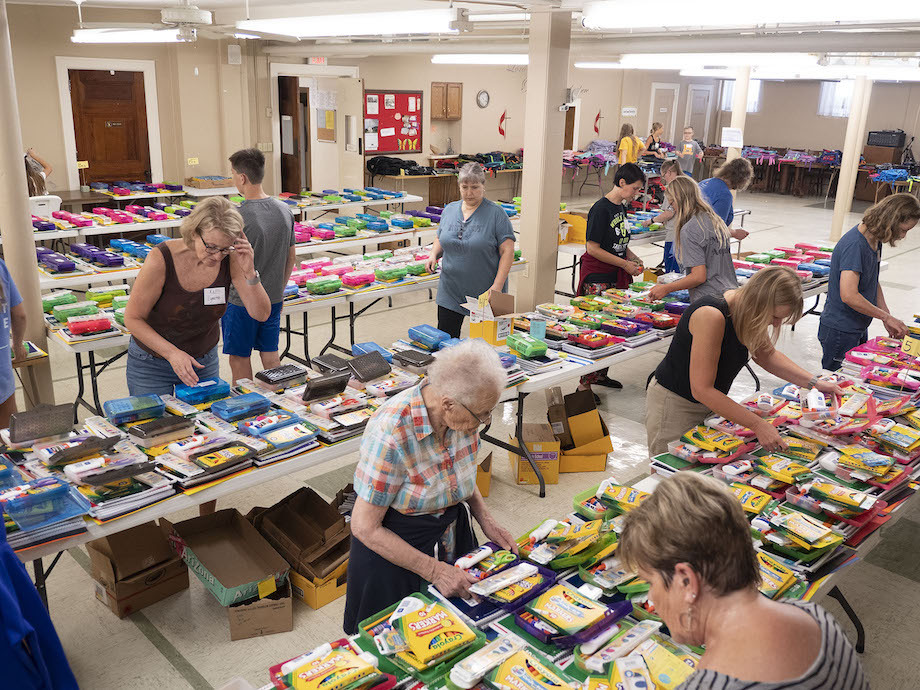 At Black Hills State University, Hoffman has continued her faith journey by connecting and serving at The United Methodist Church in Spearfish, South Dakota. "I showed up on campus my freshman year, and right away, Scott McKirdy, who is the pastor at Spearfish United Methodist Church, connects with me. I have been going to dinner at his house every Sunday night since, and I help with the middle school youth," she says.

The Love Feast and the backpack giveaway have touched the lives of many. "It makes me feel good," says Hasz. "I am rewarded by the people I have gotten to know. Sometimes I will be walking down the street or in a store, and someone will say, 'Hi Carol.' I may have never connected with this person without the Love Feast and backpack giveaway."