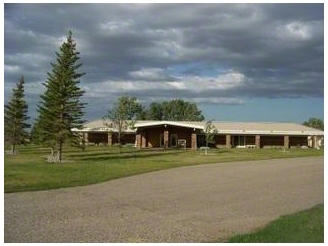 While many congregations have invited persons to "come home," few congregations can actually invite newcomers to step inside a cozy environment with the warmth of what used-to-be, quite literally, a home. With the spiritual and monetary help of congregations throughout the Dakotas, flooded Minot Faith United Methodist Church literally can invite new and old attendees to "come home!"
Faith relocated this fall—fifteen months after a devastating flood—to fourteen acres of prairie land, located along the US Highway 83 Bypass. The congregation now worships on Sundays and Wednesday evenings, with a simple supper, in a building that was once a supper club and then was remodeled into a home.
Within two weeks of their arrival, Faith invited its neighborhood for a "Party on the Prairie". A Sunday afternoon of hayrides, tours of the building, face-painting, food, concert featuring Christian musician Marcia DeLauriers, bonfire and more.
Since that time, Faith has seen new faces amidst the old. Faith United Methodist Church held a consecration service on Sunday, November 18th, with District Superintendent Keith Nelson, presiding.
"Relocation could not have happened so quickly without the gifts of the congregations of the Dakotas Annual Conference and our own members," Pastor Debra Ball-Kilbourne and Sr. Lay Leader Bob Lower shared. "We felt that it was vital to relocate within 18 months of the flood, before members lost heart and vision. Re-locating ourselves away from the flood zone and, frankly, at a cost far less than it would have been to re-claim our flooded property made a great deal of sense to our membership. We thank the congregations of the Dakotas Conference and many individuals who joined us in our Miracle Sunday. Thank you for 'walking by faith' with us in these post –flood days. May God bless each of you!"