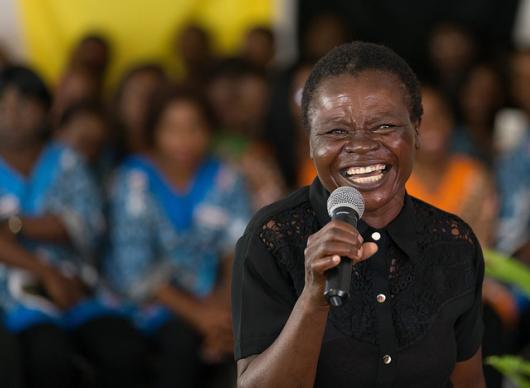 A few weeks ago, Steve and I had the opportunity to journey to the other side of the globe. I (Rebecca) am a member the General Board of Higher Education and Ministry (GBHEM) and this spring we held our board meeting in conjunction with the 25th anniversary celebration of Africa University (AU). Africa University was founded by the United Methodist Church 25 years ago in the country of Zimbabwe. Photo by Mike DuBose, UMNS. Mai Pesanai sings a song of congratulations for the 25th anniversary celebration for Africa University in Mutare, Zimbabwe. It is a Pan-African Institution designed to reach students from across the continent, provide them with quality education as well as strong United Methodist values and ethics, in order to positively impact the continent of Africa and the entire world. The experience was phenomenal and we learned and observed many things. However, a few of those observations stand out:
1.) Human nature is human nature. We had the opportunity to sit in on a class while we were at Africa University. The class we were assigned to was a freshman genetics class. We sat in the back during a lab session. As we watched, we noticed something that made us smile— "freshmen are freshmen" on all sides of the globe. They are a mixture of inquisitiveness and awkwardness, delight and boredom. It was a joy to see. However, as much as this commonality delighted us, another commonality we observed on during the trip had the opposite effect. Our first stop when we arrived on the continent was in Johannesburg, South Africa. While there, we had the opportunity to visit the Apartheid Museum. As we walked those halls and read the displays it was amazing to read about how similar their experiences were, halfway around the world, with what we experienced in the United States in our own civil rights story. The ways in which one human will treat another or the way in which one group will use its power to abuse another is heartbreaking—and heartbreakingly similar to our U.S. history. Yet it was a reminder of what all humans are capable of—including us—if we are not honest about our own privilege, our own fears and actions that are motivated by fear and our own prejudices.
2.) Leadership requires creativity and problem-solving. One of the things we learned is that Africa University will now be requiring classes on entrepreneurialism as a part of each one of their majors and degrees. This may seem odd and yet when you know the history of their country you realize it's brilliant. Their mindset and belief is that every student graduating from Africa University should have a job when they graduate. If they aren't able to find a job—which could be very possible in a country with a struggling economy—they should have the skills to create a job for themselves and for others. This problem-solving creativity and innovation were also seen in their recent past. The country of Zimbabwe went through terrible economic times that plagued the country with extreme poverty. However, Africa University students and faculty were able to weather this storm because of the farm they have as a part of their campus. This farm, complete with livestock and crops, was able to feed the entire campus and even some of the surrounding area during this terrible chapter in the life of their country. It is one of the reasons that they continue to do well.
3.) We are a global church…and that's a great thing! Hearts, minds, and voices from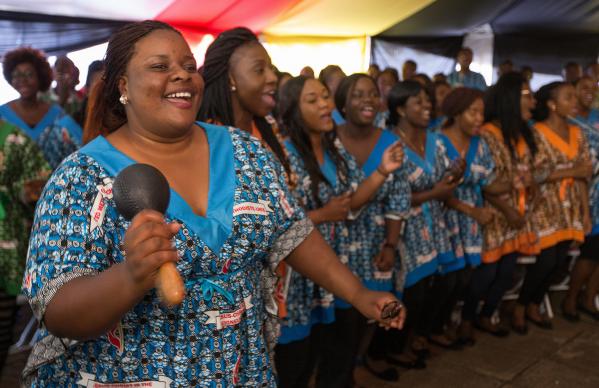 around the globe, when brought together, can be a beautiful glimpse of the Kingdom as well as a beautiful glimpse of the possibilities of what we as followers of Jesus are able to do when we work together. Photo by Mike DuBose, UMNS. The Africa University choir sings during the 25th anniversary celebration for the United Methodist school in Mutare, Zimbabwe. Our GBHEM board meetings, as well as meeting with AU Board and faculty together, presented excellent perspective on how the Holy Spirit has moved and breathed through our world. We worshipped in many languages, sharing in one Word. We faced challenges with hope and vision based upon testimonies of overcoming similar obstacles in other global settings. When differences became opportunities to start conversations instead of ending them, God was present.
4.) The Dakotas do indeed speak across this globe…and the globe has things to speak to us. Whether it's through our presence at the table in General committees and agencies, through Bishop Ough's leadership, or through the mission and ministry connection that our congregations make…the story of Dakotas United Methodism is making an impact across our world. We were proud to share the story of growing, thriving, and faithful ministry with those who asked us "Where are you from?" Most often, however, we ended up learning from the people of Africa. They were the ones speaking into our vision for ministry, and giving us an example of how to be fully present with God in all things.