By:
Doreen Gosmire, director of communications, Dakotas UMC
Three ministries are bringing hope to the hungry during the pandemic outbreak. Powered by Feeding South Dakota, Blessings Repeated in Plankinton, has not stopped food giveaways. Tree of Life Ministry on the Rosebud Reservation in Mission, South Dakota, is undergoing a kitchen renovation, but is still feeding people every day. Out in Faith, a ministry of Faith United Methodist Church in Williston, North Dakota, is providing curbside service to increasing numbers of families.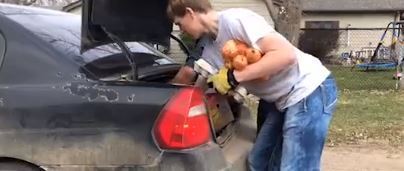 Blessings Repeated distributes food
The Plankinton Area Food Distribution, held at the Blessings Repeated Store every month, had to be done with social distancing in mind for April. It was held as a drive-through experience.
"In the last couple of weeks the Blessings Repeated board considered safety measures of both our volunteers and those coming to get supplemental food for their families," said Tara Bush, who serves on the board for Blessings Repeated, and is a member of the United Methodist Church in Plankinton, South Dakota. "We were able to visit with the staff of Feeding South Dakota and came up with our plan."
Families were contacted and made aware of the procedures to: stay in their vehicle, not bring their own containers, have room in their trunk or back seat, and drive through to receive their food.
The number of volunteers was limited to a group of ten. The volunteers unloaded the Feeding South Dakota truck, packed, and distributed the food to families driving up to receive it.
"We worked together, distributing 30 different items into each box. As families entered the alley, they rolled their vehicle window down to be checked-off for this month," said Bush. "Next, they pulled their vehicle forward to notify that volunteer where they wanted their food. They would push their trunk button. We had to chuckle a bit as many had to recall where their trunk button was located."
A volunteer wearing gloves would open the trunk or back seat door, while three other volunteers also wearing gloves loaded the food—meat, fresh produce, eggs, and pantry items— and two rolls of toilet paper.
"We were grateful for three individuals from the Renuevo Ministry who came from Sioux Falls to help us with translating for our Hispanic families," said Bush. "We had 73 families receive food. The new process worked very well!"
Tree of Life continues to serve
The Rosebud Reservation has set a curfew and stay-at-home orders to keep people safe.
"Anyone who can work is going to work," said Linda Garriott, who serves as the director of Tree of Life Ministry. Many people here have never had jobs. We have always had unemployment. The threat to health has changed. The economics have not changed. We are still very busy serving the people and sharing God's redemptive power."
Two weeks before the report of the first positive COVID-19 case in South Dakota, the kitchen of the Warm Welcome, which serves an average of 300 people a warm meal every day, was closed for renovations.
"We had a plan to renovate the kitchen so that we would have a commercial preparation area, serving line, and appliances. We closed the first part of March. Then COVID-19 came to South Dakota. We live in an area with a high number of vulnerable people with diabetes, heart disease, and extenuating health conditions. We knew we had to serve food to our people," said Garriott.
Even though the kitchen is not open at the Warm Welcome at Tree of Life Ministry, food is still being served to the homeless. Bag lunches of sandwiches, juice, chips, and cheese are prepared. People come each day to pick up a meal through one entrance and exit out another door. Safety is the key.
The food pantry remains open at the warehouse in Mission. People call ahead and make arrangements to secure items from the food pantry.
"We ask them to call ahead for items that are needed from the food pantry. When they arrive, they are directed to stay in their car and open the trunk or back door to their vehicle. A staff person, wearing gloves, goggles, and mask loads the food items in boxes in their car.
Each month Tree of Life works with Feeding South Dakota to deliver food to 182 elders. In April, a one-day food distribution took place to provide food for the next two months. Elders were all called and given a designated time to arrive. A drive-through system was set up for recipients to pull up and receive their boxes, which included a Easter ham, from volunteers wearing protective gear.
The thrift store, which provides clothing and small household items at a reasonable price, is closed. The kitchen renovation is projected to be completed in the next week. Warm meals will be prepared for people to take home.
There is only one COVID-19 case reported on the Rosebud reservation. "The COVID-19 task force is doing a phenomenal job forming partnerships to serve the people; there are five thousand meals prepared and distributed each day. "We at Tree of Life are working with partners to feed six senior living communities— known as twenty-plexes," says Garriott.
Tree of Life hosts more than 30 Volunteers In Mission (VIM) teams every summer. The volunteers assist with construction projects, equipping the food pantry, serving at Warm Welcome, and operating the thrift store. Currently, VIM teams are not scheduled for this summer.
Garriott says, "VIMs are 65% of our capital. The teams invest in community projects and service. I am troubled by the service lost. How and when we welcome volunteers will be different. We have never had to ask for money directly."
She believes God will be there and asks for prayers for the ministry and the people that Tree of Life Ministry serves. Donate to Tree of Life here.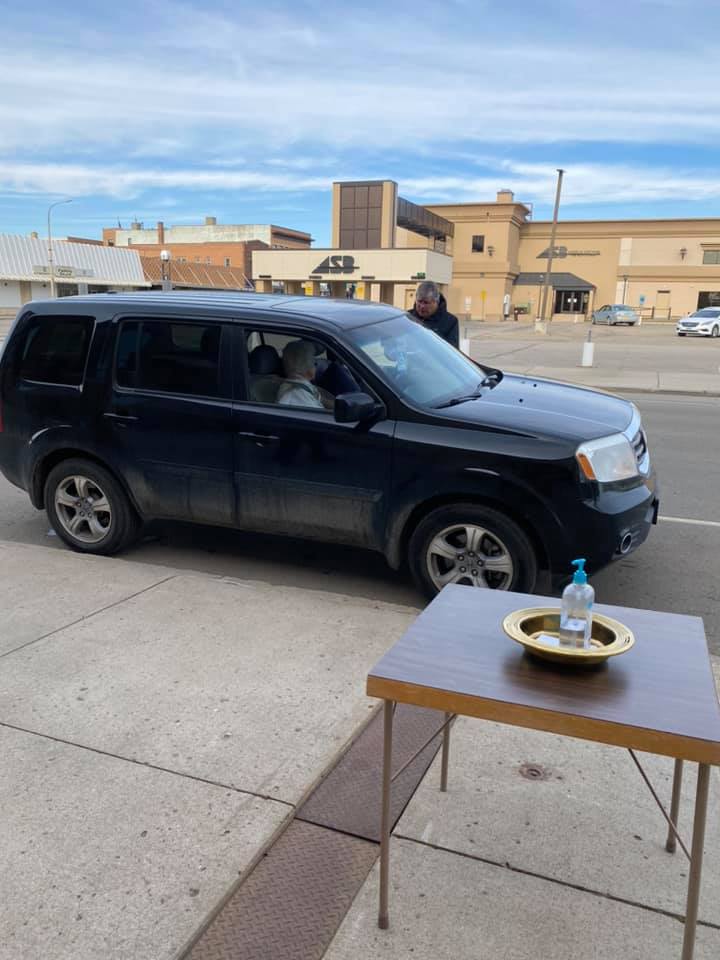 Out in Faith
Every week at Faith United Methodist Church in Williston, North Dakota, volunteers gather on Saturday to prepare a meal and worship service for families who are looking for a connection to the community in the Bakken oil rush region.
There are about 60-70 people who attend and connect on Saturday evenings at 6 p.m. Since the outbreak of COVID-19, the need to feed and connect has not lessened.
Now, there are ten or fewer volunteers preparing the meals at the church and distributing the meals in take-out containers.
"The oil industry is laying off workers; reducing hours. We have seen an increased need. We are now serving more than 100 people each Saturday," said Rev. Val Reinhiller, who serves at Faith UMC and coordinates Out in Faith Ministry in Williston.
The meals are distributed in a drive-up fashion. There is one person at the end of the block outside of the church. A vehicle will drive-up and indicate the number of meals that are needed. The order is called into the kitchen. Meals are packed, bagged, and delivered to the vehicles by volunteers wearing gloves.
"COVID-19 has drastically changed the economy in Williston. People need more assistance. Many can't afford rent, meals, and groceries. We have set up an emergency food pantry. We are also seeing a higher demand for our infant or baby items—diapers, wipes, and formula," said Reinhiller.
More people are projected to lose their employment. Retail stores are limited, and people are finding it difficult to get basic needs.
"We have a very limited number of stores in Williston. There is very little on the shelves. When a truck or shipment comes in, an announcement is made on Facebook, and within hours the supplies are gone," said Pastor Val.
The Bakken Oil Rush Ministry asks for your prayers. If you would like to help, consider a monetary gift, or an Amazon gift card. Donations of diapers, wipes, and formula are also welcome. Contact Out in Faith by e-mail or phone 701-572-7694.