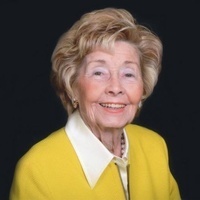 Donna (Muffy) Starr Christen, 89, passed away on January 6, 2019, in Huron, South Dakota. She was a graduate of Dakota Wesleyan University and active member of Huron First United Methodist Church.
Together Muffy and husband Paul have been active donors, both locally and nationally. In 2011, Paul and Muffy were included in "The Philanthropy 50: America's Most Generous Donors of 2011" in The Chronicle of Philanthropy.
The Christens have given generously to their alma mater, Dakota Wesleyan University, over the years. Most recently they provided significant support to construct the new Glenda K. Corrigan Health Sciences Center on campus, the home of the Donna Starr Christen College of Healthcare, Fitness and Sciences. In addition, their scholarships have enabled many to attend Dakota Wesleyan who otherwise may not have pursued a college degree.
Read the complete obituary here.