Making a Difference with Haiti Solar Oven Partners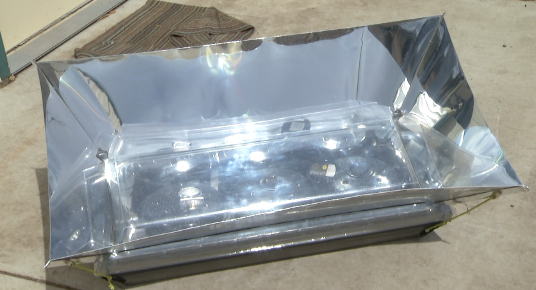 Check out this news story from the Haiti Solar Oven Partners (HSOP) workshop in Moffit, North Dakota. Dave Silbernagel and some Bismarck area volunteers are fabricating oven reflector parts in what was Dave and Renae's garage.
United Methodist volunteers get parts ready for shipping to the HSOP workshop in Volga, South Dakota. Volunteers build, prepare and pack oven parts for shipment to Port-au-Prince at the Volga workshop. HSOP is aiming for the first of two shipments for 2013 in June and another in late 2013. The goal is to ship two sea containers or 2280 solar ovens.
Be a Haiti Solar Oven Partner, too. Bring a work team to Moffit (drsilber@bektel.com) or Volga (rjost@brookings.net). You'll have a great time has the capacity to deliver 2,280 solar ovens by Jan, 2014 with your financial and physical partnership!
Say "Happy Mother's Day" to your mother right now; let her know your HSOP gift in her honor will make an enormous difference in the life of a mother in Haiti. Write a check to your United Methodist church and mark the memo line Haiti Solar Oven Project or send to Haiti Solar Oven Partners / 928 4th Street Ste 2 / Brookings, SD 57006. Blessings!
KXNet - Bismarck/Minot/Williston/Dickinson